Miley Cyrus Posted A Photo Of Her Licking A Cake, And One Baker Is Accusing Her Of Stealing The Design
Miley Cyrus posted a photo of her licking a cake, and a baker is accusing Cyrus of stealing the baker's original design. But that begs the question: Can a cake design be copyrighted, or is it just common courtesy to give a designer credit in a remake?
On Tuesday, Cyrus announced her Happy Hippie Foundation collaboration with Planned Parenthood and Marc Jacobs with a photo of her licking an "ABORTION IS HEALTHCARE" cake. Soon after, D.C.-based baker Becca Rea-Holloway, aka The Sweet Feminist, took to Instagram to call out Cyrus for stealing her original design.
Rea-Holloway shared a photo of her own cake alongside Cyrus's photo. Along with the photo, she wrote: "It is a direct theft of my own original art work from May 2018, with no credit. It's literally my exact handwriting, message, and concept."
The singer and actress apologized for the confusion and explained that she'd seen the image online and didn't realize that it was the work of Rea-Holloway. She promised to tag the artist for her work, but she said nothing about compensating Rea-Holloway for using her idea.
Cyrus also explained that the image posted to her Instagram account is not on the Marc Jacobs x Planned Parenthood merchandise, which they made in order to raise money and awareness for the women's health organization.
"Thanks for sharing your art and inspiring us," the She Is Coming singer said.
Cyrus's attempt at reconciliation was not enough for Rea-Holloway. "This was not an oversight, it was blatantly and willfully neglectful and deceitful," replied Rea-Holloway. "I would have been more than happy to work with you on a collaboration for this project, but instead my work was just copied without compensation."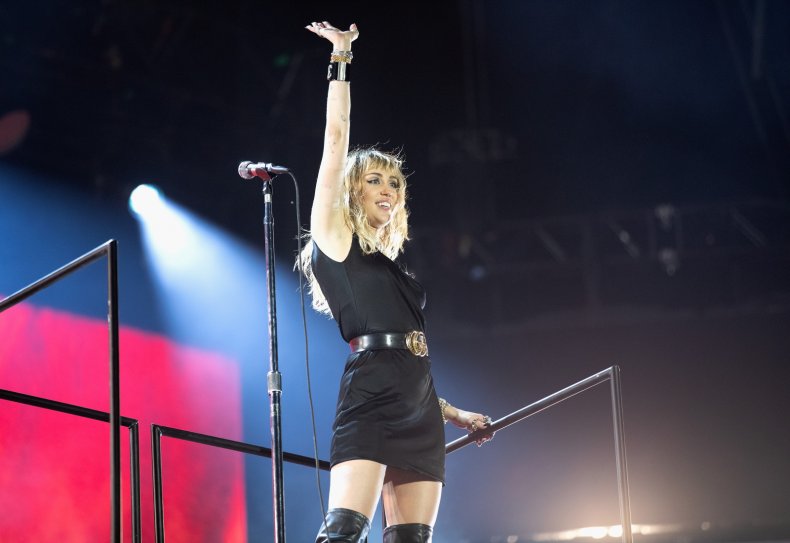 But can a cake design be protected by copyright (meaning that only the original maker and who they authorize have the exclusive right to reproduce the work)? Experts say yes, it can be copyrighted, under certain qualifications. However, in this case, Rea-Holloway might not have enough material to qualify for copyright.
"Copyright attaches the moment it's fixed in tangible form. Then, it has to be original expression, and I think [a cake] would qualify as a sculpture," said Sonya G. Bonneau, a professor of law at Georgetown University. "But you can't copyright ideas."
Bonneau told Newsweek that the phrase "ABORTION IS HEALTHCARE," the most original part of the cake, can't be copyrighted. Due to that, Rea-Holloway likely wouldn't be able to copyright the cake design in question, as copyrighting a phrase violates the First Amendment.
The Copyright Act says, "In no case does copyright protection for an original work of authorship extend to any idea, procedure, process, system, method of operation, concept, principle, or discovery, regardless of the form in which it is described, explained, illustrated, or embodied in such work."
Molly Van Houweling, a professor of law at the University of California, Berkeley, said in an email to Newsweek that the stipulations are "good news" for The Sweet Feminist and for society, because "ideas are free to be disseminated by others and to thereby have a bigger impact on the world than if they could if they were controlled by any single owner."
Bonneau said she thought it was "nice" of Cyrus to tag Rea-Holloway in an effort to give her credit for her idea.
Instagram users who commented on Rea-Holloway's post said that Cyrus deleted their comments to Cyrus's post, which protested the star's way of handling the controversy.
Although Miley has updated her post to include a tag for The Sweet Feminist, there's no mention of Rea-Holloway in the caption or a further response to Rea-Holloway's argument.