Miley Cyrus Says Texas Shooting Was 'Terroristic Act' Conducted By 'White American Man'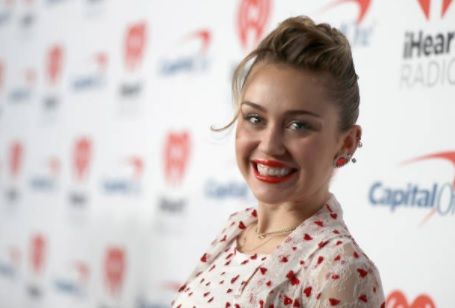 "Wrecking Ball" singer Miley Cyrus was slammed on Instagram Monday after she posted about the mass murder at First Baptist Church in Sutherland Springs, Texas. Devin Kelley opened fire on churchgoers Sunday, killing at least 25 people and wounding more than 20. Cyrus deemed the shooting a "terroristic act" conducted by a "white American man," even though authorities did not immediately know his motive.
"My dreams have become nightmares and those nightmares, reality. This isn't fair," the singer wrote. "This is a TERRORIST act by a WHITE AMERICAN MAN! I am heartbroken and embarrassed. Mortified by our country and its shitty system, lack of control/laws! This does NOT HAVE or NEED to happen!"
The post was liked more than 425,000 times by Cyrus' 72.8 million followers. It generated thousands of comments, too, where some fans attacked the former Hannah Montana star for identifying the killer as a terrorist. Others took offense to her labeling the shooter by his race and gender.
The harsh reaction prompted the 24-year-old to write another post.
"I am aghast by the reaction of my latest post. It is completely amazing to me how defensive and in denial this country really is!" she said. "You are not focused on the horrific tragedy I addressed but more angered that I am putting a BIG bright spotlight on the fact it was a 'WHITE AMERICAN MALE' terrorist that walked in and killed 26 people (including children) leaving 20 severely injured!"
When some netizens continued to criticize Cyrus, accusing her of stereotyping, she shared photos of some of her favorite "white American males." She used a picture of herself with her father, "Achy Breaky Heart" singer Billy Ray Cyrus.
"I do NOT and refuse to generalize or stereotype! Facts are Facts," Cyrus said. "You are all correct to believe every human deserves the same respect."
While it's unclear what motivated Kelley to commit the mass murder, it was reportedly not over racial or religious issues, Freeman Martin, a regional director with the Texas Department of Public Safety, said at a Monday press conference.
"There was a domestic situation going on within the family and the in-laws," he added.
The ages of the deceased ranged from 18 months to 77 years old. One family lost right of their relatives in the deadly attack.