More than 50 people have been beheaded in a village in northern Mozambique by militants linked to the Islamic State terrorist group (ISIS), according to the country's government-funded media.
Militants turned a football pitch into an "execution ground", where victims' dismembered bodies were found scattered. Several people were also beheaded in another nearby village.
Police confirmed the attack in Mozambique's Cabo Delgado province, which has suffered a series of gruesome attacks since 2017. Up to 2,000 people have been killed and around 430,000 left homeless by the conflict in the majority-Muslim province.
Cabo Delgado - a province rich in ruby and gas - is being seen as a foothold for the terrorist group in southern Africa, where militants use poverty and unemployment as a tool to recruit vulnerable young members.
Bernardino Rafael, commander-general of Mozambique's police, told a media briefing that violence in the area built for several days as the ISIS-linked extremists targeted villages in the Cabo Delgado districts of Miudumbe and Macomia, killing people, abducting women and children, and burning down homes, Al Jazeera reports.
"They burned the houses then went after the population who had fled to the woods and started with their macabre actions," said Rafael.
Some of the militants fired shots into the air and shouted "Allahu Akbar" when they raided Nanjaba village on Friday night, the BBC reports. It claims state-owned Mozambique News Agency quoted survivors who said two people were beheaded and several women abducted.
A separate group carried out the beheadings of more than 50 in Muatide village. Victims who tried to flee were "chopped into pieces" in the atrocity which was carried out from Friday night to Sunday. The remains of at least 15 boys, who were participating in a male initiation ceremony when the militants struck, were found among the dead, according to the Associated Press.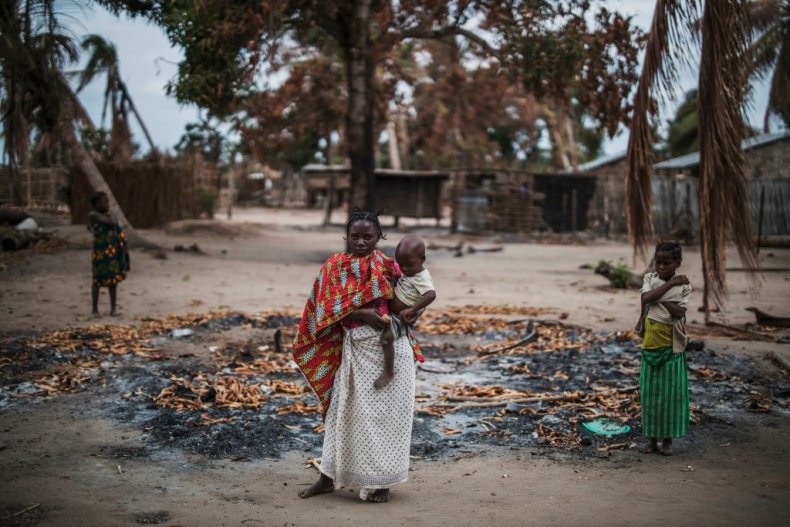 "Police learned of the massacre committed by the insurgents through reports of people who found corpses in the woods," said a police spokesperson in the Mueda district. "It was possible to count 20 bodies spread over an area of about 500 meters."
Mozambique's government has appealed for international help, saying its troops need specialized training to halt the growth of extremism in Mozambique. But human rights groups say government forces have carried their own human rights abuses, including arbitrary arrests, torture, and killings, during operations to curb the insurgency.
Terrorists are said to have stepped up efforts to build on the Islamist rebellion in the remote villages in the north of the country in recent months, seizing swathes of land and terrorizing rural communities. Mozambique's militants are known locally as al-Shabab, although the group has no known links to the Somali jihadi group of the same name, which is affiliated to al-Qaeda.
Last year the group pledged allegiance to ISIS. In April, more than 50 youths were shot dead and dismembered for allegedly refusing to join their ranks.
The unrest has so far killed over 2,000 people, more than half of them civilians, according to the US-based Armed Conflict Location & Event Data group. Over 400,000 others have been displaced by the conflict and sought refuge in nearby towns and cities.
Around 10,000 people fled to the provincial capital Pemba via boat over the past week alone, Doctors Without Borders said, raising concerns over access to clean water and sanitation.