Militarized Policing Is Ineffective at Decreasing Crime, Study Finds
In recent years, policing in the United States has been characterized by an increase in the use of military equipment and tactics by law enforcement—a trend that has sparked widespread debate among authorities, the media and the public.
While proponents say that militarized police units enhance the safety of officers and prevent violence, critics question their effectiveness, arguing that they increase violence, target minority communities and erode the trust between citizens and law enforcement.
Now, a study published in the journal Proceedings of the National Academy of Sciences, provides evidence to suggest that militarization does not help to reduce crime or protect officers. Furthermore, it can also weaken the public perception of police, which previous research has shown can create obstacles in their work.
"The routine use of militarized police tactics by local agencies threatens to further the historic tensions between marginalized groups and the state with no detectable public safety benefit," Jonathan Mummolo, an assistant professor of politics and public affairs at Princeton University and author of the study, said in a statement.
Mummolo examined various claims about the costs and benefits of police using a combination of crime and officer safety data; records that track the creation and deployment of militarized units, such as SWAT (Special Weapons and Tactics) teams; and survey experiments.
He obtained national data on whether and when roughly 9,000 law enforcement agencies obtained a SWAT team between 2000 and 2008. Then he collected localized information on every SWAT team deployment in Maryland over a five-year period. The state was chosen as a test case because it requires every agency to record all SWAT activity, unlike other states.
To understand whether militarized tactics were used more frequently in communities that were predominantly home to minority groups, he compared data on the percentage of black residents in a given area with the number of SWAT deployments per 100,000 residents.
"Using data on SWAT team deployments in Maryland I found that—though SWAT teams were conceived to handle violent emergencies—roughly 90 percent of deployments are conducted for search warrant service," Mummolo told Newsweek. "Deployments are also more common in neighborhoods with higher shares of African American residents, even adjusting for local crime rates."
Determining whether militarization reduced crime and improved officer safety involved comparing the deployment of SWAT teams with both the number of violent crimes and the officers who were killed or injured in the corresponding areas.
"Using a national data set that measures when agencies adopted SWAT teams, I found no evidence that obtaining a SWAT team lowers violent crime rates or improves officer safety, on average."
Finally, he conducted two survey experiments to assess how the public image of police is affected by images of military equipment and tactics in the news. Participants were asked to read a mock news article about a police chief seeking a budget increase, accompanied by a randomly assigned image of either militarized police or traditional officers.
The participants then answered questions regarding confidence in the police, support for police spending and perceived crime levels. Mummolo found that individuals tended to react negatively to images of militarized police in news reports and expressed a reduced desire to fund them or have patrols in their neighborhood.
"These results come after a single exposure to militarized images," Mummolo said. "Repeated public exposure to news items featuring militarized policing may amplify negative views of law enforcement among citizens. This is concerning because past research indicates that negative views of the police hinder criminal investigations and are associated with stunted civic participation."
Despite his findings, Mummolo does suggest that SWAT teams may have a place in certain emergency situations, albeit in a more limited capacity.
"Given the lack of support for the supposed benefits of militarized policing, and the potential reputational harm being caused by the trend, the results suggest that restricting the use of SWAT teams to emergencies may be in the interest of both police and citizens," he said.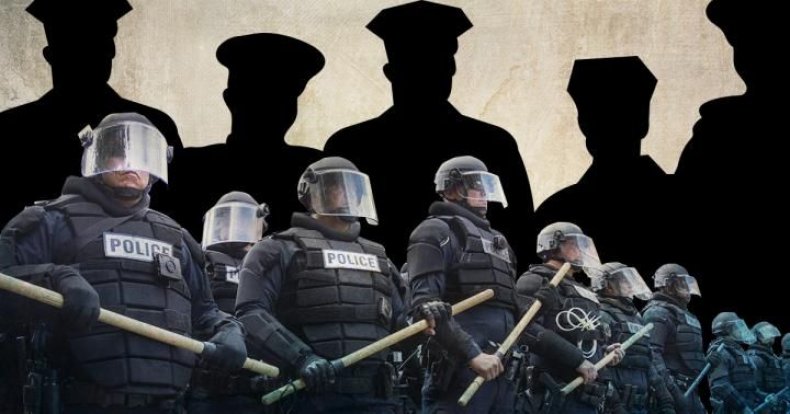 The militarization of the police force in recent decades has been driven partly by the war on drugs as well as by federal initiatives that have provided law enforcement agencies with military equipment, among other factors.
Four years ago this month, protests took place in Ferguson, Missouri, over the police killing of Michael Brown—an unarmed 18-year-old black male—prompting a heavily armed police response that drew both criticism and praise from opposing sides of the political spectrum.
Other research into police militarization has echoed the findings of the latest paper, such as a study published in the journal Political Research Quarterly that found that a more militarized approach can push officers toward the use of lethal force instead of other, potentially non-lethal options. But Mummolo, hopes his latest findings add a new dimension to the debate.
"In the wake of Ferguson, I found that most of the discussion over the supposed costs and benefits for militarized policing were based on either anecdotal evidence or were simply conjecture," he said. "I wanted to conduct a more systematic analysis, but quickly found that data on the activities of militarized police units was very hard to come by. Most of the time I spent on this project was spent on data collection and data cleaning."
"Of course, more data are always useful for gauging the robustness of results. My hope is that militarized policing remains an active area of research moving forward so we can reach scientific consensus on these important public policy questions."