Military Families Live in Housing with Mice and Mold, and Congress Wants 'Slumlords' and Top Brass Held Accountable
A Senate hearing Tuesday made it clear that the Pentagon needs to get its house in order. All of its houses, in fact. Families of service members affected by substandard living conditions on military installations heard little more than apologies and promises from service secretaries and chiefs, even as a new report shows that military housing remains a problem.
In a roughly two-hour hearing before the Senate Armed Services Committee, lawmakers and the top brass of the Defense Department discussed the results of a recent report from the Government Accountability Office. The report found that military oversight of physical living conditions is limited in some cases. Meanwhile, the metrics developed to gauge the performance of the private companies that control housing on U.S. military bases may not be accurately assessing what housing conditions are like. For example, a Pentagon report from May 2019 said the overall resident satisfaction rate for 2017 was 87 percent.
"The GAO found that the often quoted 87 percent satisfaction rate is 'misleading and unreliable,' and that the records for resident requests for work orders and service calls are questionable," said Senator Jack Reed, the Democrat of Rhode Island and committee's ranking member. (You can read the GAO report at the bottom of this article.)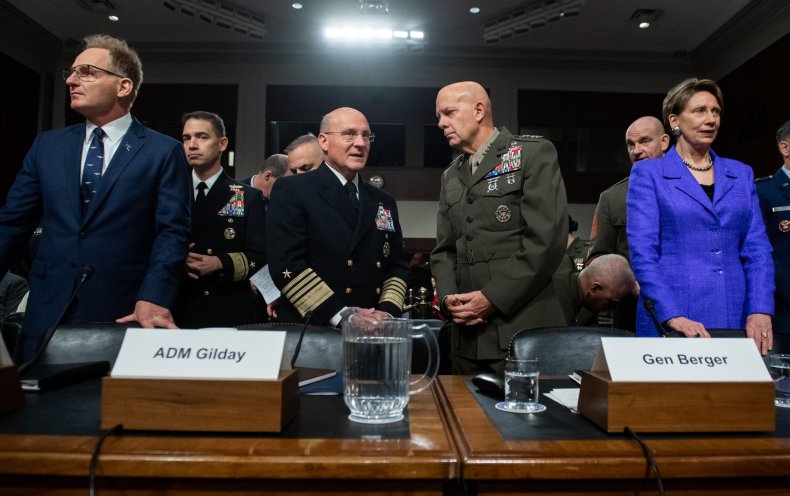 Senator Reed added: "This committee continues to receive complaints directly from military families. While the services have made strides since last February, many unacceptable problems with housing remain. I am still not convinced these private companies are doing everything in their power and invest as much as they can to improve the quality of homes for our military."
The housing crisis facing the Defense Department dates back over 20 years. Congress enacted the Military Housing Privatization Initiative in 1996 to address Pentagon concerns over inadequate and poor quality housing for service members. Today, private companies control roughly 99 percent of housing units on U.S. military installations and are responsible for overall conditions, according to the GAO report.
Mold, lead poisoning and rodent infestations, among other complaints, has prompted lawsuits to mount against their owners and property managers.
On Monday, five military families to file a class-action lawsuit Monday against privatized housing at MacDill Air Force Base in Tampa, Florida. The suit alleges management misconduct which "exposed U.S. military members and their families residing at MacDill Air Force Base to excessive moisture and mold, endangering their health, welfare, and safety," according to a press release.
"It's hard enough to serve in the military, it's hard enough to be a spouse of someone who serves in the military but you add on to it the challenges we're talking about here today and the types of stories we've heard for what families have had to put up with...this pisses me off," said Arizona Republican Senator Martha McSally on Tuesday.
McSally, a former U.S. Air Force colonel, characterized the private companies as "slumlords" and said the problems in privatized housing on U.S. military bases is an issue of leadership. "Maybe some the CEOs need to move in to some military housing over the holidays," she said, drawing applause from the service member families in the audience.
Acting Navy Secretary Thomas B. Modly told senators the performance of private companies in managing base housing is uneven and the Defense Department needs real-time data to monitor the problem.
"It's not horrible performance, it's very uneven performance," said Modly. "From personal experience, I have a son-in-law and a daughter who are on active duty, who have lived in privatized housing and it has been fantastic. I've visited several different bases, and some of it is fantastic and some of it is not."
He added: "The problem we have right now is really understanding the differences because we really don't have good access and visibility into what is actually going on—on a unit-by-unit basis...sometimes we are finding out about it a year after it's happened ... Data is being captured, it's just not standardized; once we have that and have real-time information we can act more quickly."
Holding the private companies responsible is not a sufficient response, said Illinois Senator Tammy Duckworth, a Democrat and former Army helicopter pilot. "I just don't buy this argument that the chain of command can't really be held accountable in the past because we've empowered them to enforce these contracts," she said. "By nature of being in command, especially being a garrison commander, you're responsible... I don't understand why not a single garrison commander to my knowledge has yet been fired over a failure to maintain the standards."
She asked if senior military officers from base commanders to the joint chiefs were evaluated on whether they provided the highest quality of housing for troops and their families. The response from the Pentagon's top brass was no.
In his opening statement, Republican Senator Jim Inhofe of Oklahoma, who chairs the Senate Armed Service Committee, said, "To our witnesses from the Department, I have to ask, 'When is enough enough?'
"Regardless of any potential criminal wrongdoing, we are still receiving complaints on a daily basis showing that you are still failing to fix this problem," said Inhofe. "The time for talk is over. If these companies cannot get the job done, you owe it to our military families to find a company who will."
Before he closed out his remarks, Inhofe recognized the military families who traveled to Washington to attend the Senate hearing. The generals and admirals and service secretaries turned to observe and applaud them.
Inhofe added: "To our DoD witnesses, as I have said before, these are the people whose trust you must regain."