Military Not 'Yet' Requiring Mandatory COVID Vaccine, Even Among Those Headed for Deployment
Immunizations that protect against coronavirus infection have not been added to the list of vaccines that members of the U.S. Armed Forces must receive when they begin training or are preparing for deployment. Although Navy officials recently indicated a desire to mandate COVID-19 vaccinations in the future, there are no concrete plans to institute this sort of requirement.
Government agencies launched COVID-19 immunization efforts, alongside states, in December, when vaccines developed by Pfizer and Moderna were respectively approved for distribution and administration. However, because the U.S. Food and Drug Administration (FDA) certified both vaccines under emergency use authorizations, military personnel retain rights to receive one at their discretion.
"It's voluntary," a Department of Defense spokesperson told Newsweek on Wednesday. "So, folks can take it if they want to. You know, talk to their doctors about their own personal medical history, etc., to determine whether or not they should take it."
Vice Adm. Andrew Lewis, commander of the U.S. Navy's second fleet, suggested last week that even though the vaccine is not "yet" a requirement for service, it could be soon, the Associated Press reported.
"We cannot make it mandatory yet," he said in comments to reporters, according to Military.com. "I can tell you we're probably going to make it mandatory as soon as we can, just like we do with the flu vaccine."
The Defense Department spokesperson could not provide additional information about intentions to mandate COVID-19 vaccines moving forward. For now, the department is offering resources to military personnel and other employees, and distributing vaccines to those who meet criteria and are interested in receiving them.
"We have a schema that basically prioritizes who gets it when," the spokesperson added. "Within that schema, we're letting folks know where and when they can get the vaccine."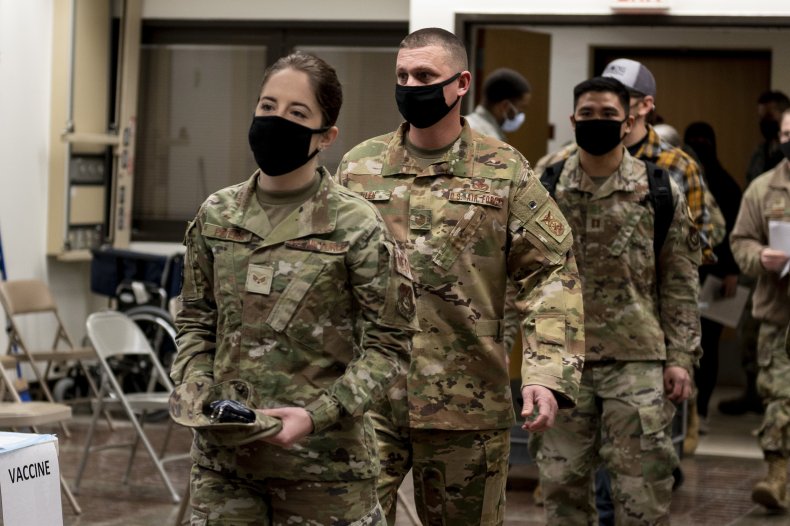 The Defense Department shares updates about internal vaccination efforts online. Its vaccine administration strategy aligns with recommendations established by the Centers for Disease Control and Prevention (CDC) last year, which most states adopted as they drafted immunization plans for their resident populations. Health care workers within the bureau received priority, followed by essential workers and individuals whose medical history or age places them at a higher risk of developing serious complications from COVID-19, and finally, healthy individuals older than 16.
The department established vaccination sites at military hospitals, where active and retired personnel, civilian employees and their families can access immunizations if they are eligible and choose to do so. A message posted to the military's official health website notes that receiving the vaccine is not mandatory, "but all DoD personnel are encouraged to get it to protect their health, their families and their community."
Despite reports that thousands of armed forces personnel have declined opportunities to receive vaccines against COVID-19, the department spokesperson said its vaccine "acceptance rate" is comparable to that of the general U.S. population.