Military Personnel Make Young Boy With Terminal Tumor an Honorary Soldier in Viral Video
Gage Krupovage, an 8-year-old boy from Yukon, Oklahoma, always wanted to be a soldier when he grew up. When he was diagnosed with an inoperable tumor, it looked like that wouldn't happen. But then, the leadership of 434th Field Artillery Brigade made his dream come true.
According to The Yukon Review, in July, Gage was diagnosed with a differentiated chordoma, a rare form of cancerous tumor, growing at the base of his skull. Though the outlook was initially good, on August 1, doctors discovered the tumor had quadrupled in size and had become inoperable. Gage's family decided the best thing they could do was make him comfortable. Doctors say Gage only has a few weeks to live.
Gage's family and friends have come together to keep him happy. Last week, Gage and his family were given a private tour of the Oklahoma City Zoo. But one of Gage's dreams came true on August 14, when members of the 434th Field Artillery Brigade, based out of Fort Sill, visited Gage and made him an honorary soldier.
According to a video posted by the Facebook page U.S Army W.T.F! moments, the brigade's leadership, including Col. Michael A Konczey, Command Sgt. Maj. Donald L. Harding and SSgt. Benhur Rodriguez, visited Gage and brought him the standard issue materials for new recruits. They gave him a personalized patrol cap, Army blouse, backpack and dogtags. They also gave him a teddy bear — which most new soldiers don't get — and two challenge coins.
After receiving the new gear, Gage recited the U.S. Army Oath of Enlistment, making him an honorary private. He then got a framed poster of both the Oath of Enlistment and the Soldier's Creed.
The video of Gage becoming an honorary soldier went viral, with over a million views on Facebook. Most of the comments on the page talked about how watching the video tugged at their heartstrings, and passed along messages of encouragement for Gage.
"Hang in there SPC Gage. We are here for you brother. Thanks to the 434th for taking the leap for this little man. You guys are truly amazing!" Mark A. Krugle wrote.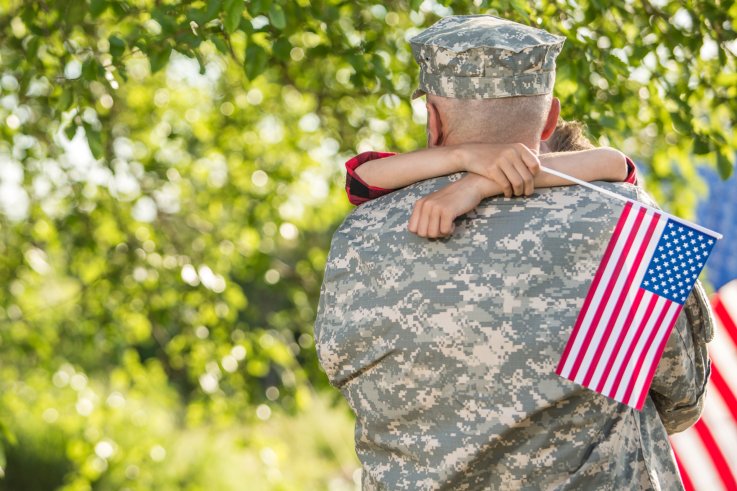 Even one of the members of the 434th appeared in the thread. Dylan Perry shared how Col. Konczey told the soldiers that they were going to visit Gage.
"I've been in 434 for the last 10 months, COL Konczey and CSM Harding are great leaders and very personable. After Officer PT, COL Konczey told us about Gage and that they were going to go visit him and make him an honorary Soldier. We ended with 'Gage,' on 3. It's a great impact seeing this video after that pep talk following PT." Perry wrote. "Prayers for Gage and his family in this unfathomably trying time as he bravely prepares to report for duty in Heaven."
Gage's family are spending all the time they have left with him. Gage's father, Gary, has been unable to work since Gage's diagnosis. He recently started a new job, and has no insurance, nor paid time off. There have been a number of fundraisers to help pay for Gage's care, and a family friend set up a GoFundMe to help cover costs.
Military Personnel Make Young Boy With Terminal Tumor an Honorary Soldier in Viral Video | News