Military Plane Reportedly Crashed in South Carolina, Pilot Ejected
On Friday morning, a military plane crashed in Beaufort County, South Carolina, prompting a response from law enforcement.
The crash occurred around 11:45 a.m. EST near Clarendon Road and Joe Allen Drive in Grays Hill, South Carolina, according to the Beaufort County Sheriff's Office. About three miles from the crash site is the Marine Corps Air Station Beaufort. The military confirmed a military plane had crashed.
A photo posted by WSMV on Twitter showed smoke billowing into the air from across a lake. The Beaufort County Sheriff's Office asked that the public avoid the area.
The type of plane has not been released but the Beaufort County Sheriff's Office tweeted that the pilot safely ejected and is being evaluated for injuries.
The public relations office of the Marine Corps confirmed to Newsweek that the plane that crashed was an F-35B, making it the first F-35B crash in history.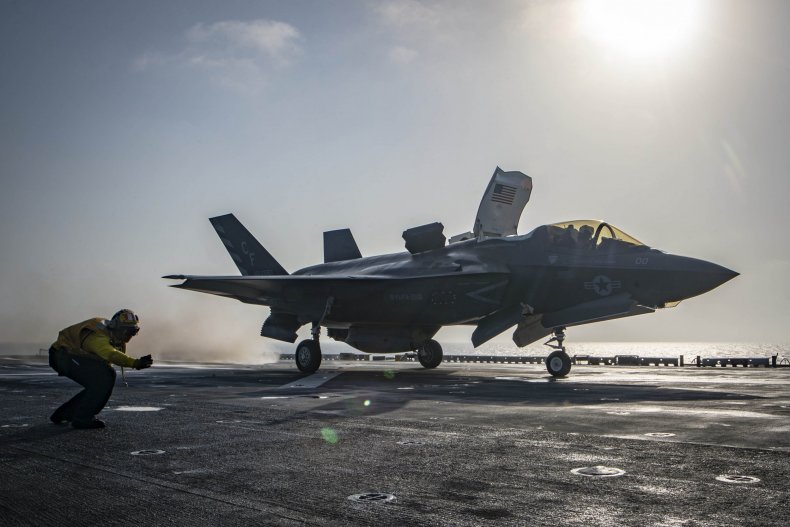 The F-35 plane has been touted as the future of the United States military as it's the first supersonic STOVL stealth aircraft. It's able to take off on a short runway and can land similarly to a helicopter, enabling it to maneuver tight spaces. F-35B aircraft are stationed in the United States at Marine Corps Air Station Yuma, Arizona, and Marine Corps Air Station Beaufort, South Carolina. F-35B training is conducted at both stations.
It's been regarded as one of the most expensive planes in history. However, on Friday, the Department of Defense (DoD) and Lockheed Martin reached an agreement that would drop the price of the plane by 5.4 percent, according to Forbes.
At a price of $89.2 million per plane, the DoD will purchase 141 planes for $11.5 billion. The cost of the F-35 variant used by the Marines, the F-35B, dropped 5.7 percent to $115.5 million per plane. Deliveries are set to begin in 2019.
"Driving down cost is critical to the success of this program," Vice Admiral Mat Winter, F-35 program executive officer, said in a statement to The Washington Examiner.
On Thursday, the F-35B conducted its first-ever airstrike in Afghanistan against a fixed Taliban target, according to CNN.
"During this mission, the F-35B conducted an air strike in support of ground clearance operations, and the strike was deemed successful by the ground force commander," the Marine Corps said in a statement.
The F-35 has been praised by President Donald Trump, who called it "incredible" and "super stealth." Trump added that the planes are the "best in the world."
This is a developing story and will be updated as more information becomes available.