The Military Is Promoting the General I Reported for Sexual Assault—but It Can't Stonewall #MeToo Forever | Opinion
At a time when the #MeToo movement is holding men in media, politics and entertainment accountable for bad behavior, the military has yet to face its reckoning. While other industries are reforming their workplaces, strengthening reporting processes and putting protections in place to ensure that women have a safe environment to do their jobs, the military is an outlier.
I know because my life has been upended for the past few months after I reported my boss, General John Hyten, for sexual assault. In the process of coming forward, I have been publicly shamed, and my personal character and professional record have been attacked.
The Senate confirmed General Hyten as vice chairman of the Joint Chiefs of Staff on Thursday, following a process that has only served to reveal how unequipped the military still is to deal with sexual assault and how deeply that failure impacts the women and men who serve. The military process is clearly set up to protect the institution over the victim.
I enlisted in the U.S. Army Reserve in 1989 to help pay for college, give me discipline and purpose, and serve my country as part of a team bigger than myself. Beginning in January 2017, and on at least six separate occasions over the course of the next year, General Hyten initiated inappropriate physical contact with me. It culminated in an incident at the Reagan National Defense Forum in December 2017, when he came to my hotel uninvited, aggressively kissed me against my will and rubbed his body against mine until he ejaculated.
To this day, I feel like I was in an impossible, isolated and compromised position. I did not initially report the inappropriate conduct out of fear of retaliation, embarrassment and humiliation.
The process for seeking justice has been a sham. Contrary to what some news reports have implied, the Air Force investigation did not clear General Hyten. In fact, while there was sufficient evidence to move forward with a hearing, no independent legal officer was given the opportunity to review the case. In addition, General Hyten, as a combatant commander, works directly for the secretary of defense and the president. In a highly unusual move, the Air Force assigned an officer junior in rank to General Hyten, who ultimately was able to decide whether to bring his case to a court martial.
After making the initial report, I did not have the opportunity to review the entire file or tell my story publicly. The average length of an Air Force sexual assault investigation is six months. My case was closed in less than three. In May, a military protective order—the equivalent of a civilian restraining order—was put in place to protect me from threatening behavior by General Hyten, including stalking, that was documented in his internet history and wiretap conversations. It's hard to imagine another nominee advancing to a floor vote in similar circumstances.
I have always been a straight shooter and a hard charger. I have a solid record of taking care of the people who worked for me and helping them meet their professional and personal goals. I continue to coach, teach and mentor to this day. Those are qualities that would have been applauded in a man. But when I came forward with what happened to me, those qualities were turned on their head and used to attack my character.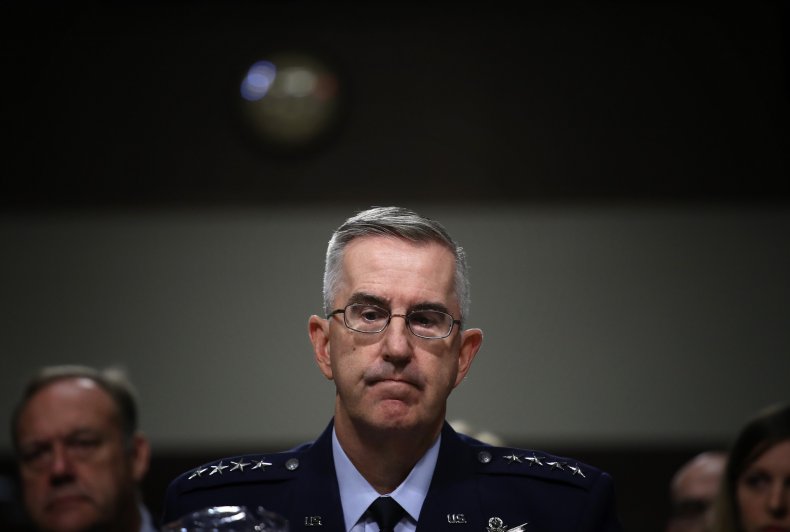 Some people have said I didn't come forward soon enough or confide in them about what I experienced. In almost the same breath, I have been accused of speaking up too much. Others have accused me of being an aggressive leader who fostered a toxic workplace environment. Yet those reports—based on rumors, gossip and hearsay—conveniently came to the forefront at the same time as I went public with my experience and have nothing to do with what General Hyten did to me.
Sadly, my story is not unique. Military sexual assault is on the rise. The Pentagon found a nearly 40 percent increase in assaults between 2016 and 2018, while rates of reporting sexual assault have gone down. Yet the military justice system has not been overhauled to meet these growing challenges.
General Hyten's confirmation should not have been turned into a popularity contest. This process should have been about integrity, facts and the truth. And what happened over the past few months should become part of a broader conversation about reforming the process for adjudicating military sexual assault.
Going forward, the nation will be watching, and our men and women in uniform will be waiting for the military to catch up.
Colonel Kathryn Spletstoser is an active-duty Army officer.
The views expressed in this article are the writer's own. General John Hyten has denied the allegations against him.