Military Says Cadets Making 'OK' Hand Gestures During Army-Navy Game Were Playing 'An Innocent Game' and 'Not Linked to Extremism'
After an investigation, West Point and the Naval Academy determined that cadets and midshipmen who came under fire for their hand gestures weren't showing support for white supremacy movements but were playing an innocent game.
"The American people trust our Soldiers to do the right things the right way," the Army's chief of staff, General James McConville, said in a statement on Friday. "We must be mindful of behavior which brings that trust into question and ensures our actions meet the high ethical and professional standards our nation expects the American Soldier to uphold."
During last Saturday's Army-Navy game in Philadelphia, cadets and midshipmen were filmed making an upside-down "OK" sign with their fingers. The symbol has long been a harmless sign used to signal approval or agreement, but in September the Anti-Defamation League listed it as a potential extremist gesture linked to white nationalist and white power groups. (You can read the results of the investigation at the bottom of this article.)
Footage of the symbol made the rounds on social media, causing outrage from users who called it "disgusting" and unacceptable behavior from America's future military leaders.
West Point conducted an internal investigation into the hand gestures and said on Friday it had concluded that the students were playing the "circle game," not promoting racist ideology. The investigator determined that the game was being played in the stands before the ESPN host covering the game ventured into the crowd with cameras.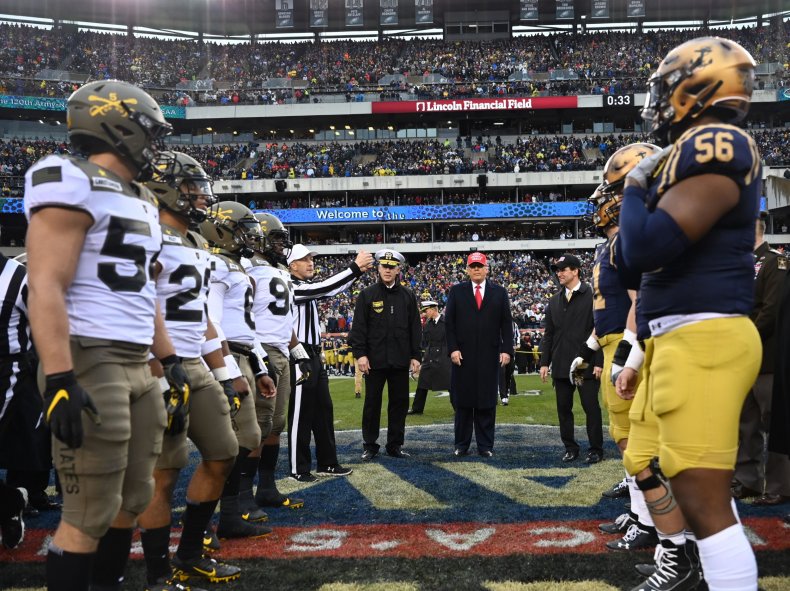 During the circle game, someone flashes an upside-down "OK" sign below the waist and delivers a punch in the shoulder to anyone who looks at it.
West Point had reason to believe the actions weren't linked to extremism, according to Lieutenant General Darryl Williams, West Point's superintendent, but he added that the allegations must be taken seriously. Although the students weren't found to be promoting values contrary to the Army's, Williams said he was "disappointed" by their "immature behavior."
"We develop leaders of character who serve to defend our nation and the American people, and we expect our cadets to lead and live honorably and demonstrate excellence. Leading and living honorably means to act in a professional manner at all times," Williams said.
The cadets will receive appropriate administrative or disciplinary actions, according to the statement. West Point did not elaborate on what those actions might entail.
After the footage started circulating online, the Naval Academy also launched an investigation into the behavior. It reviewed video footage, conducted more than two dozen interviews and ran background checks, according to a statement. Ultimately, it came to the same conclusion as West Point and determined that there was no racist intent.
"The Naval Academy is fully committed to preparing young men and women to become professional officers of competence, character, and compassion in the U.S. Navy and Marine Corps; in this case, we recognize there is more work to
be done," the Naval Academy's superintendent, Vice Admiral Sean Buck, said in a statement.
Admiral Mike Gilday, chief of naval operations, said in a statement that the Navy doesn't tolerate racism in any form. Similar to McConville's opinion about Army soldiers, Gilday said that Navy members' behavior can't cause people to question the military branch's core values. As a result, he said, everyone must be "standard-bearers" and "above reproach."