Sexual Assaults in the Military Surge to Over 20,000, Says Pentagon Report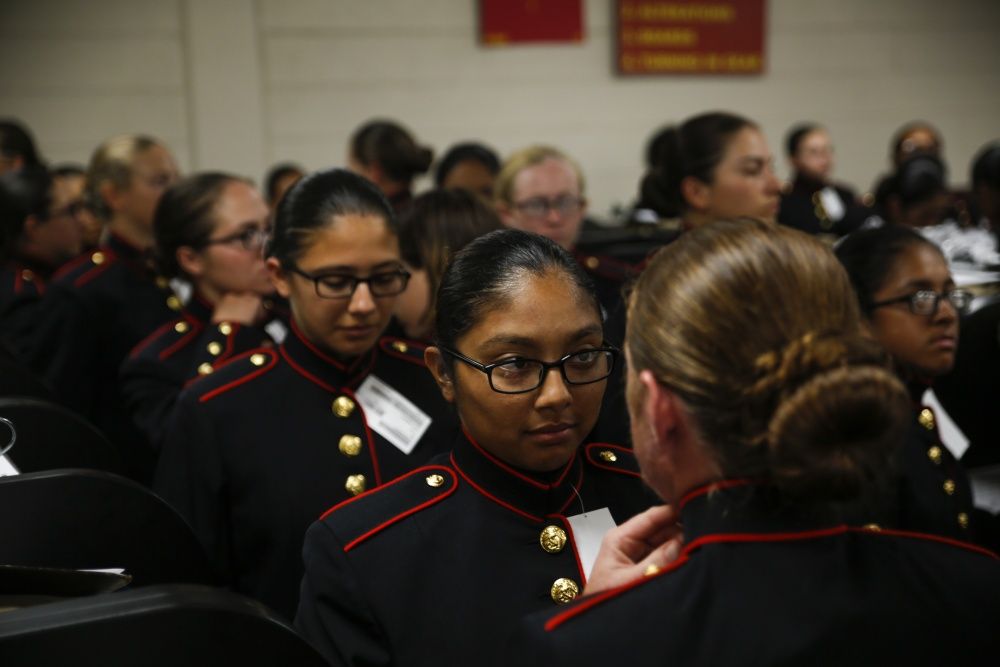 Despite Pentagon efforts to curtail sexual assaults among the rank-and-file of the U.S. military, a new Defense Department report shows the number of sexual assaults increased significantly in 2018, to more than 20,000.
Following a brief decline in incidents, this latest figure is nearly identical to the Pentagon's reported number of sexual assaults from five years ago (20,200).
On Thursday, the Pentagon released its annual fiscal year report on sexual assault in the military. The numbers from 2018 paint a bleak picture of a U.S. military culture that has left senior Defense Department officials grappling to find effective methods to stem the surge of assaults.
The latest figures show an increase in sexual assaults by more than 37 percent over the course of two years, from 14,900 in 2016 to 20,500 in 2018. Sexual assault rates remained steady for active duty men, but increases were seen for active duty women. The rise in sexual assaults among women occurred among the 17 to 24 age group, including junior enlisted women—the group most at risk to experience a sexual assault the report said.
Sexual assault in the U.S. military refers to a host of crimes, including, "rape, sexual assault, forcible sodomy, aggravated sexual contact, and attempts to commit these offenses, as defined by the Uniform Code of Military Justice."
The data shows more than 85 percent of sexual assault survivors knew their assailant and alcohol was involved in 62 percent of the total assaults. Sexual assault reporting remained steady between fiscal year 2016 and 2018, with the report indicating about one in three service members choosing to report their assault to the chain of command. The entire Defense Department report can be read at the bottom of this article.
"The numbers are shocking," said retired Colonel Don Christensen, a former chief prosecutor in the U.S. Air Force and president of Protect Our Defenders, a national nonprofit organization dedicated to ending sexual assault in the military.
"A 37 percent increase represents an additional 5,000 service men and women who were raped or sexually assaulted just last year. The senior military leadership consistently tells Congress that 'commanders are the solution' and to trust them to solve the sexual assault crisis. Yet, for decades commanders have not been the solution," Christensen said in a statement released to Newsweek. "How many more assaults and rapes and how many more victims denied justice must there be before a stubborn and selfish military brass stops fighting reform?"
Pentagon officials vowed Thursday to make changes in its sexual assault prevention efforts while instituting new measures to curtail the surge of sexual assaults.
"The Sexual Assault Accountability and Investigations Task Force assessed every step of the military justice process, and identified ways to provide commanders with all available tools, authorities, information, and guidance to hold alleged offenders appropriately accountable and support the victim, while protecting the rights of the victim and the accused throughout the military justice process," said Pentagon spokeswomen Lieutenant Colonel Carla Gleason in an email to Newsweek.
"The recommendations included actions to enhance the commander's ability to set appropriate command climate. One recommendation is for the Department to take steps to make sexual harassment a stand-alone military crime," said Gleason. On Wednesday, Acting Defense Secretary Patrick Shanahan issued new policies to the joint chiefs and said after reviewing the sexual assault report for fiscal year 2018, "My resolve to eliminate these crimes is stronger than ever."
"To put it bluntly, we are not performing to the standards and expectations we have for ourselves or for each other," Shanahan said in the letter. "This is unacceptable. We cannot shrink from facing the challenge head on. We must, and will, do better."
Some of the new initiatives are developing new tools to examine command climate structures; a program to catch serial offenders of sexual assault and robust training for junior officers and enlisted on prevention measures. You can read about the new measures being implemented in the U.S. military here.
Among the armed services in the 2018 report, the U.S. Marine Corps had the highest estimated rate of sexual assault, at nearly 11 percent, with the corps' numbers increasing by 20 percent from 694 in 2017 to 835 in 2018.
The Marines said in a statement to Newsweek they have historically viewed increases in reporting as an indicator more Marines feel empowered to report their assaults but added the Marine Corps must "evolve its prevention methods and continue to foster a climate and culture of dignity, respect, and trust."
"We cannot truly be loyal to our Nation without first being loyal to each other," said Marine Commandant General Robert Neller in a statement.
"All Marines must be involved in preventing and addressing sexual assault and harassment," said Neller. "There is no room in the Marine Corps for either of these behaviors."