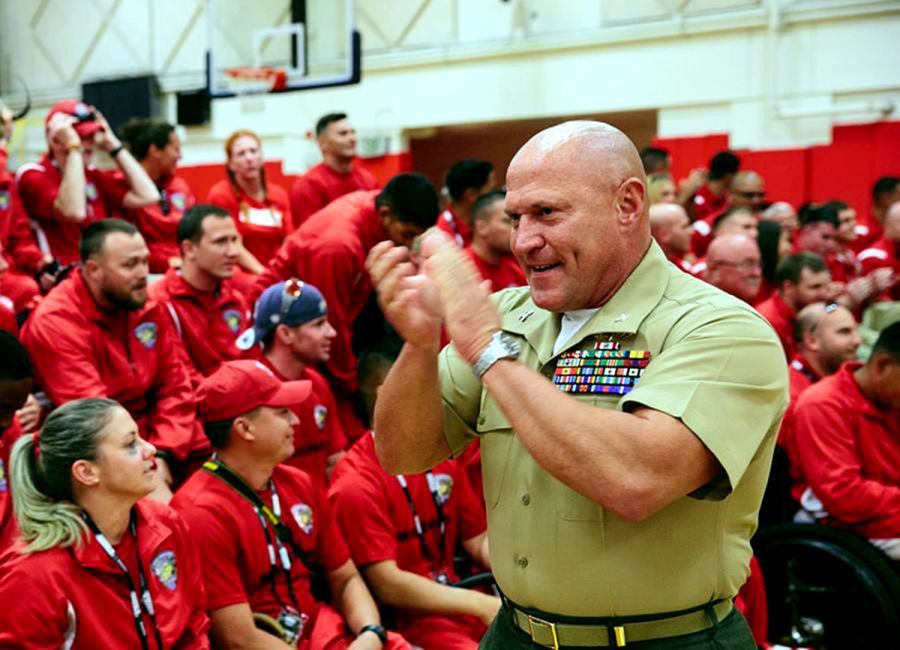 A disgraced U.S. Marine Colonel forced into retirement and defended by White House Chief of Staff John F. Kelly, was sentenced to 18 months in prison after accepting a plea deal in an unrelated case stemming from allegations of aggravated sexual battery, three counts of indecent liberties with a child, and one count of felony cruelty to children that dating back to the early 2000s.
Former Marine Colonel Todd Shane Tomko, a 33-year career officer and former commander of Wounded Warrior Regiment in Quantico, Virginia, pleaded guilty to three counts of assault and battery by way of an Alford plea, a U.S. legal doctrine where a defendant maintains his innocence, but admits that the prosecution has adequate evidence to prove to a jury or judge that he is guilty beyond a reasonable doubt.
The Tomko case rose to national prominence early this year after Kelly fell under scrutiny for his handling of domestic abuse claims against former top White House aide Rob Porter. For Kelly's critics, Tomko was another example of Kelly's support of loyal colleagues, despite the allegations they faced. When Kelly praised Tomko in 2015, he faced charges of harassment and sexual misconduct.
Kelly, who was originally brought into the White House back in July 2017 to impose order and plug a press leaky White House administration, was not able to skirt scrutiny for his handling of the Porter case and his statement of support praising the former staff secretary as "a man of true integrity and honor."
Porter resigned his position after his two former wives, Colbie Holderness and Jennifer Willoughby, accused him of physical, verbal and emotional abuse.
In the aftermath, White House officials struggled to answer questions about what they knew and when they knew it, amid reports that allegations from Holderness and Willoughby were stalling Porter's security clearance.
"We didn't cover ourselves in glory in how we handled [Porter]," Kelly admitted in March, but said that he had only heard about the abuse allegations against Porter through media reports—a statement that further contradicted the White House's narrative after FBI director Chris Wray testified to the Senate Intelligence Committee that the agency delivered a partial version of its security clearance investigation into Porter to the White House in March 2017, with the full report being delivered three months later.
Kelly would concede that Wray timeline to Congress had been accurate, but added, "I have absolutely nothing to even consider resigning over."
In February, the New York Times cited the Tomko case as another example of Kelly defending the accused.
In 2016, Kelly, the retired U.S. Marine general and soon-to-be Trump appointed homeland security secretary, served as a character witness for Tomko on numerous occasions during Tomko's legal march towards a general court-martial hearing, according to court-martial transcripts obtained by Newsweek through the Freedom of Information Act and reporting from The New York Times.
Kelly described Tomko as a friend and a "great leader." Despite never having served in the same unit with each other at any time throughout their careers, the two men forged a decade-long friendship, but "were not close," said Kelly.
In a pre-trial phone call, Kelly described Tomko as a "superb Marine officer," saying, "I don't know exactly what the issues are, but I certainly have never seen him berate, demean or insult anyone whether it's been race, ethnic background, gender," the Times reported. Kelly would recommend that Tomko remain in the U.S. Marine Corps.
Kelly's comments about Tomko were similar in nature to Kelly's original statement regarding Porter, saying, "I can't say enough good things about him. He is a friend, a confidante and a trusted professional. I am proud to serve alongside him."
Towards the bottom of the court transcripts obtained by Newsweek , Kelly agreed that he understood Tomko was pleading guilty to alcohol abuse, driving under the influence at Marine Corps Base Quantico and unlawful command influence, a legal concept within the armed forces' hierarchical structure that prevents military commanders from attempting to influence the military justice system. "Colonel Tomko is a great Marine," Kelly added.
Tomko eventually pleaded guilty to a number of charges at his court-martial, including conduct unbecoming of an officer and a gentleman. He was sentenced to two months of jail time and paid a $10,000 fine before being drummed out of the U.S. Marine Corps.
In November 2017, Tomko was arrested in Illinois on outstanding felony warrants from the Virginia Beach Police Department. He was charged with seven counts of child abuse, said his hometown newspaper, The Quincy Herald-Whig.
Tuesday's plea agreement sentenced Tomko to a total of 36 months for three counts of assault and battery, but the court suspended 18 of those months and gave Tomko credit for time served in the Virginia Beach City Jail and awaiting extradition from Illinois.