World War II Vet and Other Soldiers Take a Knee To Support NFL Players Against Trump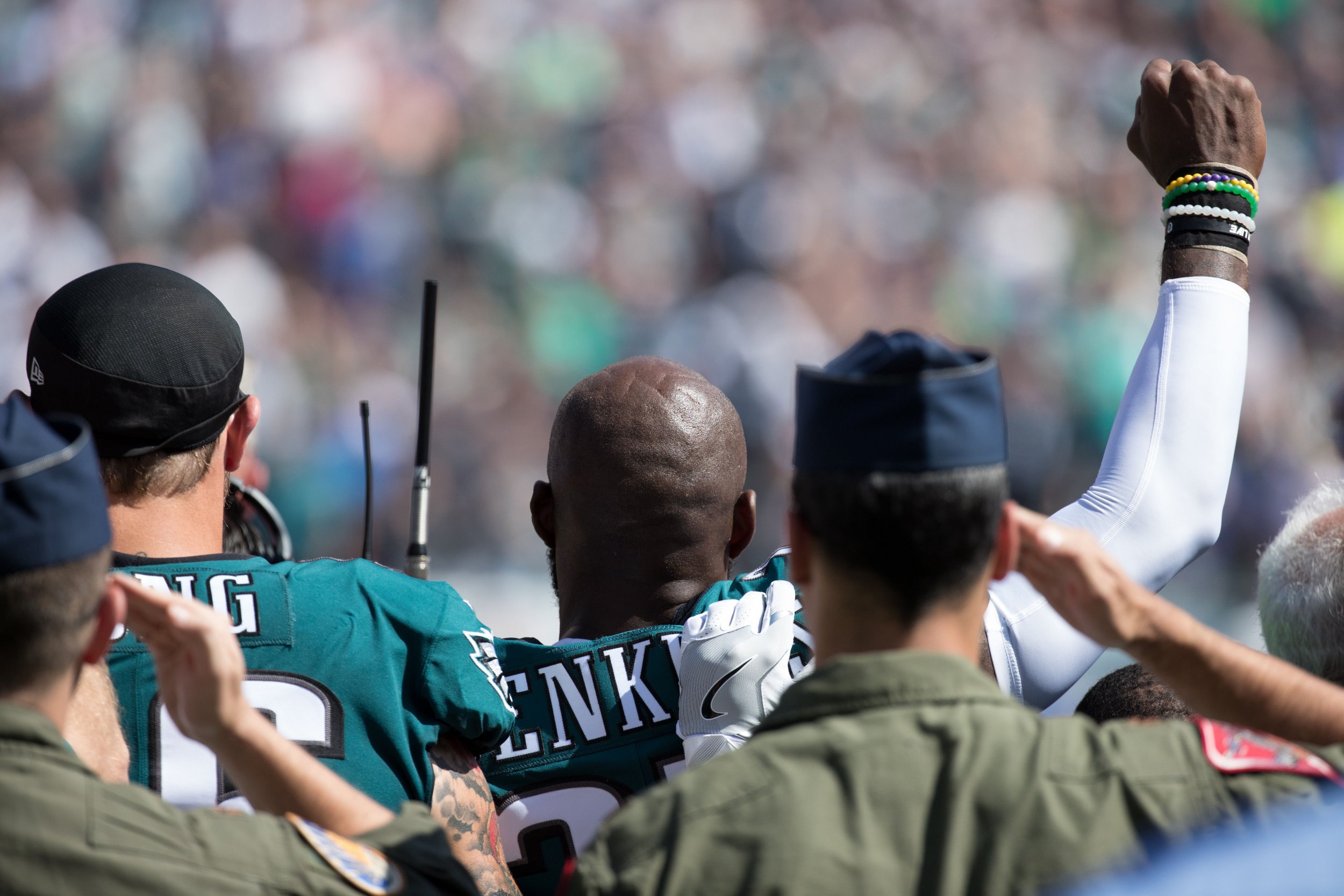 President Donald Trump said he was respecting the flag and American veterans when he decried NFL players who take a knee during the national anthem to protest, but more and more veterans are telling the president he's wrong.
John Middlemas, a 97-year-old veteran of World War II, not only posed on his knee for a social media photo taken by his grandson, Brennan Gilmore, but added, "Those kids have every right to protest." Gilmore posted a photo of his grandfather on social media along with his quote, and the Missouri farmer and veteran took Twitter by storm: The photo brought 123,000 retweets and 323,000 likes.
"My grandpa is a 97-year-old WWII vet & Missouri farmer who wanted to join w/ those who #TakeaKnee," Gilmore tweeted about Middlemas.
Now, other military veterans are following Middlemas's lead and telling the commander in chief that he is wrong.
President Trump tweeted Monday morning: "Many people booed the players who kneeled yesterday (which was a small percentage of total). These are fans who demand respect for our Flag!" The president also claimed that the issue of kneeling "has nothing to do with race. It is about respect for our Country, Flag and National Anthem. NFL must respect this!"
Navy veteran Jeff Dyche said on Twitter: "If you think I joined the #USNavy so NFL football players can kneel in protest of racial injustice, you would be correct. #TakeTheKnee."
Jeffrey Correa, an Air Force veteran, said: "I'm a #veteran and I'm proud to have fought for your right to #TakeTheKnee. A flag and an anthem are meaningless without values behind them."
David Chasteen, a soldier, said, "Served in combat multiple times. I never did anything as brave as #takeaknee Nor as likely to fulfill the promise of 'justice for all.'"
Several members of Twitter responded to Middlemas to say their family members who served in World War II would have joined to kneel and protest racial injustice. Debbie Culwell wrote, "My dad was also a WWII vet, and would have been taking a knee today. Your Pop is now everyone's Pop. Give him a hug for me."
Middlemas told his local newspaper, The Springfield News-Leader, that he wanted to send a message of acceptance after serving alongside black members of the military. Middlemas was deployed on a submarine during World War II. He told the paper that he thought President Trump was "garbage-mouthed" for his statements, adding that he wants the world to understand the importance of peace.
"I wanted to communicate what I always told to my grandkids and everybody else," Middlemas said to the newspaper. "When they'd go to bed at night, we'd tell the kids we wanted to be like Jesus."
Middlemas participated in a 2013 march in Springfield, Missouri, to commemorate the 50th anniversary of Martin Luther King Jr.'s "I Have a Dream" speech. Gilmore remarked that his grandfather is his hero for such activism. "Grandpa has been an ally to the civil rights movement for many years. He's an amazing man always on the side of justice," Gilmore later wrote on Twitter.