Militia Group Pledges to Patrol U.S.-Mexico Border Until Donald Trump's Border Wall Is Completed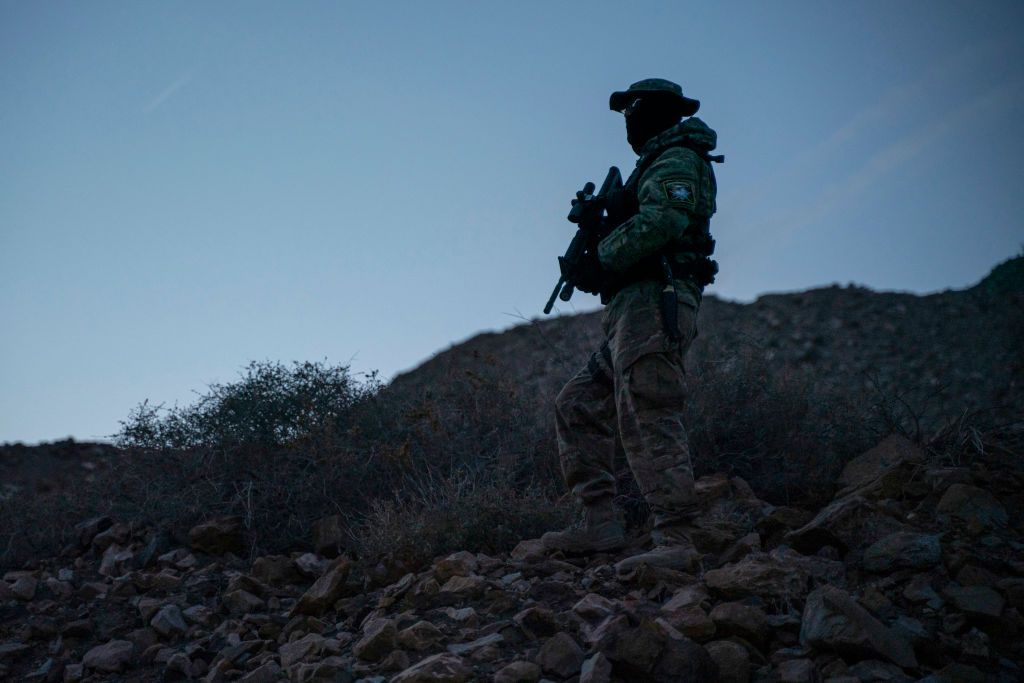 A group of a half-dozen people has pledged to remain at the U.S.-Mexico border until President Donald Trump's proposed border wall has been constructed.
According to Agence France-Presse, the group goes by the name of United Constitutional Patriots (UCP) and has stationed themselves in Sunland Park, New Mexico. The town, located nine miles west of El Paso, Texas, is one of many border towns that have been placed at the center of the ongoing debate regarding the southern border and immigration into the United States.
As thousands of migrants attempt to cross the border, legally or otherwise, U.S. Customs and Border Protection Commissioner and Acting Homeland Security Secretary Kevin McAleenan warned in March that the country's immigration system is working amid an "unprecedented" crisis after Border Patrol agents apprehended 12,000 immigrants in 48 hours.
"CBP is facing an unprecedented humanitarian and border security crisis all along our Southwest Border—and nowhere has that crisis manifested more acutely than here in El Paso," McAleenan said reported the El Paso Times.
The wave of immigrants at the border has left Border Patrol agents and CBP overwhelmed, which is the United Constitutional Patriots comes in, said 70-year-old John Horton, nicknamed 'Striker,' who is a group member.
"We're here to assist the border patrol because they are so short handed. We have a good work rapport with them. Our goal was to be here until we're not needed. And when we're not needed is when that wall is up." Horton told AFP.
The UCP is made up largely of veterans armed with guns and other tactical gear. Their camp consists of a small trailer and a few tents pitched in the New Mexico desert.
However, Horton told KVIA-TV that the guns are merely for the protection of the group.
"We don't want Rambos. We don't want someone down here just to create a problem. We're not going to have any shootings. We're against it. We are armed for our own protection, but that is the only reason we are armed. No other reason," Horton said.
The group told AFP that they operate with three goals in mind: to watch the border, stand guard for immigrants who enter the country illegally and want to turn themselves in to Border Patrol agents and to chase after those immigrants who don't.
However, a group member told KVIA that they recognize they are not allowed to capture anyone and merely call Border Patrol to let them know about an undocumented immigrant in the area.
While a group member, who only identified himself to KVIA as 'Viper' told the ABC affiliate that Border Patrol has asked for their help, the agency dismissed the claim to the television station.
"We work with other federal agencies. Private groups like these, we typically don't reach out to. I don't know if that statement is accurate. I don't believe it to be accurate at this time," Border Patrol Agent Jose Romero said.
However, Romero said citizens were allowed to visit public lands and to observe, "as long as they don't interact with and try to get involved in the midst of the immigration process, or enforcing the laws on the border. That's our job." Romero added that Border Patrol has not had any problems with UCP since they have camped near the border.
The group, who post to social media about their mission and produce a radio show a few times a week, plans to remain at the border until the border wall has been constructed. They've been stationed in Sunland Park for about a month, KVIA said.
"This country was built on three things: God, guns and guts. That American flag has to keep flying. It's in danger, a lot of danger right now," Horton said.