Militia Members 'Trained and Plotted' for Capitol Riot, Had 'Chilling Clear' Plan, Prosecutors Say
While the Capitol riot shocked Americans who watched it unfold on their televisions, the Oath Keepers, a collection of militias, had been planning for a possible insurrection since the election to make sure members were "fighting fit" by President Joe Biden's inauguration.
Unlike the "vast majority" of those who stormed the Capitol, the Oath Keepers and specifically member Jessica Watkins, "trained and plotted" for the riot, according to court documents. Ahead of the riot, members were encouraged to participate in combat training and when January 6 arrived, they had a plan.
"An unknown male cautioned over the channel for [Watkins] to be safe, and stated, 'Get it, Jess. Do your f****** thing ... Everything we f****** trained for," a court document says occurred after Watkins' group made it into the Capitol rotunda.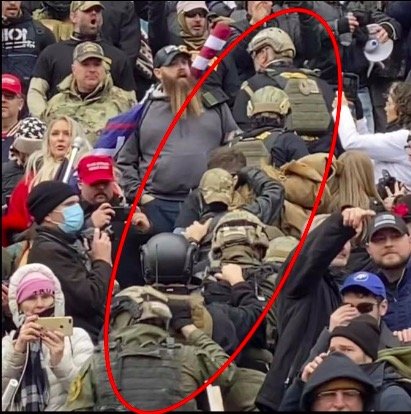 Federal prosecutors allege that Oath Keepers, a group of militias, had a coordinated plan for the Capitol riot, including where and when to meet, a radio system and who would use what weapons would be used.
Department of Justice
When the mob reached the Capitol, a group of people wearing helmets, bullet-proof vests, gloves with knuckle protection and radios marched "tightly together in an organized line" up the steps on the east side. Some of the individuals in the group wore Oath Keeper patches or insignia, court documents say. Video footage from the riot also shows individuals operating in the described formation and wearing the protective gear mentioned in the legal filing.
Watkins informed others on the "Stop the Steal J6" Zello app that they had a "good group" of about 30 to 40 people, who were "sticking together and sticking to the plan."
Prosecutors say a message sent over the channel made it "chilling clear" the plan was to execute citizens' arrests of Congress on "probable cause for acts of treason" and "election fraud." Vice President Mike Pence, senators and congressional staff were already evacuated off the Senate floor by the time rioters reached it.
Representative David Cicilline, one of the House managers for former President Donald Trump's impeachment trial, referenced Watkins and two other militia members, Thomas Caldwell and Donovan Crowl, during his remarks on Thursday. Their plan, Cicilline said according to indictments, was to trap Congress members in tunnels under the Capitol and "turn on [the] gas."
Watkins and Crowl are both members of the Ohio State Regular Militia, a subset of the Oath Keepers, and together with Caldwell are accused of the joint planning of the forcible entry of the Capitol.
More than 180 criminal cases have been brought against people for their alleged involvement in the riot. While officials will continue to prosecute individuals, Michael Sheriw, acting U.S. attorney for the District of Columbia, told reporters in January a "top priority" is to find out if there was an organized "mission" inside the Capitol. Despite finding "breadcrumbs" of organization, Sherwin said at the time an exhaustive investigation was needed.
Newsweek reached out to Sherwin for comment on the status of an investigation and allegations in recent court documents related to Jessica Watkins but did not receive a response in time for publication.
In pushing for her detention ahead of her trial, prosecutors told a judge that Watkins, along with other Oath Keeper members, "planned and coordinated" to attack the Capitol. Ahead of the riot, they developed operation plans for where to stay, when to meet and who should bring what weapons.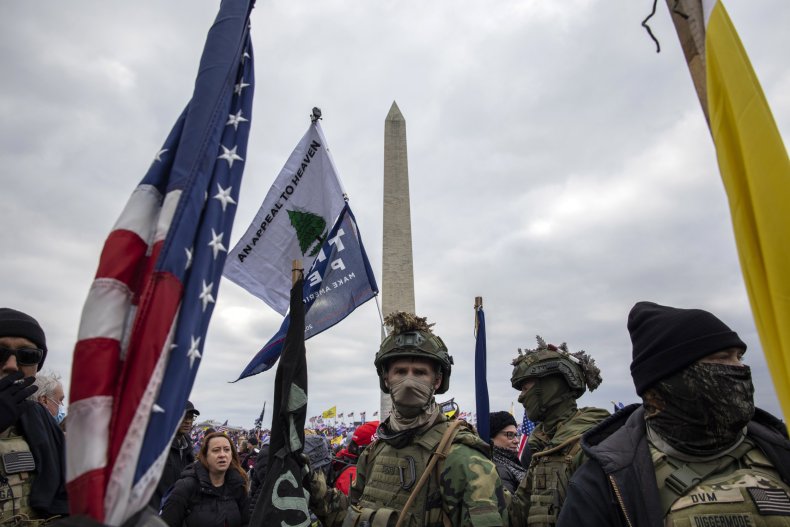 Court documents state that Oath Keeper members used a Signal channel to coordinate plans and initially said a "quick reaction force" would be stationed with firearms at the ready for them, but they should be "prepared to fight hand to hand." While some people were going to stick to "mace, tasers or nightsticks," that directive later changed and Watkins advised two Ohio residents she was planning to travel with to D.C. that "weapons are ok now as well."
Months before the riot, Watkins told a recruit that "basic training" is mandatory because she needed them "fighting fit" by the inauguration. That training, according to prosecutors, included two days of war games and combat training for "urban warfare, riot control and rescue operations."
Believing that Biden's presidency was an existential threat, Watkins said if the Democratic candidate succeeded in "stealing" the election, it was their duty as Americans to "fight, kill and die for our rights."
On January 4, the founder and leader of the Oath Keepers, who is unnamed in the court documents, called on all patriots who are able to go to Washington, D.C., in support of Trump and be ready to do "whatever must be done to honor our oaths." A loosely-organized collection of individual militia groups, the Oath Keepers focus on recruiting current and former military, law enforcement and first responders.
Prosecutors consider Watkins and her co-conspirators a "subset of the most extreme insurgents" that tried to "execute a sophisticated plan" to stop the results of a presidential election.