Young Americans Outvoted Baby Boomers in 2018 Midterm Elections, Millennials Doubled 2014 Turnout
Baby Boomers, millennials and Generation X voters all turned out in record numbers for the November 2018 midterm elections, with millennials aged 22 to 37 doubling their turnout from 2014.
Baby Boomers aged 54 to 72 recorded their highest-ever midterm election turnout in 2018, with nearly two-thirds (64 percent) of the aging generation casting ballots last year. But the 44.1 million Boomers who voted still saw a relatively smaller turnout increase than their younger counterparts and actually made up the lowest share of overall midterm voters (36 percent) since before most millennials were even born in 1986.
The Pew Research Center survey and polling data from the 2018 elections was released Wednesday. Last November, 39 states and U.S. territories had governorships and local election spots up for grabs in addition to 35 of the 100 U.S. Senate and all 435 House of Representatives seats being contested.
Gen Z and Millennials cast 30.6 million votes together, or a quarter of the overall total. But the 26.1 million millennials who reported casting their vote nearly doubled the 13.7 million who voted in the 2014 midterm elections.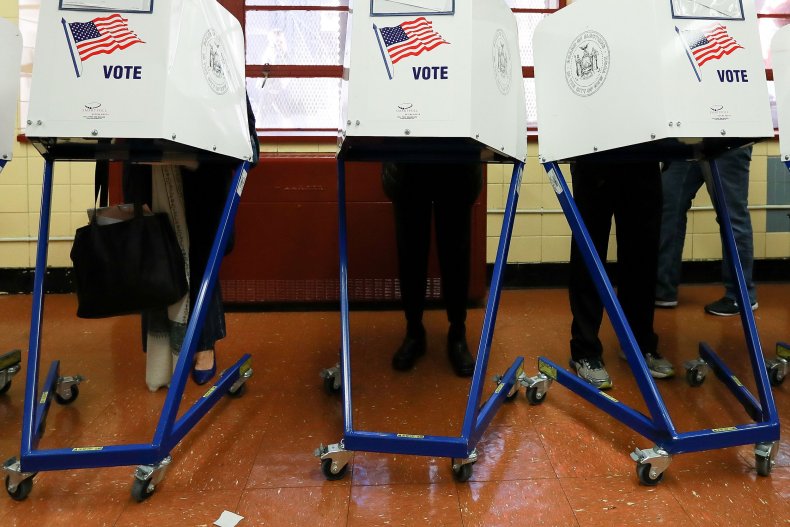 Baby Boomer and older so-called Silent Generation voters saw 3.6 million more people make it to the polls in 2018 than in 2014. Pew notes this modest increase is important because the overall number of eligible Boomers fell by 8.8 million people due to deaths among the aging demographic.
Ultimately, Republicans expanded their majority in the U.S. Senate by two seats, but Democrats had a net gain of 41 seats in the House, allowing them to retake control from the GOP last November.
Among Gen Z, all of whom turned 18 since 2014, about one-third of eligible voters showed up to vote last year in their first-ever election. And for the first time ever, more than half of Americans in Gen X, those aged 38 to 53, showed up to vote in a midterm election.
The Pew Research Center survey notes that although voter turnout rates historically increase among older generations, younger people saw the largest gains last year. In 2014, just over half of Baby Boomers showed up to vote. During the 2016 presidential election, Gen Z, Millennials and Gen X Americans all outvoted Baby Boomers during Donald Trump's victory.