Chairman of the Joint Chiefs of Staff Mark Milley doubled down in defending his calls to the Chinese government, saying he spoke with his Chinese counterpart with the certainty that there would not be a U.S. attack under former President Donald Trump.
"I know, I am certain, that President Trump did not intend to attack the Chinese, and it is my directed responsibility, and it was my directed responsibility by the secretary, to convey that intent to the Chinese," Milley told the Senate Armed Services Committee on Tuesday.
He continued, "My task at that time was to de-escalate. My message again was consistent: stay calm, steady and de-escalate. We are not going to attack you."
The general has recently been the subject of intense scrutiny over two calls he made to Chinese General Li Zuocheng in the final months of Trump's presidency. Reports of the calls were first disclosed in Bob Woodward and Robert Costa's new book, Peril.
Trump has blasted Milley for the calls, saying the top military official "never told me about calls being made to China."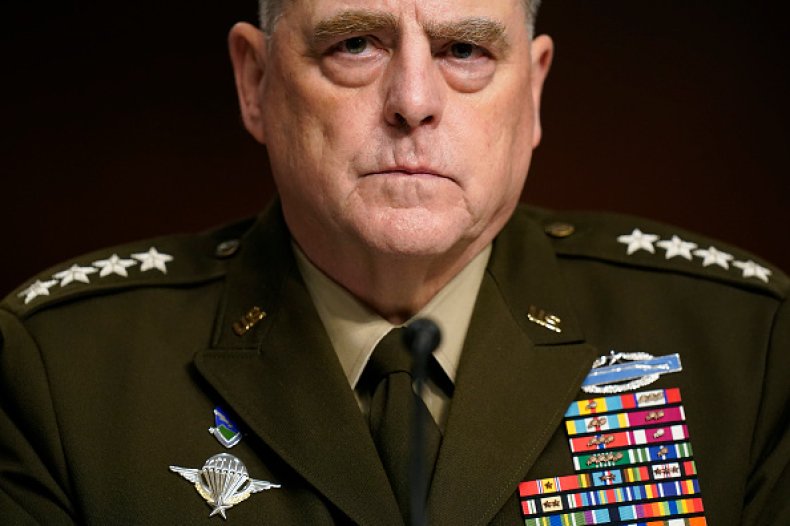 On Tuesday, Milley said that the first call was made on October 30, 2020, at the direction of then-Secretary of Defense Mark Esper, and that the second was set for January 8 at the request of the Chinese government.
Milley said eight people sat in on the first call and 11 people attended the second call. He added that after the January call he "personally informed both Secretary of State [Mike] Pompeo and White House chief of staff [Mark] Meadows" about the conversation with Li.
Miley said he also received a call from House Speaker Nancy Pelosi about Trump's ability to launch nuclear weapons.
"I sought to assure her that nuclear launch is governed by a very specific and deliberate process," he said, adding that Trump "doesn't launch them alone." Milley said the details of the call with Pelosi were then relayed to acting Secretary of Defense Christopher Miller.
"At no time was I attempting to change or influence the process, usurp authority or insert myself in the chain of command, but I am expected, I am required to give my advice to ensure that the president is fully informed on military matters," Milley said.
He added that he would be willing to talk in detail about the intelligence driving the calls to the Chinese government in a classified hearing. He also said he would provide any emails, phone logs, memos or witnesses required to better understand the events.
"My oath is to support the Constitution of the United States of America against all enemies, foreign and domestic, and I will never turn my back on that oath," the general said.