Who Was Millicent Fawcett? Quotes and Facts About Early Feminist Celebrated in Google Doodle
Today's Google Doodle celebrates British suffragist Millicent Fawcett on what would have been her 171st birthday.
Born June 11 1847, Fawcett was a leading voice in the movement for women's suffrage in the United Kingdom. She died in 1929, just a year after Parliament passed the Equal Franchise Act of 1928, which gave women the same voting rights as men.
Fawcett was a campaigner from a young age. According to the Fawcett Society, which changed its name from the London Society for Women's Suffrage in 1953, she was just 19, and too young to sign herself, when she organized signatures for the first petition for women's suffrage.
Related: Feminist activist honored with first statue of a woman in London's Parliament Square
In 1907, she became president of the National Union of Women's Suffrage Societies (NUWSS), a collection of suffragist movements and the largest of its kind at the time. "Her powerful and peaceful mass campaign was instrumental in securing the first extension of voting rights for women in 1918," the Fawcett Society said.
She left the NUWSS the year after that first act passed. Celebrating her appearance on the Google Doodle, the society said, "Her legacy lives on, and we are proud to carry it."
In April 2018, a statue of Fawcett was unveiled in Parliament Square, an area beside the U.K.'s two houses of government that also features statues of Winston Churchill, Mahatma Gandhi and Nelson Mandela. Fawcett is the first and only woman featured.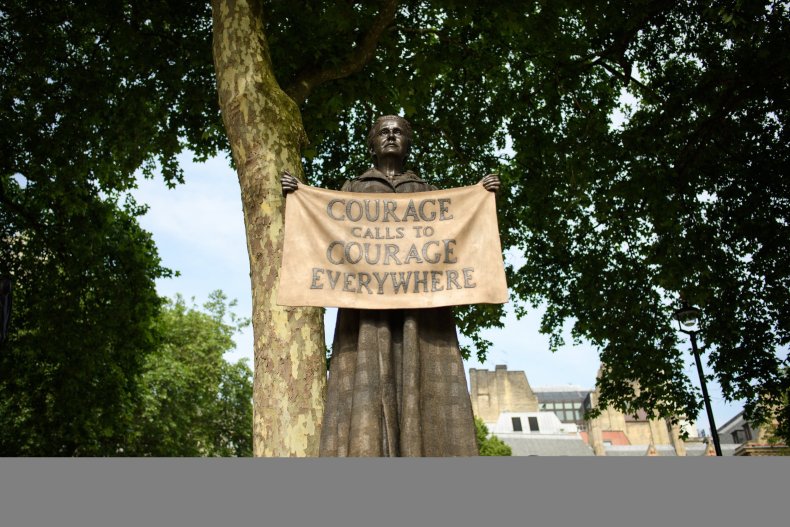 At the unveiling, U.K. Prime Minister Theresa May said, "For generations to come, this statue will serve not just as a reminder of Dame Millicent's extraordinary life and legacy but as inspiration to all of us who wish to follow in her footsteps," The Guardian reported at the time.
In a post celebrating her birthday, London Mayor Sadiq Khan called Fawcett "inspirational" and added, "I would encourage everyone to visit her statue in Parliament Sq.—the first of a woman in the iconic location—and let it remind us to continue the fight for gender equality."
To honor Fawcett on her birthday, Portcullis House, one of the government buildings in the Westminster area, is flying the red, white and green suffragist flag.
2018 is a notable year to celebrate Fawcett, as it marks a century since the first law passed in the U.K. that gave certain women the vote. The 1918 Representation of the People Act gave the vote to all men over 21 and some property-owning women over 30.
Quotes
Likely the most famous quote from Fawcett, and the one that is partly featured on her Parliament Square statue, is "Courage calls to courage everywhere, and its voice cannot be denied."
From her book, Women's Suffrage: A Short History of a Great Movement: "However benevolent men may be in their intentions, they cannot know what women want and what suits the necessities of women's lives as well as women know these things themselves."
"I cannot say I became a suffragist. I always was one, from the time I was old enough to think at all about the principles of Representative Government."
"What draws men and women together is stronger than the brutality and tyranny which drive them apart."