A Million People Have Now Fled Ukraine, According to the UN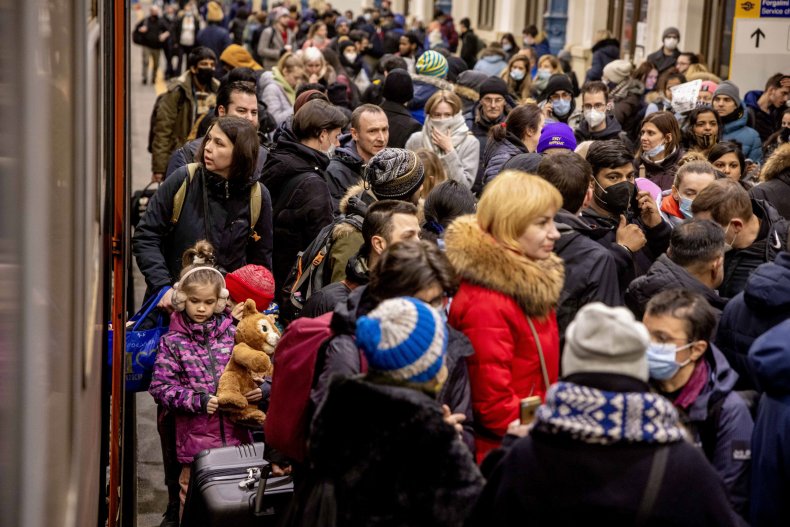 At least 1 million Ukrainians have now fled their country amid the Russian military assault, according to the United Nations (UN).
The UN announced the milestone on Wednesday, marking the fastest movement of refugees during this century, according to the Associated Press. The exodus of more than 2 percent of the Ukrainian population occurred less than one week after Russian President Vladimir Putin launched the full-scale invasion. Ukraine's State Emergency Service said that over 2,000 civilians had been killed in the attack.
"In just seven days we have witnessed the exodus of one million refugees from Ukraine to neighbouring countries," UN High Commissioner for Refugees Filippo Grandi said on Twitter. "For many millions more, inside Ukraine, it's time for guns to fall silent, so that life-saving humanitarian assistance can be provided."
"It's unfathomable that just seven days into the war in Ukraine, 1 million people have been senselessly uprooted from their homes," UN High Commissioner for Refugees Global Spokesperson Kathryn Mahoney added in a statement to Newsweek. "Until the guns are silenced and the violence stops, more innocent people will have their lives upended and be forced to flee."
A significant number of refugees were reportedly seen fleeing Kharkiv, Ukraine's second-largest city, as Russian forces launched a fierce aerial assault. Most of those fleeing Ukraine were headed west.
About half of the people who successfully exited the country arrived in Poland, while many others went to countries including Hungary, Moldova, Romania and Slovakia.
Some refugees hoping to enter Poland were forced to wait in lines up to 10 miles long amid freezing temperatures, according to the BBC. Refugees going to Romania reportedly had to wait up to 20 hours.
Most of those who have fled the war-torn country have been women and children, as well as foreigners who were living in Ukraine at the time of the invasion.
Ukrainian men aged 16 to 60 were forbidden from leaving after martial law was declared alongside an effort to recruit citizens to defend against the Russian attack.
Several of Ukraine's neighboring countries are offering refugees shelter if they do not have any friends or relatives to stay with, in addition to food, clothing, medical care and sometimes cash allowances.
On Thursday, the European Union introduced an emergency plan to offer Ukrainian refugees up to three years of asylum.
The UN has said that up to 4 million refugees could flee the country in the coming weeks and months if the war does not end.
Those who remain in Ukraine have been told to seek shelter to avoid further civilian casualties, with air raid sirens being heard in multiple cities amid the Russian attacks.
The true number of Ukrainian civilian deaths is unclear. While Ukraine has reported over 2,000 deaths, the UN had only confirmed 142 as of Wednesday.
Ukrainian President Volodymyr Zelensky has said that at least 9,000 Russian troops have been killed during the first week of the Russian assault. However, the Russian Defense Ministry has only admitted to 498 deaths and another 1,597 injuries.
Russia has also claimed that over 2,870 Ukrainian troops were killed, with 3,700 wounded and 572 captured. Zelensky said Ukrainian soldier deaths were below 500.