Millionaires Protest Outside Jeff Bezos' House: 'Cut the Bulls**t. Tax the Rich'
A group of millionaire activists calling for higher taxes on the wealthy on Monday organized "Tax Day" protests in New York and Washington D.C. Their plan includes provocative mobile billboards driving past several important landmarks, including two homes belonging to billionaire Jeff Bezos.
"As a millionaire, tax me more," is one of the mottos of the protest group, who call themselves the Patriotic Millionaires, and require that all members have an annual income of at least $1 million, or a net worth of over $5 million.
Their plans for the Tax Day protest include in-person action, as well as three mobile billboards that follow carefully chosen routes through New York and D.C..
The New York billboard reads, "Cut the Bullsh*t. Tax the Rich," and follows a route passing by several locations including the Wall Street bull, the Federal Reserve Building, Senate Majority Leader Chuck Schumer's office, and Bezos' Madison Park apartment.
In D.C., two billboards' planned routes will pass landmarks including Senate Minority Leader Mitch McConnell's residence, another of Bezos's mansion homes, a Trump hotel, and the U.S. Capitol Building. One of these reads, "Tax Me if You Can," while the other says, "Tax the Rich Save America. It's that simple."
"Our billboard will take this slightly-NSFW message directly to the plutocrats of Wall Street to remind them that it's time for them to pay their fair share," the Patriotic Millionaires wrote in a blog post on Monday, referring to their "Cut the Bullsh*t. Tax the Rich" slogan.
"With President Biden's proposal to raise the capital gains tax rate for top earners from 20 percent to 39.6 percent, there is no better time to take on the lies of the Wall Street elite," the post continued, referring to the Biden administration's efforts to raise the top income tax rate, as well as institute a corporate tax hike, aimed at funding a multi-trillion dollar infrastructure proposal.
Republican leaders are, however, unwilling to discuss the proposal as it is.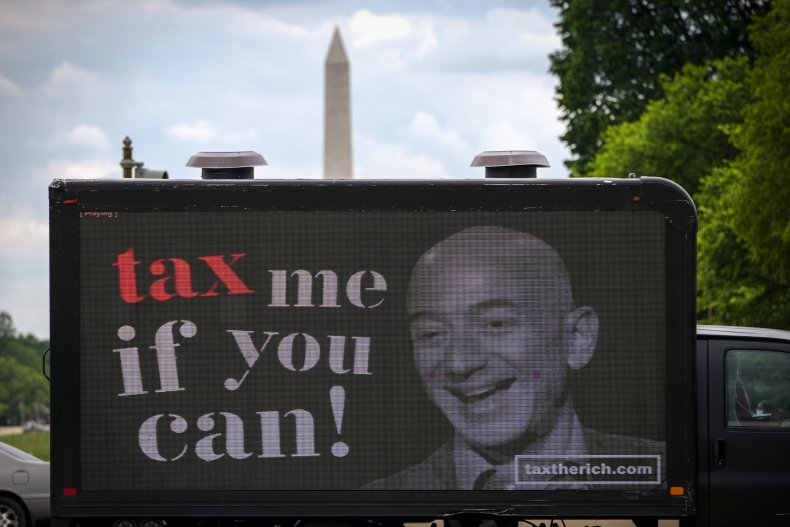 "Jeff Bezos is the poster child for the total idiocy of the country's tax code," Erica Payne, founder and president of the Patriotic Millionaires, told CNBC on Friday. The organization echoed these sentiments in their blog Monday: "...greed and tax loopholes have created an enormous wealth gap in our country. While Bezos and Amazon have made billions of dollars during the pandemic, many of his workers have lost their homes and basic quality of life," the post read.
"Amazon relies on our country's physical infrastructure and education system, yet has expressed no willingness to pay its fair share to keep our country and our economy running smoothly."
The blog goes on to describe the millionaire protestors' plans to drive a billboard past Bezos' D.C. mansion, and park their billboard outside of Bezos' New York City apartment. They also plan to spend Tax Day with a group of around 30 people in front of his Madison Avenue building "holding an in-person protest calling on Bezos to pay up."
Newsweek reached out to Bezo's representatives for comment. This story will be updated with any response.