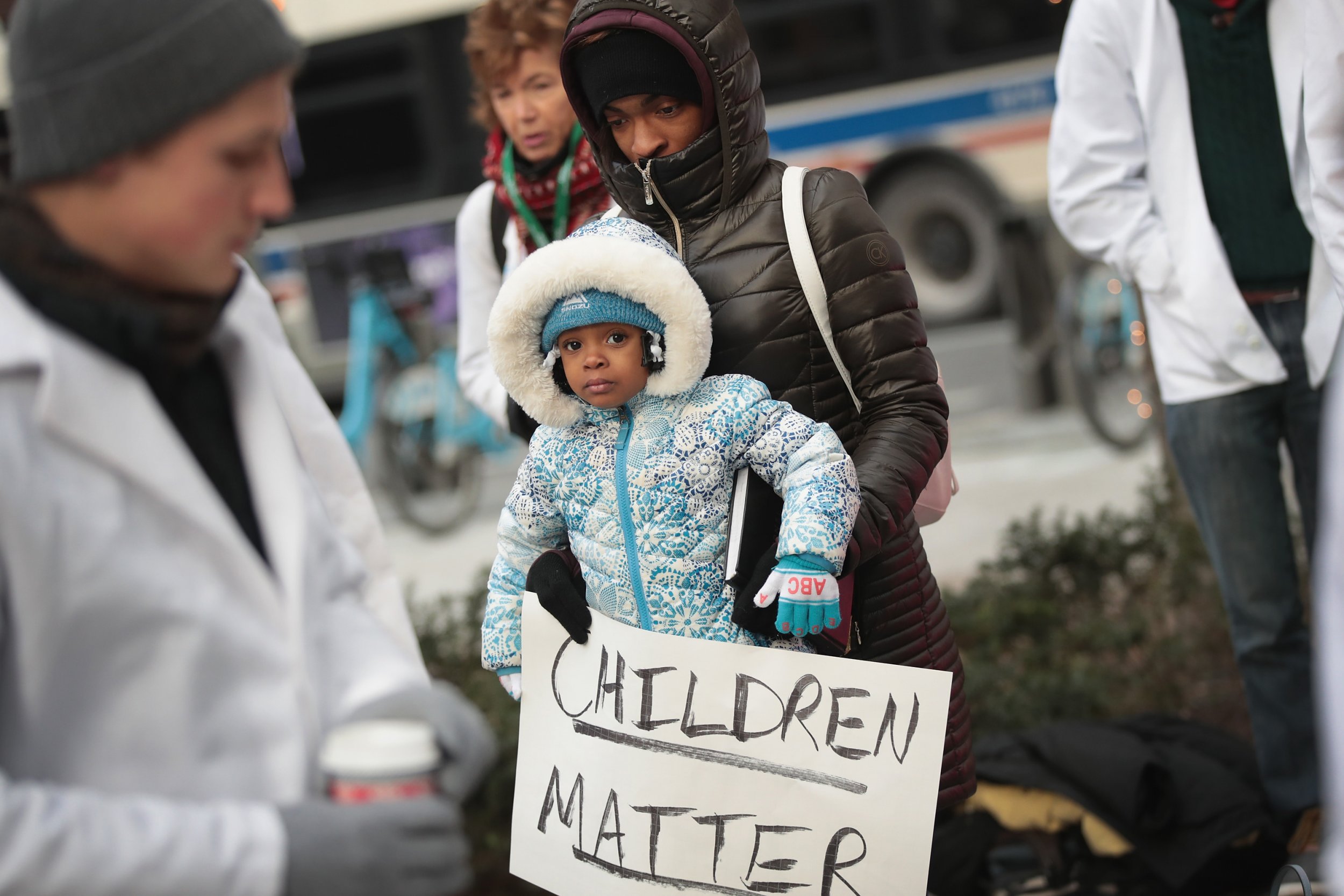 The Trump administration's recent bid to restrict immigrants coming to the U.S. from receiving government benefits could cause countless numbers of children who have U.S. citizenship—but whose parents do not—to lose their health insurance, according to the Urban Institute, a Washington, D.C., think tank.
The government has already faced criticism over its proposal, which was announced by the Department of Homeland Security in September. It seeks to expand on the definition of who is considered a "public charge"—someone who relies on government assistance through such programs as food stamps and public housing.
Previously, the U.S.'s "public charge" policy—which denied entry to people who were likely to rely on the government for benefits—excluded essential programs, such as health care and free lunch programs.
But the new policy intends to ensure that "aliens who seek adjustment of status or a visa, or who are applicants for admission...establish that they are not likely at any time to become a public charge, unless Congress has expressly exempted them from this ground of inadmissibility or has otherwise permitted them to seek a waiver of inadmissibility," according to the DHS proposal.
"Moreover," it stated, "DHS proposes to require all aliens seeking an extension of stay or change of status to demonstrate that they have not received, are not currently receiving, nor are likely to receive, public benefits."
As DHS Secretary Kirstjen Nielsen said in a September statement, "under longstanding federal law, those seeking to immigrate to the United States must show they can support themselves financially."
As a result, the policy could effectively render immigrants who are in the U.S. or seeking to come to the country ineligible for a change in their citizenship status if they are deemed likely to rely on the government for benefits.
Researchers at the Urban Institute have warned that if the White House does go through with its "public charge" policy, it could have a "chilling effect" in discouraging immigrant families from enrolling their citizen children in public health insurance programs, such as Medicaid and the Children's Health Insurance Program, also known as CHIP.
While the proposed public charge rule "wouldn't penalize parents for their children's benefit use," the Urban Institute researchers said that "the rule is likely to discourage some immigrant families from seeking public health insurance coverage through Medicaid or the Children's Health Insurance Program [CHIP] for their children, the majority of whom are US citizens."
"The concern," Urban Institute researcher Jennifer Haley told Newsweek, "is that parents will disenroll their children from Medicaid out of fear and confusion around any implications the rule will have on their immigration prospects."
Haley said researchers could not provide an exact number on how many children could be disenrolled from health insurance. In 2016, there were 6.8 million citizen children with noncitizen parents enrolled in Medicaid/CHIP, according to her report.
Citizen children with noncitizen parents covered by Medicaid/CHIP accounted for more than one in five children with coverage in such states as Arizona, California, Colorado, Illinois, Nevada, New Jersey, New York, Texas and Washington.
In California alone, nearly 1.9 million citizen children with noncitizen parents were enrolled in Medicaid/CHIP in 2016, making up just over 40 percent of all Medicaid/CHIP-enrolled citizen children statewide.
"We anticipate that chilling effects created by fear and confusion over the proposed public charge rule could lead to declines in Medicaid/CHIP participation and higher uninsurance rates among children with noncitizen parents," the Urban Institute study stated.
Already, the Trump administration has faced at least one legal challenge, with the city of Baltimore filing a lawsuit last month against the government accusing the administration of trying to make life difficult for immigrants.
A statement from Baltimore Mayor Catherine E. Pugh's office said the city had already begun to "feel the impact" of the Trump administration's proposed policy.
"To offer just one example, enrollment in the city's Head Start program has virtually ceased among the city's African immigrant population since the start of the 2018 school year," the statement said.
In her own statement, Pugh said that "Baltimore is a welcoming city, known for embracing immigrants and also benefiting from their many contributions."
"This effort by the Trump administration to create additional obstacles to those seeking to live in Baltimore is an affront to the ideals and principles on which this nation was founded," she said. "We are determined to resist this latest attempt to deprive our immigrant communities of basic services and are confident we will prevail."