Millions of Gallons of Sewer Water Flow From Mexico to U.S. Due to Body Trapped in Tijuana River Pump
A trapped dead body clogged up pumps in the Tijuana River and caused nearly 14.5 million gallons of wastewater to flow into the United States from Mexico over the weekend, according to federal officials.
The International Boundary and Water Commission (IBWC) said transboundary flows between approximately 9 p.m. this past Saturday and 8 p.m. on Monday brought 14,497,873 gallons of both treated and untreated wastewater from Tijuana into San Diego's Tijuana River Valley, ABC affiliate KGTV reported.
The San Diego Union-Tribune reported that a cleanup crew in Tijuana, a populous city in the Mexican state of Baja California, just across the border from San Diego, discovered the body on Sunday morning. It had been trapped in the water intake screens along the river channel that are used to filter out debris. The screens had also become filled with trash, Mexican authorities said.
"Police got involved and cordoned off the area, preventing any activity in the crime area while the investigation continued," the IBWC's Dawi Dakhil said in an email obtained by KGTV. "A body was trapped inside the intake screens. This caused trash to build up and plug the structure and overflow into the U.S."
Mexican police are still working to identify the body and determine the cause of death, the Union-Tribune reported.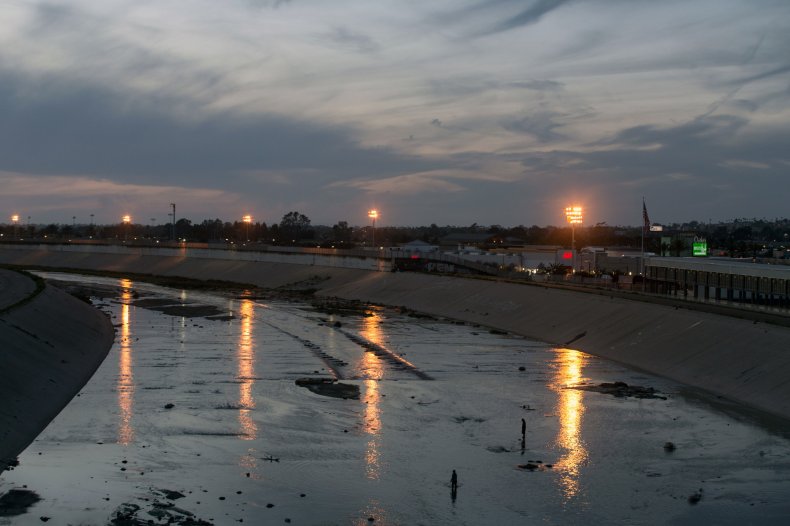 The overflow's precise impact on residents in the San Diego area is not yet known. However, sewage water flowing from Tijuana into Southern California is not a new or unfamiliar problem for the area and has been going on for decades.
On the morning October 12, Southern California activists held a rally to call attention to the sewage flowing into beaches in the region, according to Fox 5 San Diego. This came after more than 100 gallons of water in the Tijuana River were contaminated by sewage water from Mexico over 10 days in September.
Three hundred days every year, sewage overflow causes beach closings in Southern California.
"This is environmental and biological terrorism on the people of the United States of America," said Baron Partlow, founder of an environmental organization called Stop the Poop.
Earlier this month, California's Senator Dianne Feinstein secured language in three different bills that give the state nearly $20 million in funds to combat this pervasive problem in Southern California, according to the Union-Tribune. The bills give the Environmental Protection Agency more money to prevent sewage flow from Mexico into California. They also direct the secretary of state to create an interagency plan to examine the impact of the flows.
"More concrete action must be taken to stop this decades-long problem," Feinstein said in a statement. "Raw sewage overflows and other pollution from Mexico along the Tijuana River that jeopardize human health are unacceptable."