Over 3 million New Yorkers have stopped using the subway system for transportation, in an effort to stop the spread of the novel coronavirus, which has caused a global pandemic.
"March 17, 2019: 5,568,464, March 17, 2020: 1,785,252," the New York City subway wrote on their Twitter account. "3.7 million of you chose not to ride with us yesterday because you want to #flattenthecurve. We miss you, but for now we'll say: thank you for not riding with us. You're keeping NYC safer."
The tweet by the New York City subway systems comes amid a time where cases of the novel coronavirus continue to spread in New York and the U.S. as a whole. According to a tracker provided by Johns Hopkins University, there are over 3,000 cases of the coronavirus in New York and at least 20 deaths.
The tweet also comes just after New York City Governor Andrew Cuomo ordered a mandatory statewide work-from-home requirement. During a press conference on Wednesday, Cuomo ordered all New York businesses must decrease their in-office workforce by 50 percent by Friday. However, many New York City businesses have already taken the initiative into their own hands, allowing their employees to work from home.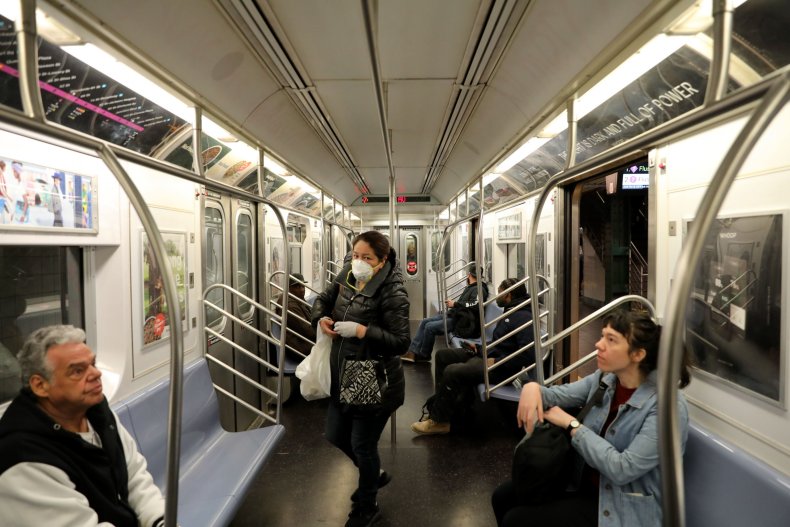 Prior to Cuomo's announcement on Wednesday, New York's MTA (Metropolitan Transportation Authority) announced extensive precautions to combat the new coronavirus on all forms of mass transit.
On March 3, they began their "enhanced sanitizing procedures," and disinfected "427 stations, 1,905 subway cars, 1,974 buses, 1,341 Access-A-Ride vans." According to the MTA website, the enhanced sanitizing procedure also includes disinfecting "stations and high-touch surfaces – like turnstiles, ticket machines and handrails – twice a day."
New York City's subway system was not the only mode of mass transit that has seen a decline in riders throughout the coronavirus pandemic. On March 13, The New York Times reported that New Jersey transit saw a 20 percent decline in bus and train ridership in a week span. The Times also reported a decrease in San Francisco's BART commuter railway, with ridership dropping by 25 percent in one week.
The novel coronavirus originated in Wuhan, China, but has spread across the globe, touching a number of different countries in territories. While New York has seen over 3,000 cases alone, according to the Johns Hopkins' tracker, the U.S. as a whole has seen over 9,000 cases and at least 150 deaths related to the virus.
Efforts across the U.S. to control the spread of the virus include social distancing, an effort employed to help 'flatten the curve,' of the pandemic. The idea behind the term, which was mentioned in the New York City Subway tweet, means containing the rate of spread so that the U.S. health care system isn't overwhelmed with patients. To do so, recommendations from the Centers for Disease Control include to remain at home and to keep at least six feet between yourself and others while in public whenever possible.