Millions in Student Loan Debt to be Discharged by Department of Education After Betsy DeVos Loses Court Battle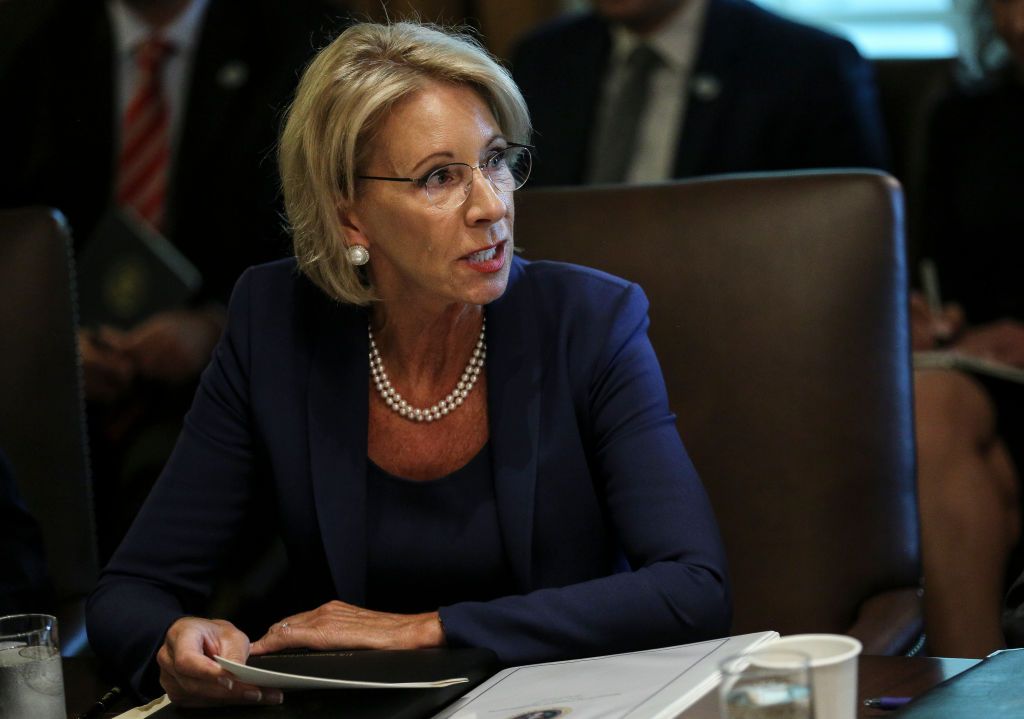 The U.S. Department of Education will cancel millions of dollars of student loan debt following a court ruling.
The department announced the move on Thursday, saying that approximately $150 million in loans would be canceled for borrowers who attended for-profit colleges that have now closed, Politico reported.
The announcement came after DeVos sought to remove a policy from former President Barack Obama's administration that protected borrowers whose schools had closed or defrauded them. DeVos had previously said that the Obama-era policy made it too easy for students to have their debt removed, making the policy unfair to colleges and taxpayers.
But a federal judge ruled in September that DeVos's attempts to keep the regulations from taking effect was illegal. The same judge issued another ruling in October that prevented for-profit colleges from blocking the policy.
Borrowers whose schools closed are eligible to have their loans discharged so long as they don't transfer their credits to another institution. Under previous presidents, the process required the completion of an application, but only a small percentage of eligible borrowers used the program. In 2015, the Obama administration, citing that small percentage, elected to change the policy, making the process of discharging the loans automatic.
An estimated 15,000 borrowers will see their loans discharged by the Department of Education under the regulation. None of those borrowers applied for the discharge, Department of Education officials said.
But there is nothing keeping borrowers from completing an application to cancel loans if they meet the requirements of the program.
Half of the borrowers attended Corinthian Colleges, a for-profit chain that closed in 2015 after filing for bankruptcy. The other students attended colleges that closed between November 1, 2013, and Dec. 4, 2018.
The discharge process can take up to 90 days. The Department of Education said it would begin notifying borrowers Friday via email.
"This is a good first step, but it's not good enough... [DeVos should] abandon her attempts to rewrite the borrower defense rule to let for-profit colleges off the hook and instead fully implement the current rule and provide relief to more than 100,000 borrowers who were cheated out of their education and savings," Senator Patty Murray, a Democrat from Washington and a member of the Senate Education Committee, told Politico in a statement.
While borrowers will see these loans discharged, DeVos has proposed a stricter policy for loan forgiveness though the details of her proposal have not been finalized. DeVos could also find herself under investigation by at least five different committees in the House of Representatives for policies and rollbacks of regulations to protect students.