More than 3.5 million veterans exposed to burn pits and other toxins while serving oversees would be eligible for health care and benefits under a bipartisan bill advancing through Congress.
The Senate on Tuesday overwhelmingly voted to proceed with a bill intended to give veterans suffering from respiratory illnesses and cancers from toxins they came across in war zones access to needed medical care. The landmark legislation is the culmination of years of work by veterans groups who say it's long overdue.
The bill is named for Sergeant First Class Heath Robinson, an Ohio National Guard solider who was deployed to Kosovo and Iraq and died in 2020. During an event in Washington, D.C., Tuesday in support of the legislation, Susan Zeier, Robinson's mother-in-law, described the ordeal her family endured.
Wearing a military jacket with the name "Robinson" stitched on, Zeier described how her son-in-law was diagnosed in 2017 with stage-four lung cancer, which his oncologist said was rare and could have only been caused by prolonged toxic exposure. It was then, said Zeier, that she learned what a burn pit was.
A burn pit is an open-air trench where waste is burned, and was a common disposal method at military sites in Iraq and Afghanistan, according to the U.S. Department of Veterans Affairs (VA). Pits were used to dispose of chemicals, paint, medical and human waste, munitions and other potentially hazardous materials. The VA in 2014 established a registry in response to concerns of respiratory illness potentially caused by exposure to burn pits.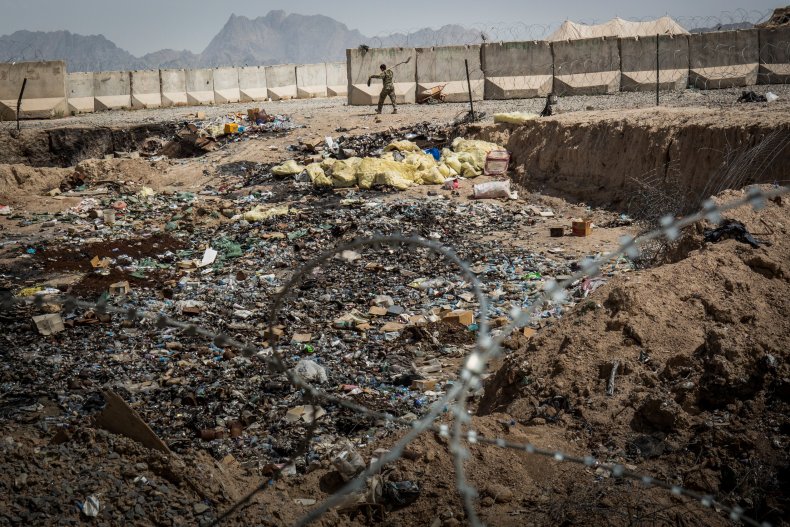 "One month prior to his cancer diagnosis, we learned he had a rare mucous membrane autoimmune disease that caused him to have reoccurring gushing nosebleeds and bleeding from his ears," said Zeier. "Needless to say, he spent his final three years on earth battling the war that followed him home."
Caring for him became a physically and emotionally draining "around-the-clock ordeal," and she said he had to move into his home to help with his spontaneous, gushing nosebleeds while vomiting, making him unable to keep the oxygen tube in his nose.
Zeier said Heath Robinson's wife, Danielle Robinson, applied for VA caregiver benefits, but her claim was denied after he was unable to prove burn bits or other combat-related trauma had caused his illness.
Veterans groups have said that tens of thousands of other service members have had similar experiences to Robinson's. The issue has gained traction in recent years, and President Joe Biden brought up burn pits in his State of the Union address in March.
"We owe it to our veterans and their families to address these consequences comprehensively," the White House said in a statement supporting the legislation Tuesday. "Unfortunately, it has taken decades to understand the dangerous effects of harmful environmental exposures—leaving too many veterans without the benefits and services they need and deserve."
Biden again voiced support for the legislation Tuesday as he signed nine other bills related to veterans into law. One of the bills the president signed expands eligibility for VA mammography screenings for veterans who served in places associated with toxic exposures.
The legislation adds 23 burn pit and toxic exposure-related conditions to a list of ailments presumed to be service-related. It establishes 31 new VA health care facilities, expands health care eligibility for post-9/11 combat veterans, while improving screening for toxic-related illnesses.
"This is long overdue legislation," said Democratic Senator Jon Tester, chair of the Senate Committee on Veterans' Affairs, at the event Tuesday. "Because quite honestly, it's burn pits today. Yesterday, it was Agent Orange."
But it will come at a cost. The Congressional Budget Office estimates the bill will cost $278.5 billion over 10 years, about $40 billion less than a version passed earlier by the House.
Correction 6/9/2022, 4:40 p.m. ET: This article was updated to reflect the status of the legislation expanding medical care for veterans exposed to burn pits.