Hurricane Maria Response: Millions of Water Bottles Never Reached Puerto Ricans
Millions of water bottles sent by the Federal Emergency Management Agency to Puerto Rico after Hurricane Maria never reached their intended recipients, The Hill reported on Wednesday.
FEMA told CBS News correspondent David Begnaud on Tuesday that a vast amount of relief water had never been distributed. Begnaud had tweeted that the bottles were sitting on a runway in Ceiba, an eastern municipality bordering the Atlantic Ocean. FEMA told Begnaud that it had turned the water over to the central government.
Puerto Rican photographer Abdiel Santana had captured images of piles of water bottles. "Although you don't believe it…almost a million boxes of water that were never delivered to the village," Santana write in a Facebook post.
Begnaud wrote about the aid failure the same day that President Donald Trump described the recovery effort a success. "I actually think it was one of the best jobs that's ever been with respect to what this is all about," Trump told reporters Tuesday at the Oval Office. "The job that FEMA and law enforcement and everybody did, working along with the governor in Puerto Rico, I think, was tremendous. I think that Puerto Rico was an incredible, unsung success."
The president said his government's response was praiseworthy, because the island already had infrastructure problems before both hurricanes, Irma and Maria, struck the island.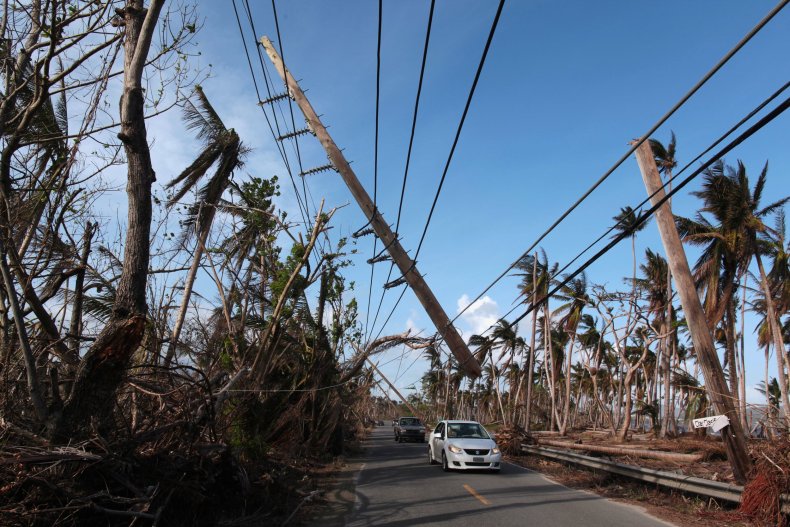 The storm and its subsequent impact killed nearly 3,000 people, according to a study from researchers at George Washington University. Hundreds of thousands of people lacked power for months, and essential food and clean water aid was slow to reach isolated areas in the commonwealth. Damage caused by flooding, rain and winds that reached 155 miles per hour resulted in $90 billion in damage, according to the National Oceanic and Atmospheric Administration.
San Juan Mayor Carmen Yulín Cruz repeatedly criticized and pleaded with the Trump administration to provide more aid after the devastating storm, which prompted an exodus of 200,000 Puerto Ricans to the continental U.S.
Cruz issued an incredulous response to Trump's comments on Tuesday. "Success? Federal response according to Trump in Puerto Rico a success? If he thinks the death of 3,000 people [is] a success God help us all," she wrote on Twitter.
Last month, The New York Times reported that the National Guard failed to distribute 10 trailers of food, water and other supplies donated after the hurricane.
The Government Accountability Office described the FEMA effort as "the largest and longest single response in the agency's history. As of April 2018, FEMA had obligated over $12 billion for response and recovery for Hurricane Maria (see figure below) reflecting the scale and complexity of efforts given the widespread damage." But the report also criticized the response, noting that FEMA struggled with logistical challenges and a lack of preparation to effectively provide aid after a Category 5 hurricane, particularly during a heavy hurricane season.
A FEMA report assessing the response to the 2017 storm season noted that the agency was not prepared to respond to crises outside the continental United States and was hindered by too few workers, an understocked warehouse and a lack of organization.