With a Millrose Games Record, Noah Affolder Atones for Last Year's Misery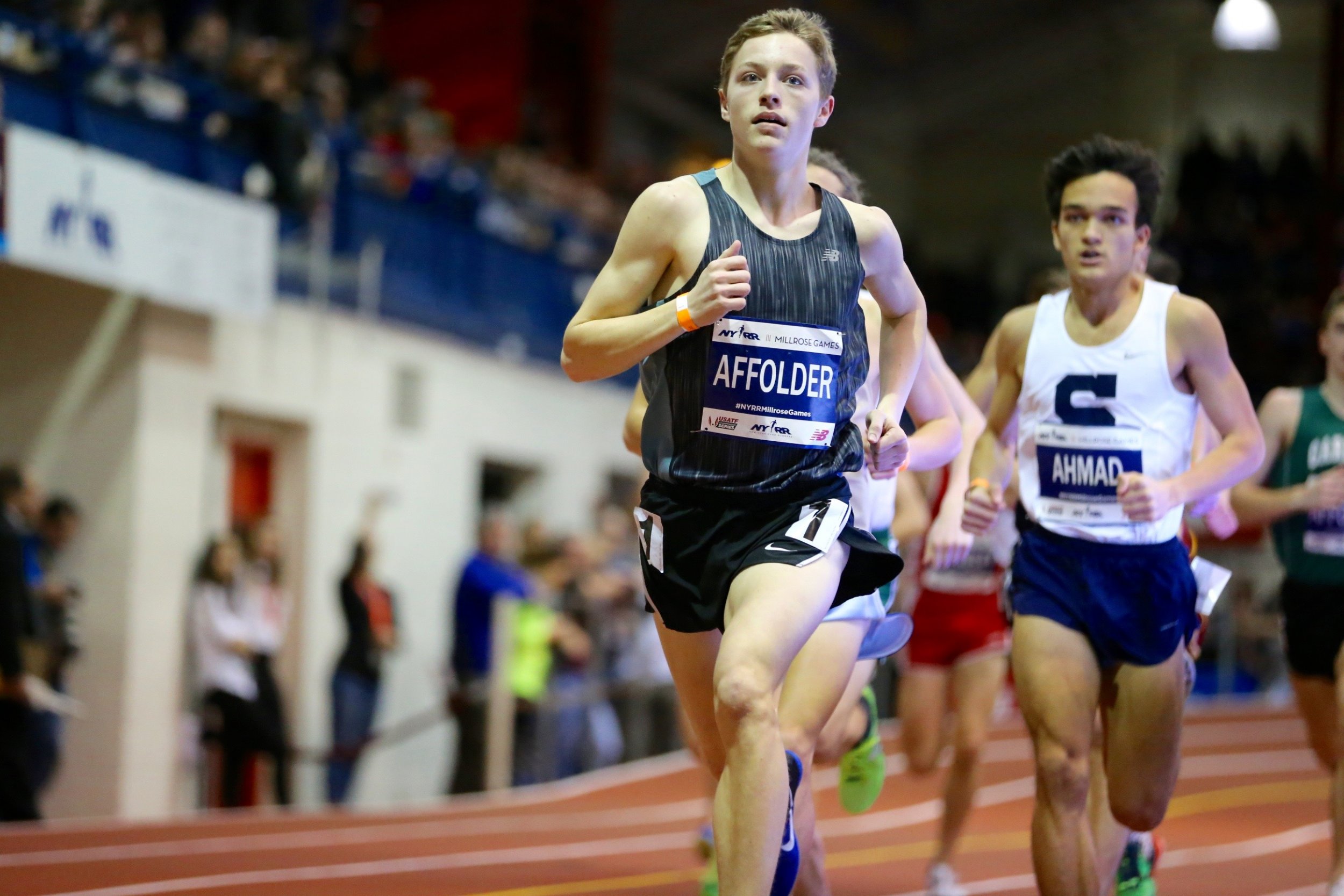 All but one of the 12 high school milers who toed the starting line at Saturday's Millrose Games in upper Manhattan did so in their school singlets. Brodey Hasty, a senior from Brentwood (Tennessee) High School, had "Brentwood" festooned across his chest. Sam Affolder, a junior from Carlisle (Pennsylvania) High, represented with a fern-green, school-issued top with "Carlisle" in white.
The lone fashion renegade at the Armory was Noah Affolder, Sam's older brother and the favorite in the race, the high school boys' mile run. Instead of repping a Carlisle jersey as his younger sibling did, Noah modeled a green camouflage top his father had hastily purchased for him at the Armory gift shop ($29.99) an hour or so earlier. His black shorts were a loaner from Hasty, his chief rival in the event.
One of the nation's premier prep milers, Affolder stood on the starting line looking a little bit like a dork. That morning his father, his brother and he had embarked on the drive to New York City from central Pennsylvania. Roughly 10 minutes into the journey Sam had pulled his Carlisle jersey from his bag and asked his big brother if he had remembered his. "You're not going to need that," said Noah, who was also celebrating his 18th birthday. "They'll issue us stuff to wear."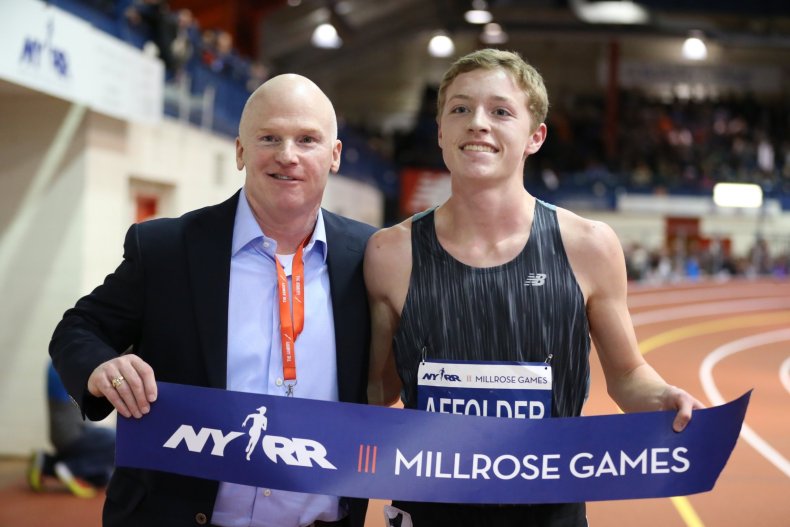 "Are you sure?" asked Sam.
Affolder was sure—when he had taken part in this same race in 2016, runners had been issued singlets and shorts from an event sponsor, New Balance. What Affolder, who at the time attended Carthage Central High School in upstate New York, wore last year is not what he nor anyone else who witnessed the race remembers. What they remember is when he was leading just a few feet from the tape, an exuberant Affolder raised his arms in triumph.
"I was two strides away and I started to lift my arms," Affolder sheepishly remembers. "Then I spotted Isaac's arm to my right, but it was too late."
Isaac Cortes, then a senior at Great Oak High in Temecula, California, broke the tape in 4:09.87. Affolder's time? 4:09.88.
"I remember just sprawling onto the track and burying my head in my arms," says Affolder. "Someone took a picture of that and for a long time, that was my screensaver."
Related: Indoor marathon world records set at New York armory
The Affolder clan—Noah is the second-oldest of five children—is not given to maudlin displays of emotional support. Luke Affolder, then a seventh-grader, was giddy about his big brother's boner. "He wrote a poem about the race for a school assignment ['Number one fingers went up before the line/Which cost him the race and a 4:09']," says Noah. "He'd call me 'Cortes' all the time. I'm listed as '.01' in his phone contacts."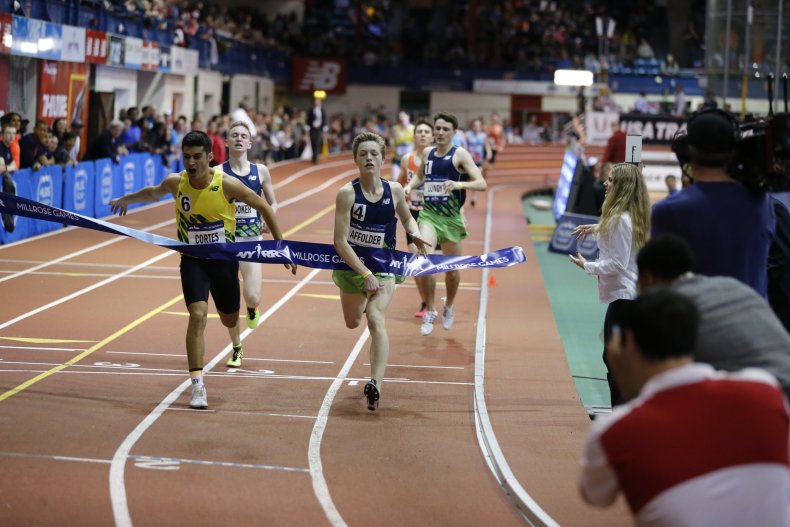 Trolling comes easily to the Affolders. When Noah realized that he had once again goofed by forgetting to bring his singlet and shorts on Saturday—he was sure, but wrong—his father twisted the knife on the birthday boy. "The first decision of your adult life [not bringing the singlet] didn't turn out too well," said the elder Affolder before plopping down his credit card at the gift shop.
If Affolder felt sheepish in his birthday suit, he might have hidden in the pack during the eight laps around the 200-meter oval. Instead, the Syracuse-bound senior took the lead on the opening turn and never ceded it. He crossed the tape, arms still chugging, in 4:07.24, the fastest time in the 40 years that the race has been staged at the Millrose Games. Hasty, whose extra pair of shorts he had borrowed, finished second in 4:08.04. Younger brother Sam finished fifth.
It was not just a meet record—it was a race of redemption and also a unique way to celebrate one's 18th birthday. Affolder was not finished celebrating, though. "I started this tradition about five years ago in which I run the number of miles of my birthday age," he said. "So I still have 17 miles I need to do today."
As for his middle-school brother, the one who is quick with the quips and the couplets, Affolder suggested that it may be time for Luke to lay down a new verse or two. "That poem was the only 'A' he got," said big brother.