Milo's 'Free Speech Week' at Berkeley Lasted About Half an Hour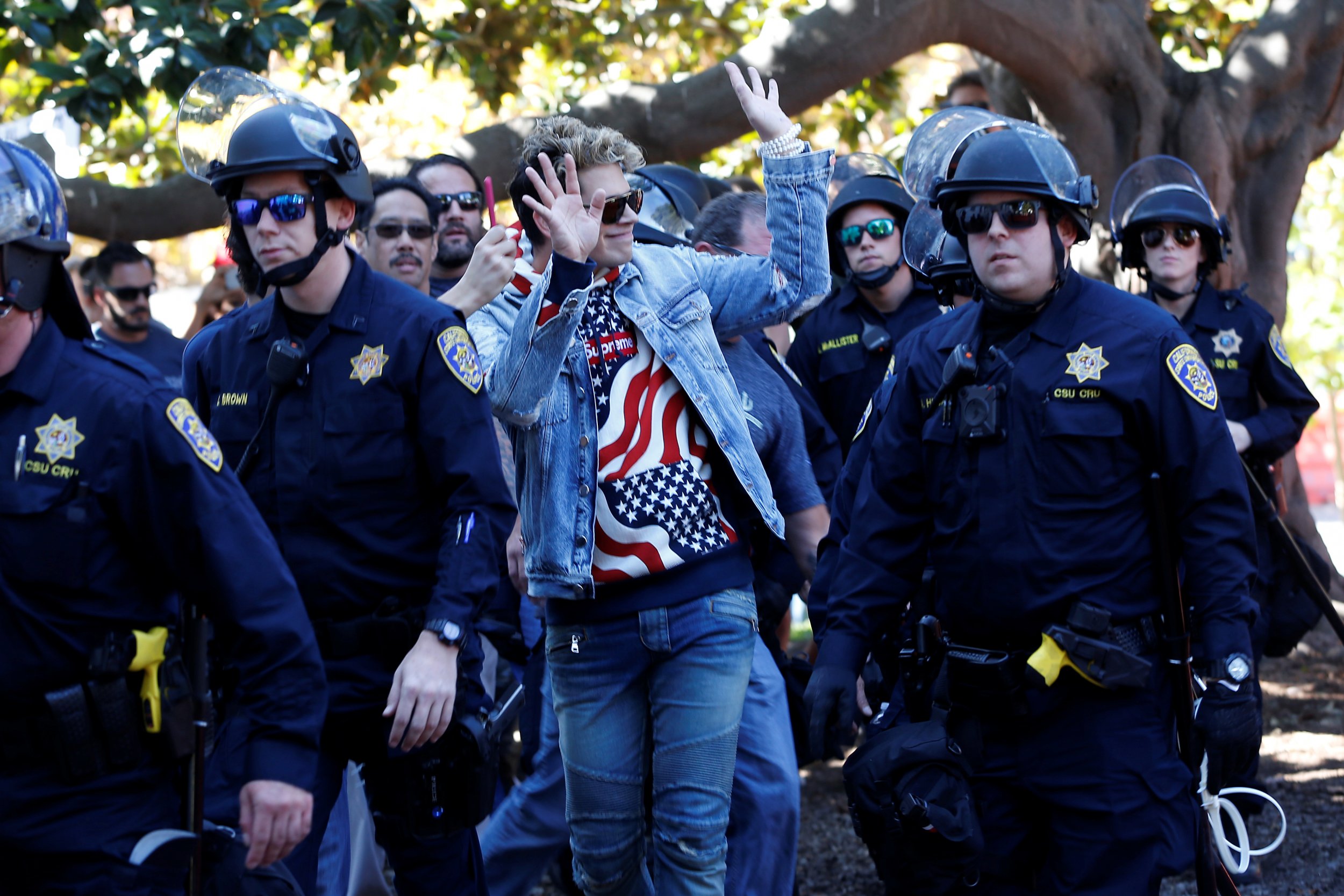 On Sunday afternoon, the right-wing provocateur Milo Yiannopoulos stood on nearly the exact same spot where, 53 years ago, Berkeley graduate student Mario Savio had launched the Free Speech Movement—and the wave of protests that swept across American college campuses—with his fiery denunciation of "the operation of the machine,"
But in his aviator-style sunglasses, jean jacket and American-flag hoodie—seemingly unnecessary on this hot Northern California day—and with his blonde-tipped and tousled mane, Yiannopoulos looked less like a 1960s radical than a 1980s rock star, somewhat past his prime, launching one final bid for greatness. Though a scrum of fans surrounded Yiannopoulos on the steps of Sproul Hall, a far greater number of detractors waited behind a set of barriers that rendered Sproul Plaza, the symbolic center of campus, empty and baking under the noonday sun. And both factions seemed to be outnumbered by police officers from a variety of local and state law enforcement agencies.
But at least, this time around, Yiannopoulos actually showed up at Berkeley. He had been scheduled to give a talk on campus last February, shortly after the inauguration of President Donald J. Trump. But leftist activists set fires, destroyed campus property and confronted supporters of Yiannopoulos and Trump. The talk was canceled, while Berkeley earned a Twitter rebuke from Trump. In the months that followed, there were several more violent clashes between political factions in Berkeley, making the famously liberal city a battleground where supporters and detractors of Trump waged furious battle, in scenes that seemed far closer to 1967 than 2017.
Starting from last winter's canceled talk, Yiannopoulos had long promised to return to Berkeley, vowing in a Facebook post from last April, "Berkeley is going to become the free speech capital of the United States once again. I will make sure of it." But as the date of the event neared, confusion took hold. Planned speakers such as conservative commentator Ann Coulter (who'd also canceled a Berkeley speech last spring) and Breitbart News executive chairman Stephen K. Bannon, who'd helped make Yiannopoulos a far-right celebrity by hiring him as the site's technology editor in 2015. It was appropriate, then, that one young man wore a "Bannon 2020" t-shirt, even though it is unlikely that the former White House chief political strategist will run for office, then or ever.
Berkeley officials seemed as confused as everyone else. The university's new chancellor, Carol T. Christ, had deemed herself a supporter of the First Amendment. In an auspicious sign, a scheduled speech by Ben Shapiro, the conservative journalist, went off as planned earlier this month, though it required $600,000 in security costs. But neither Yiannopoulos nor the campus group sponsoring Free Speech Week, the Berkeley Patriot, could confirm even the most basic details of the event. That left Berkeley in the position of affirming the free-speech rights of conservative students while pointing to organizational shortcomings that threatened to derail the safe exercise of those very rights.
The confusion continued through the weekend, as the Berkeley Patriot deemed the event canceled but Yiannopoulos declared it would go on, albeit in much-diminished form. In an email to Newsweek, he blamed the cancellation on "pressure from the administration," an allegation that Berkeley officials denied. "The students may have pulled out of Free Speech Week," the email said, "but I and my speakers have not." He reiterated a similar point in a press conference broadcast online on Saturday afternoon. The video showed Yiannopoulos flanked by Mike Cernovich, the far-right conspiracy theorist, and Pamela Geller, the virulently Islamophobic activist.
"We are going to be hosting an event, come hell or high water, tomorrow," Yiannopoulos said.
True to his word, Yiannopoulos did show up at Berkeley around noon on Sunday, flanked by Cernovich and Geller, as well as several members of his entourage. Anyone wishing to stand near Yiannopoulos on the Sproul Hall steps had to pass through airport-style security. Most people, supporters and detractors alike, seemed content to wait behind police barricades, where one was further from the glow of Yiannopoulos's fame but closer to a modicum of shade.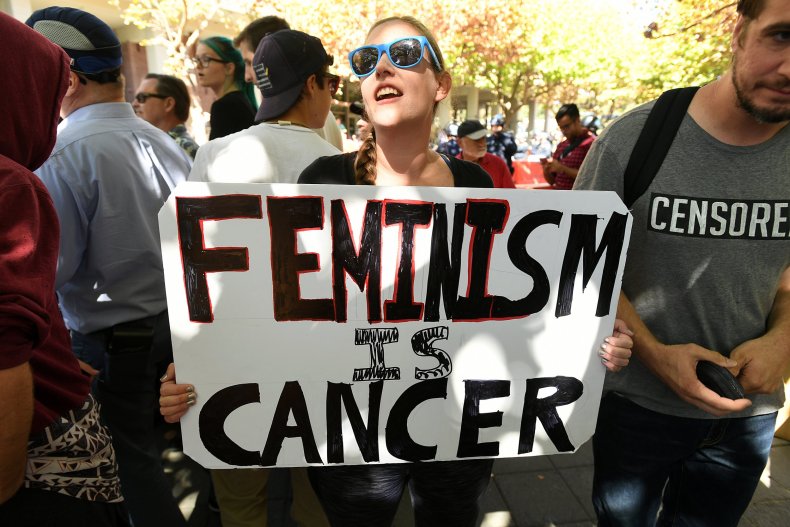 Yiannopoulos did not give a Savio-style speech denouncing liberal groupthink or identity politics. But he did cluster with supporters for about 30 minutes, seeming to take selfies and sign autographs. After some time, protesters apparently affiliated with the leftist groups By Any Means Necessary and Refuse Fascism moved along the edges of the barricades, changing slogans like "No Trump, no KKK no fascist USA" into the megaphone.
"Sometimes you gotta ask yourself, 'What would Gov. Reagan do?" wondered one young man as the protesters grew louder. This was presumably a reference to Reagan's time as governor of California, when he dispatched some 800 officers to quell protests in Berkeley's People Park. One student was killed, but Reagan earned praise from Americans dismayed at the increasingly militant tactics of campus radicals.
Yiannopoulos was not interested in confronting his detractors. Sensing his point had been made, he and his coterie retreated towards sports utility vehicles waiting some distance away. The protesters followed, as did members of the media and curious onlookers. After Yiannopoulos departed, some of the counter-protesters engaged in a shouting match with Ben Bergquam, the Fresno-based host of a conservative radio program. A previous visit to a Berkeley rally left Bergquam bloodied, turning him into a symbol of leftist violence. This time, the tension seemed to lessen after several minutes. About an hour after Yiannopoulos first set foot on campus, things at Berkeley started to return to normal.
Yiannopoulos did not reply to a Newsweek email about whether he would take to campus in the days that follow. But given the general disarray surrounding the event, it is not clear that Free Speech Week will go on much longer than a single afternoon.
One student watching the scene remarked to his friend, "Dude, is this like Comic-Con for assholes?" referencing the popular comics-based convention held annually in San Diego. It was not clear whether the young man was referring to fans of Yiannopoulos and Trump, their angry detractors or—as seemed to be the case—both. And though the question may have been rhetorical, it was not exactly unfair.