Is This NPR Station Silencing Milo Yiannopoulos for Speaking Rationally Instead of Trolling Out?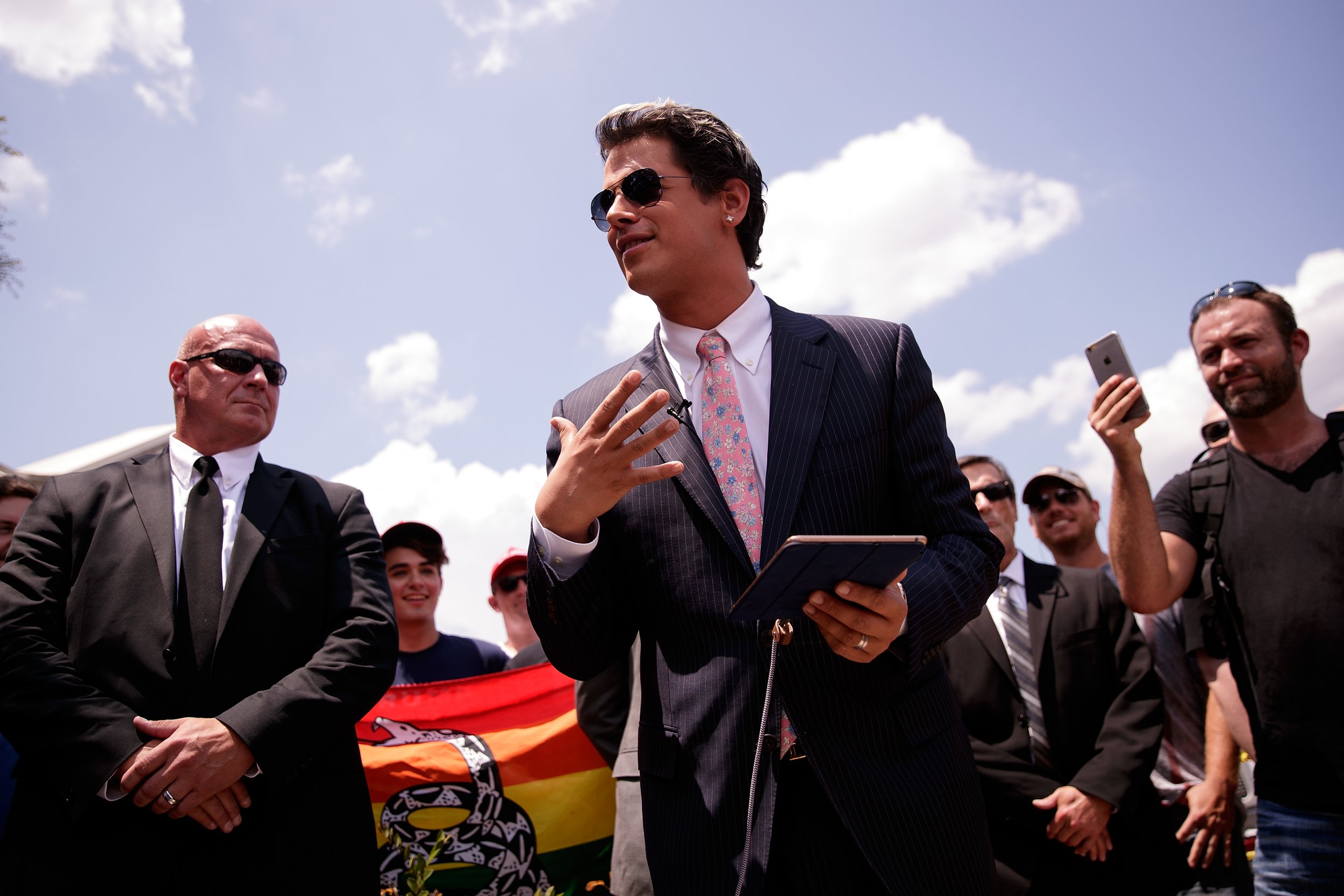 Milo Yiannopoulos, the prominent conservative provocateur, has charged that a Connecticut public radio station is refusing to air an interview with him. Not because he said anything offensive or unseemly but, Yiannopoulos claims, because he rationally and persuasively laid out his right-wing views on Islam, race and American liberalism. Those view, he believes, led the station to silence him.
The controversy comes as the mainstream media are under unrelenting scrutiny from conservatives and Republicans who believe that their views are either underrepresented or distorted in the press and on cable television. They have singled out outlets like CNN and The New York Times for peddling "fake news" and trafficking in hysteria surrounding the Trump administration. Yiannopoulos's accusations are likely to bolster that narrative of rampant bias.
"I am not a white supremacist, I am not a white nationalist, I am not a bigot, sexist, racist. I am not any of those things," Yiannopoulos said near the opening of his WNPR interview, which was to be part of the promotional tour for his new book Dangerous, He thanked his interviewer, Colin McEnroe, for giving him a venue to present himself as more than the mediagenic troll whose scheduled appearance last winter at the University of California at Berkeley devolved into chaos and who was fired from Breitbart for comments seemingly approving of pedophilia.
"I should temper what I just said with a caveat," Yiannopoulos said at one point during the interview, while critiquing media outlets. This was a striking statement because to many, Yiannopoulos is not known for temperance or caveats but, rather, for purposefully inciting liberals' ire, both in his Breitbart days and in his recent Dangerous Faggot speaking tour.
Now, however, Yiannopoulos is charging that precisely because he was so tempered in his 45-minute conversation with McEnroe, WNPR is refusing to air the interview, which was taped more than a week ago, on July 10, at an NPR studio in New York City. Breitbart News, which first reported Tuesday on the incident, said that Yiannopoulos had been told the interview would air on the radio the day after the taping. One correspondence shown to me by a member of Yiannopoulos's team shows a WNPR producer musing about doing the show live on the 11th of July.
But McEnroe's interview did not air on July 11th, or on subsequent days. More delays followed, with WNPR eventually telling him that the segment would air "sometime in August," Yiannopoulos told Breitbart News, by which point his promotional tour for Dangerous would presumably have concluded.
Yiannopoulos said he believes McEnroe and WNPR "were expecting a low-rent troll — someone who would assure the broadcaster's ossified audience that anyone sympathetic to the president must be a redneck or an idiot."
Breitbart News posted video of the entire interview, which has a measured Yiannopoulos revisiting criticisms of the mainstream media, the culture on American college campuses, Black Lives Matter and Islamic fundamentalism. McEnroe seemed fluent in Yiannopoulos's incendiary views, and the conversation proceeded briskly from topic to topic.
This is the latest controversy for Dangerous. In late December, publisher Simon & Schuster faced criticism for signing Yiannopoulos to a $250,000 book deal, but that deal was cancelled two months later, in light of Yiannopoulos's comments about pedophilia, which he said were made in jest. He has sued Simon & Schuster for $10 million while self-publishing Dangerous. While the book appears to have enjoyed commercial success, Publishers Weekly has accused Yiannopoulos of dramatically inflating the number of copies sold.
Given the controversy that always seems to follow Yiannopoulos, it's hard to know if the WNPR episode really is the silencing of a conservative voice or merely a scheduling mishap. When I reached him on Wednesday afternoon, Yiannopoulos maintained that WNPR couldn't countenance his views.
"Every time we enquired, the segment got cut shorter and pushed further into the future. They missed their own promised broadcast dates twice. I was told orally and in writing they would broadcast on dates they did not," Yiannopoulos wrote in an email. "NPR consistently ridicules, demeans, misrepresents and fails the conservatives who pay for it. It should be defunded."
In his email, Yiannopoulos referenced an episode that infuriated many on the right, confirming their suspicions of latent bias at NPR and its affiliates. In 2014, right-leaning comic Adam Carolla accused WNYC's Brian Lehrer of making him look like a racist by playing him a clip of a podcast in which Carolla and an Asian-American comic trade Asian jokes.
Defunding NPR has been longstanding goal of some on the right. In February, a Republican congressman from Colorado introduced a bill that would have stripped NPR and its parent Corporation for Public Broadcasting from federal funding, arguing that "this money could be put to better use rebuilding our military and enhancing our national security."
McEnroe did not respond to a request for comment. Neither did a producer who worked on the Yiannopoulos interview and communicated with members of his staff. A representative for NPR, which rented studio space in New York City to WNPR for the interview, noted that it has nothing to do with McEnroe's show.
"I am waiting to hear back from WNPR when they're expecting to air this interview," the press representative said.
Yiannopoulos is waiting, too.