Milo Yiannopoulos Is Allegedly More Than $2 Million in Debt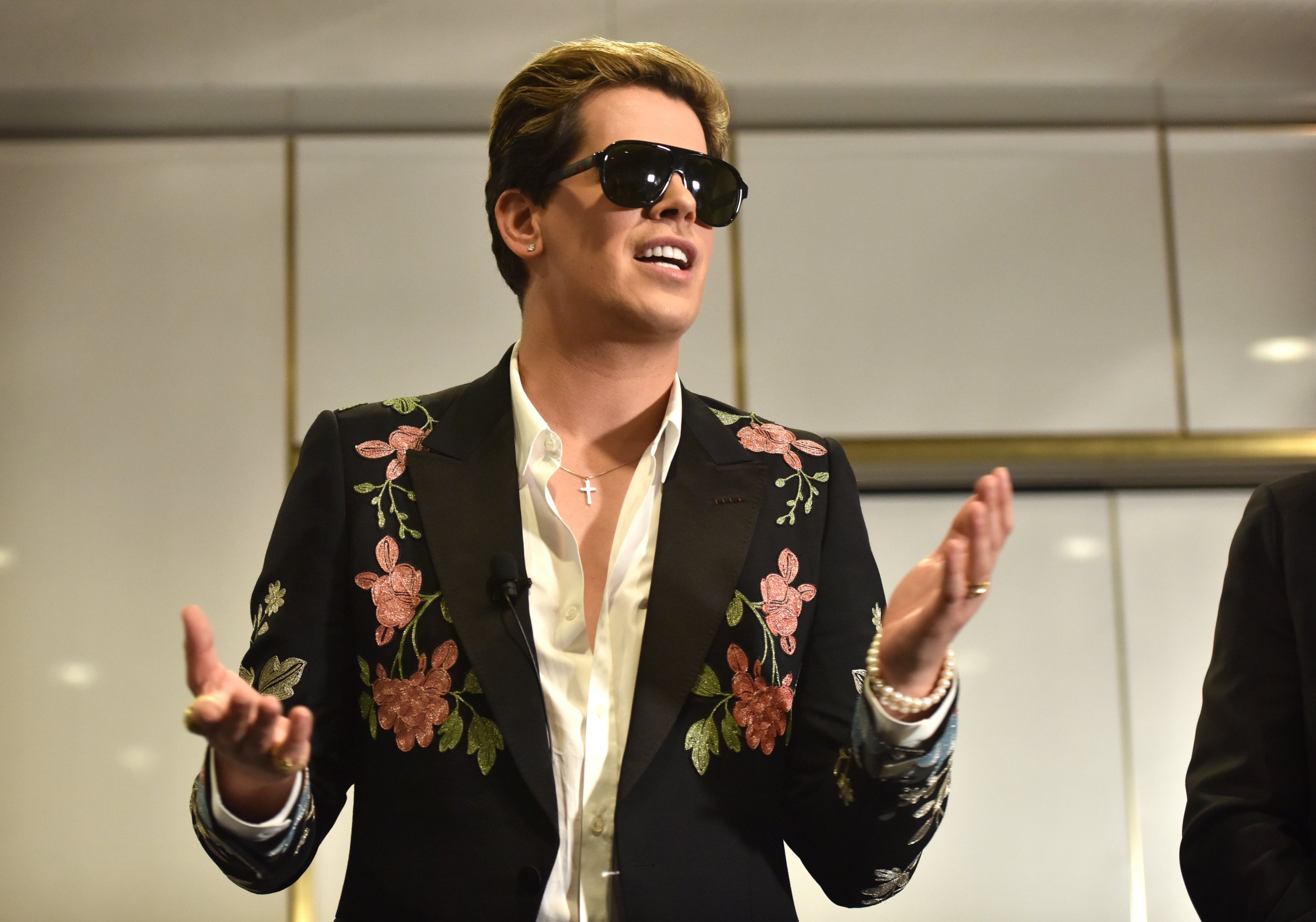 The far-right activist and provocateur Milo Yiannopolous racked up more than $2 million in debt in 2018, according to leaked legal documents.
The documents were reportedly assembled by Australian Events Management, the former organizers of his failed Australian tour, and were seen by The Guardian. After several earlier planned tours fell through, the latest attempt was canceled on October 31 and offered ticket holders no refund.
The documents, which include leaked messages from Yiannopolous, revealed not only the lavish lifestyle the self-styled enemy of the establishment leads, but also the level of funding available to the far-right and the collaborative nexus of figures at its center.
Alongside debts of $1.6 million to his own company and another $400,000 to the Mercer family—funders of both the Trump campaign and right-wing media company Breitbart (Yiannopolous's former employer)—the documents also suggested that Yiannopolous owed $40,000 to the luxury hotel chain Four Seasons, $20,000 to the luxury jewelry brand Cartier, and $15,000 for "top-shelf embroidery."
In one message to brothers Ben and Dan Spiller, the owners of Australian Events Management, Yiannopolous demanded that they send him more money, saying that in order to clear a debt with Cartier he was forced to return his wedding ring.
"I am less financially secure, more panicked and stressed, and more miserable than when we started," he told them, according to The Guardian.
Yiannopolous remains one of the most recognizable names of the alt-right, despite being permanently banned from Twitter and forced to resign from Breitbart. He crossed their threshold of offense when past remarks emerged in which he appeared to endorse pedophilia. The comments also saw a controversial book deal with Simon and Schuster canceled.
Since then, the British-born activist has increasingly focused his attention on Australia. He toured the country in 2017 and spoke in the national parliament, prompting protests and a $50,000 police security bill which promoters refused to pay, accordingto national news outlet SBS.
In another of the leaked messages, Yiannopolous said that he was "really seriously considering a move to Australia in the new year or two" because "the political environment in the U.S. is insane." He saw his scheduled Australia tour with Ann Coulter, which would discuss ways on "how to save Australia," as a way to advance his status there.
Other names suggested for the tour were English Defence League founder Stephen Yaxley-Lennon, popularly known as Tommy Robinson; and far-right Australian senator Fraser Anning, who went viral after calling for "final solution to immigration in Australia" in parliament.
Responding on Instagram to the news that the tour was canceled, Yiannopolous assured his followers that he would be touring Australia in 2019 "with a more established promoter."
"I'm committed to you, Aussies, which is why I'm writing a book about your great country, which will be out before Christmas," Yiannopolous wrote.
He has said the book will be called Australia, You're My Only Hope. It's unclear whether the title refers to Yiannopolous's political ideology or his personal financial problems.
Yiannopoulos also told The Guardian over email that the documents referred to "company debts, not personal," saying that "I'm doing fine and bringing in $40k US a month," and calling the Spiller brothers "crooks and clowns."