Milo Yiannopoulos Gets Schooled at Berkeley: Ferocious Protests Greet Right-Wing Provocateur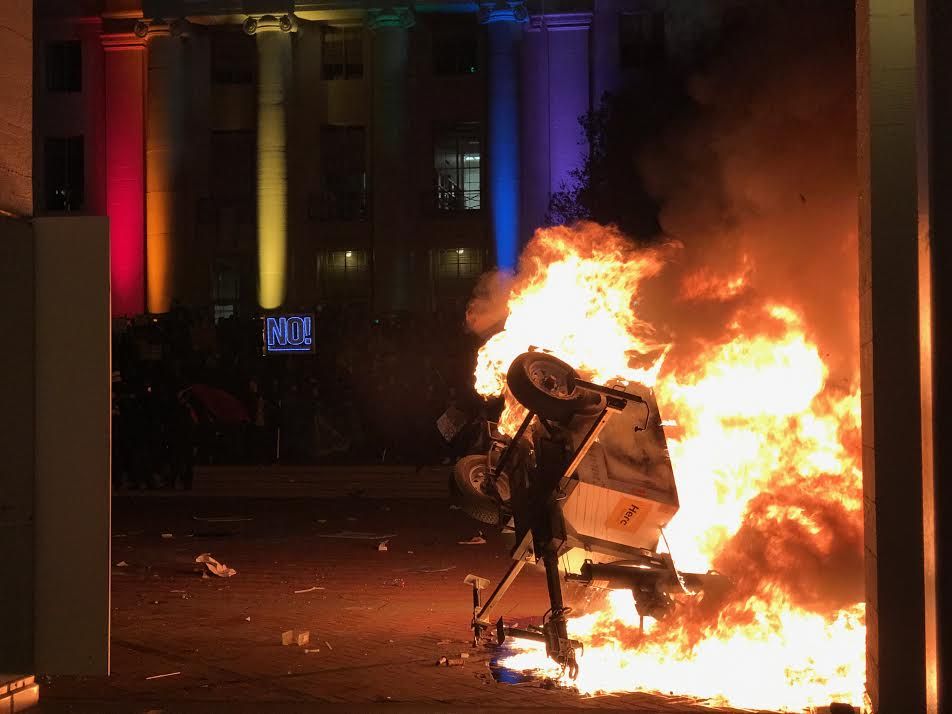 Updated | On Wednesday night, several hundred people decided the University of California at Berkeley would reclaim its reputation as a crucible of radical activism. They did so in a fiery, violent protest against right-wing provocateur Milo Yiannopoulos, whose Dangerous Faggot tour had drawn protests around the country. At the University of Washington in Seattle, a gunman sympathetic to Yiannopoulos's abrasive brand of conservatism opened fire, hitting a protester in the abdomen. Undaunted, the 33-year-old gay Brit went on barnstorming college campuses.
Yet in the place sometimes known as Berzerkeley, he appeared to have miscalculated the ferocity of the resistance he'd face. Berkeley was to be the last stop on the Dangerous Faggot tour, in which Yiannopoulos, an editor at the white-nationalist website Breitbart, goes through all the far-right complaints and nostrums one might find at a Trump rally, only delivered in a British accent.
Protesters made sure that didn't happen at Berkeley. Gathered at Sproul Plaza, where the Free Speech movement began in 1964, they succeeded in getting the event canceled with a sustained demonstration that began several hours before its scheduled 8 p.m. start. It was to be hosted by Berkeley College Republicans.
For weeks, students and faculty members had been debating whether Yiannopoulos's talk was protected by the First Amendment, or whether he was using his free speech protections to engage in hate speech. Several veteran members of the Free Speech Movement, which had galvanized American college students in the 1960s, published an op-ed in The Daily Californian, the student newspaper, in which they argued that Yiannopoulos should be allowed to speak on the Berkeley camps. They wrote, presciently: "Those tempted to block access to or disrupt speeches by such reactionaries should resist that temptation."
At the same, 12 members of the faculty wrote a letter to Berkeley Chancellor Nicholas Dirks asking him to cancel the event: "We believe wholeheartedly in free speech and in the presentation of views that may be controversial or disturbing, politically or personally. However, Mr. Yiannopoulos's public talks routinely veer into direct personal harassment of individuals; they often also call for such harassment and aim to incite it," one of the professors who signed that letter told The Daily Californian.
Dirks ultimately sided with those who believed that Yiannopoulos's talk fell under the rubric of the First Amendment. In an open letter to the Berkeley community, Dirks called Yiannopoulos a "troll and provocateur" who must nevertheless be allowed to bring his road show to Berkeley.
Yet the event was canceled as soon as Sproul Plaza started to tip toward unrest.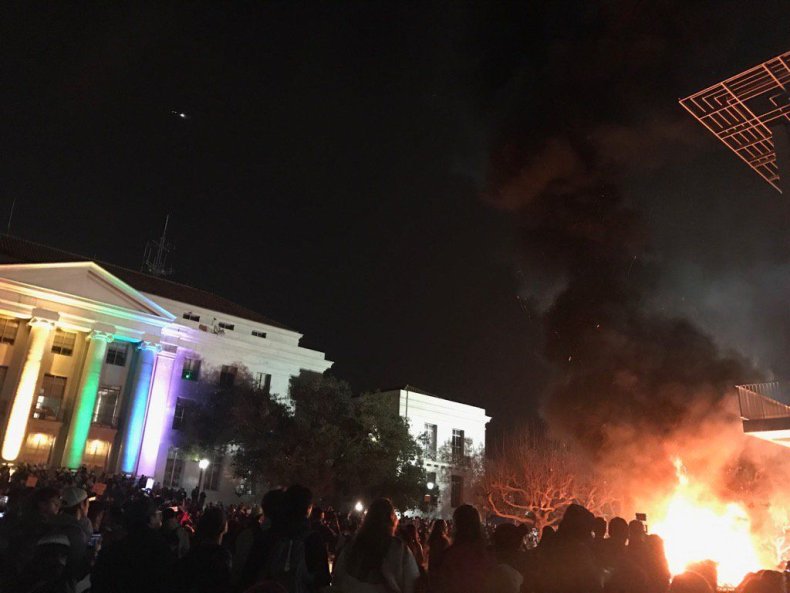 Several hundred of the protesters remained in place even as police officers threatened to disperse them with tear gas. Some feared that once the crowd left, Yiannopoulos would show. But the crowd stayed, and Yiannopoulos stayed away.
The crowd—including Berkeley students, older radicals and anarchists clad in black—pushed against the doors of the Martin Luther King Jr. Student Union, in whose Pauley Ballroom the Yiannopoulos event was to take place. Disregarding the nonviolent resistance philosophy of the building's namesake, some protesters broke windows in the ground-floor Amazon store in the Dr. King center. A light tower was destroyed and set on fire, to the cheers of onlookers. Later, the burned-out remains of the tower were tagged with a graffito that hinted at the real reason the crowd was so large, and so quick to anger: "Fuck Trump."
Patrolling the second floor of the student-union building, police officers threatened on several occasions to enter the crowd—or to use a "chemical agent" like tear spray. "We're counting on you to be stupid!" an older protester shouted at the officers. But despite several tense moments that included lit fireworks hurled at the officers, there was no significant confrontation between law enforcement and protesters there.
There were small skirmishes elsewhere throughout the night. An anarchist with blood running down his face claimed he had been assaulted by protesters for disagreeing with their anti-Yiannopoulos stance. A 25-year-old gay Trump supporter from San Francisco, Kiara Robles, was pepper-sprayed by a protester as she was giving an interview to a television station.
"If you're upset about me being a Nazi, you should not also be a Nazi," Robles said later at a café, still wearing her Trump-Pence ski hat, her eyes red. Robles then clarified that she was not a Nazi.
The vast majority of the people in Sproul Plaza were not violent, but they were angry, judging by their signs: "Make Racists Afraid Again"; "No Safe Space for Fascism"; "United Against Stupidity"; "Nazi Punks Fuck Off."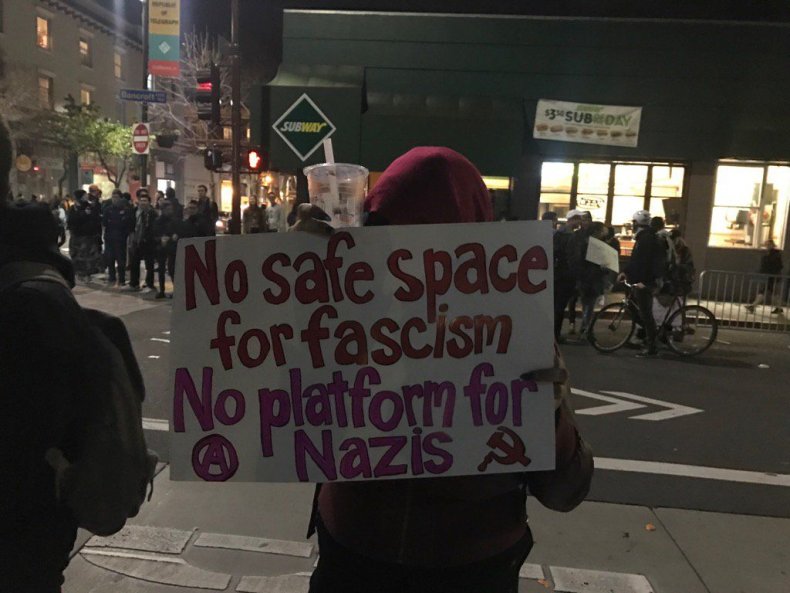 Time and again, the protesters returned to one line of argument: "Hate speech is not free speech." Pressed on how they made that distinction, they cited Yiannapoulos's frequent attacks on women, people of color, left-leaning academics and other liberal constituencies. Liberal intolerance of conservative views on American college campuses has been a much-discussed topic in recent years. Yiannapoulos revels in mockery of "trigger warnings" and "safe spaces," but his criticism often turns into vituperation, as when he mocked a transgender student at the University of Wisconsin-Milwaukee by name. That, many protesters suggested, disqualified him from enjoying the free speech protections of the First Amendment.
Yet many also felt uncomfortable by the violence in Sproul Plaza. A junior at UC Berkeley who would only identify herself to Newsweek as K. said she thought breaking glass and setting fires was unnecessary. While she had nothing kind to say about Yiannopoulos, whom she branded "an idiot," she also said: "It's our campus. We should protect it."
Some faction brought stereo speakers, and turned a section of Sproul Plaza into an impromptu dance party. At one point, the speakers blasted out N.W.A's 1988 anti-cop anthem "Fuck Tha Police." Later, a marching band began to play. "This is ridiculous," said one young protester to another as they surveyed the chaotic scene on the plaza, where the crowd seemed to cycle every few moments between anger, euphoria and fright. The two women were standing on the steps of Sproul Hall, where 53 years before, Mario Savio had railed against "the operation of the machine."
The protest eventually moved down Telegraph Avenue, the main commercial thoroughfare of Berkeley, where the head shops and leftist bookstores retain a trace of 1960s radicalism. This led to more destruction, which seemed to target only corporate chains. A Walgreens was tagged with graffiti, including one that said "Kill Trump." Protesters posed happily in front of it for pictures. Berkeley officers, astride bicycles, watched.
Several bank branches were severely vandalized in downtown Berkeley, including a Wells Fargo outlet whose ATMs were defaced with Soviet hammer-and-sickle graffiti and a Bank of America whose glass doors were shattered with a concrete garbage pail. Nearby, a fire burned on Shattuck Avenue; attempts to put it out were ineffectual. And closer to campus, a Starbucks outlet came under particularly heavy assault, even though the coffee chain's founder, Howard Schultz, has generally been a vociferous supporter of liberal causes. In response to President Trump's recent executive order restricting immigration from seven Muslim majority countries, for example, he pledged to hire 10,000 refugees. By Thursday morning, the cost of the damage remained unclear.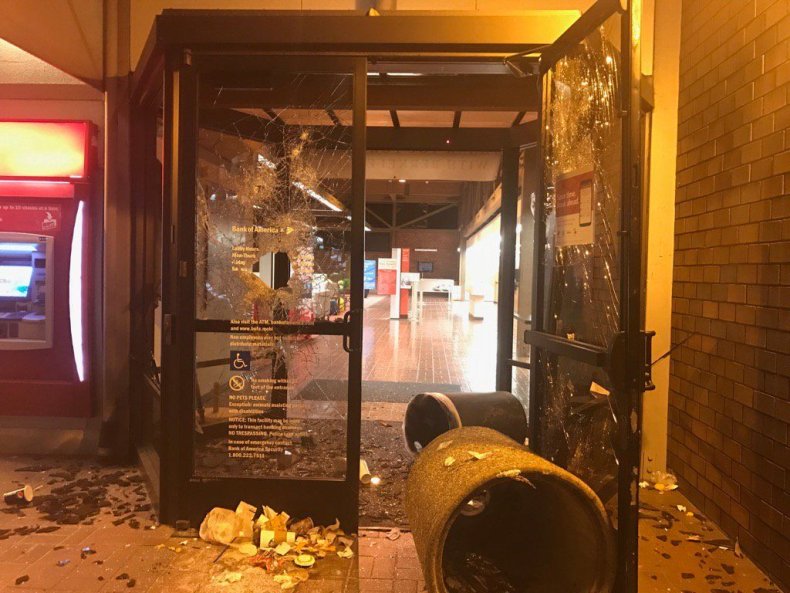 It is unclear who, exactly, won this night. There was dismay among supporters of free speech, the defenders of Yiannopoulos, anarchists, liberals and just about everyone else who gathered in the center of the Berkeley campus.
In a Facebook post, the Berkeley College Republicans branded the night a "defeat for civilized society and the free exchange of ideas on college campuses across America." Yiannapoulos called Tucker Carlson, the Fox News show host, and offered his take on the evening's events: "I annoy the feminists and the Black Lives Matter guys probably almost as much as Trump does, certainly on college campuses. So, they go for the next best thing."
Thus ended the 13th day of the Trump presidency, with the promise of many more like it, full of sound and fury, with police helicopters overhead. Said a large banner held by several protesters: "This is war." By the next morning, Trump had joined the battle, tweeting in response to the protests with a threat about cutting off Berkeley's stream of federal funds.
Maligning the protesters at Berkeley as liberals run amok was a tactic beloved of another celebrity, who used it to propel himself to the governorship of California and, subsequently the White House: Ronald Reagan.
This article has been updated to reflect new developments.