Milo Yiannopoulos' Book Was 'Phenomenally Petty,' 'Tiresome' And Had 'Too Much Ego,' Editor Said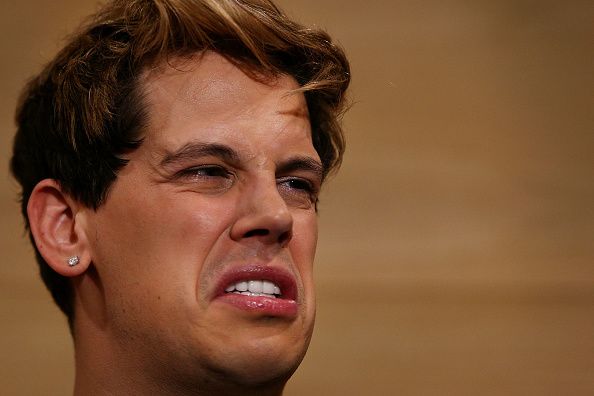 Right-wing provocateur Milo Yiannopoulos's controversial manuscript Dangerous was "phenomenally petty," "gratuitous" and "unfunny," an editor at Simon & Schuster said before the book was dumped, according to bombshell court papers that leaked Thursday.
The withering review by editor Mitchell Ivers would normally have never seen the light of day—but Yiannopoulos sued the publishing giant for $10 million because it canceled his book deal in February after he appeared to defend pedophilia in a video.
Ivers's blistering comments in the margins of the book are part of Simon & Schuster's rebuttal to the former Breitbart writer's suit.
"Delete irrelevant and superfluous joke," he wrote regarding Yiannopoulos's comment about the alleged body odor of cab drivers.
"Avoid gratuitous insults," "unclear, unfunny, delete," "this section feels phenomenally petty," "delete," Ivers wrote in other comments, court papers show.
"I will not accept a manuscript that labels an entire class of people 'mentally ill,'" he added.
He also demanded the elimination of an entire section suggesting that Bill and Hillary Clinton took part in a satanic ritual.
"This entire paragraph is just repeating Fake News," Ivers's edit reads.
And Ivers wanted the entire chapter titled "Why Ugly People Hate Me" to be deleted.
"All this pop psychology is hogwash," Ivers wrote. "You can't say ugly people are drawn to the left. Have you ever seen the people at a Trump rally?"
In a deposition, Ivers defended his editing comments and bolstered the company's case that the book was unpublishable.
"It was not the serious and substantial commentary on free speech and political correctness we discussed," Ivers testified in Simon & Schuster's court filing. "Instead, it was a superficial reworking of Mr. Yiannopoulos's various speeches where [he] fed one-liners to crowds and made incendiary comments."
Ivers implies that the material was not only half-baked but also deeply offensive.
"Most troubling, it was riddled with highly offensive commentary and 'jokes' that were distractions and many would see as racist, misogynist, anti-immigrant, anti-Semitic or homophobic," Ivers adds.
Newsweek reached out to Yiannopoulos about the contents of Simon & Schuster's rebuttal but did not immediately receive a response.
The former media superstar has struggled to regain his footing following reports in February of a clip in which he appeared to defend pedophilia. He has also struggled to hold speaking events, partly because of crowds of demonstrators who gather to shut him down.
In February, the University of California at Berkeley canceled a planned talk by Yiannopoulos after protests against him turned violent and caused about $100,000 worth of damage to the campus. Many have described him as a professional troll.
Yet Yiannopoulos also has an army of followers that trolls people who insult him. The Southern Poverty Law Center has called him "the person who propelled the alt-right movement into the mainstream."
In September, he appeared only briefly at a heavily hyped "free speech" event in Berkeley. In October, he was dropped as a headline speaker at a similar event in Glendale, Arizona.
Milo Yiannopoulos' Book Was 'Phenomenally Petty,' 'Tiresome' And Had 'Too Much Ego,' Editor Said | U.S.