Milo Yiannopoulos Invited to Speak at NYU About Halloween's Political Correctness by 'Deplorable' Professor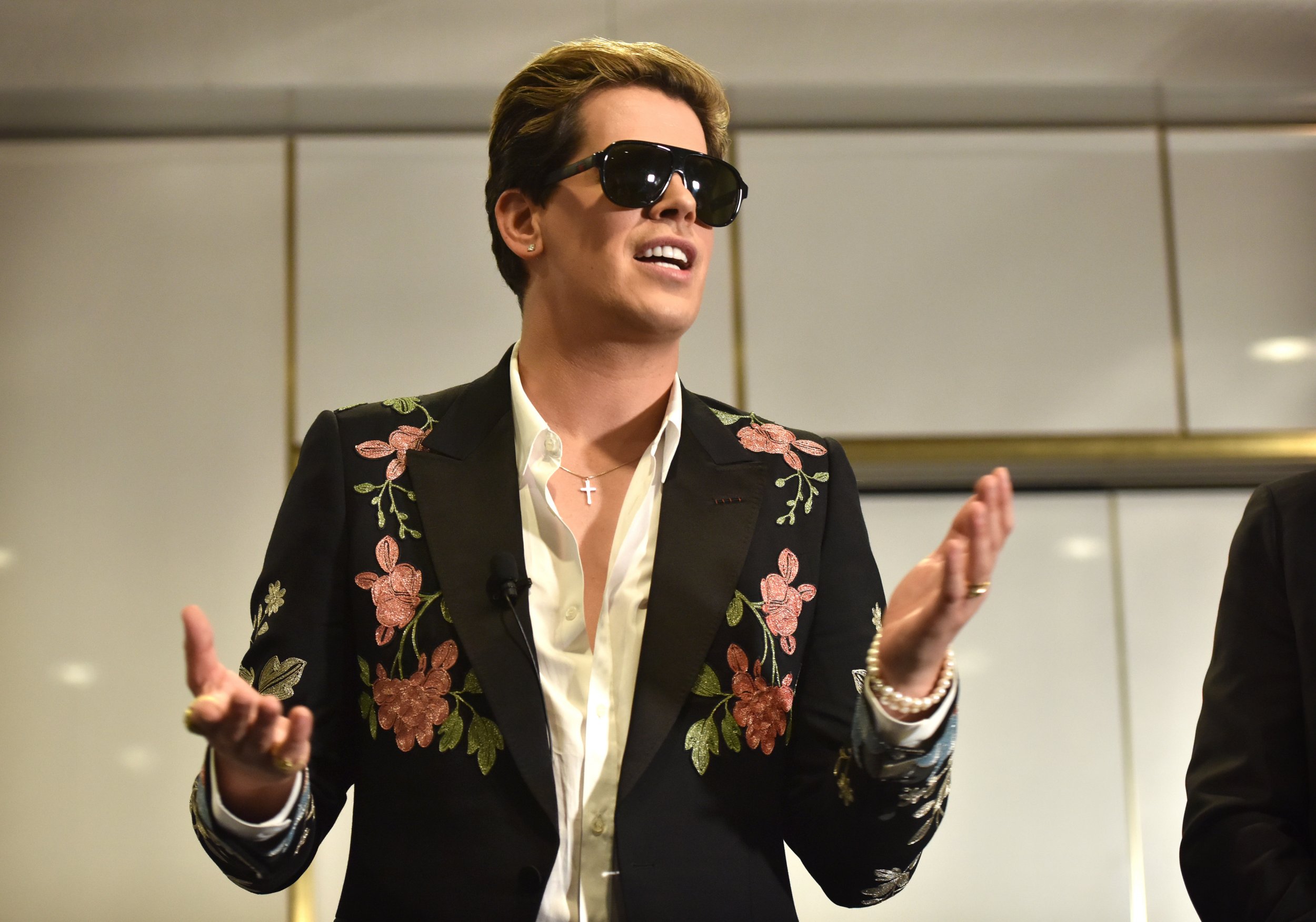 A New York University professor is facing backlash for inviting former Breitbart editor and right-wing provocateur Milo Yiannopoulos to speak Wednesday about the politics of Halloween.
Students, faculty and social media users quickly criticized the decision of Michael Rectenwald, a liberal studies professor, to invite Yiannopoulos to campus.
Rectenwald told Newsweek that Yiannopoulos was "uniquely poised to address issues related to a class segment on cultural exchange, which issues are nicely brought into play with Halloween." He noted the disconnect between Yiannopoulos's politics and those of the many students on campus.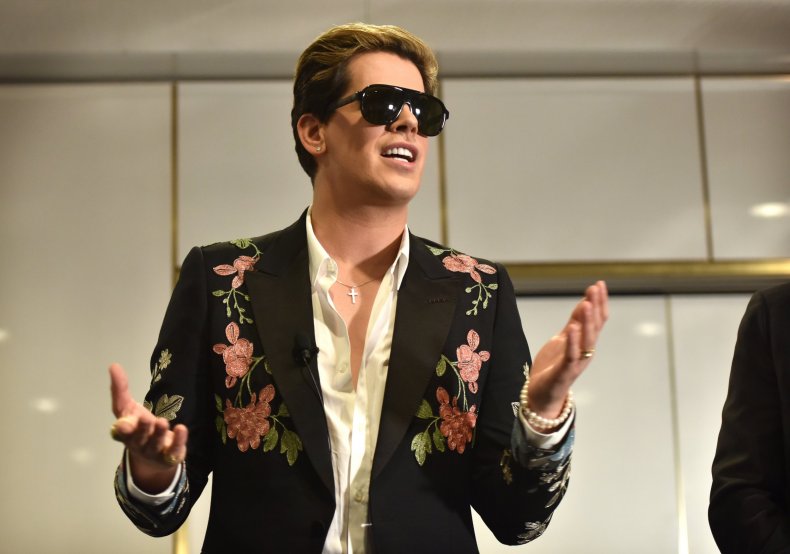 "I decided to bring Milo Yiannopoulos because I wanted to introduce a different perspective into the classroom, especially in connection with the issues raised by Halloween: costumes, identity, identity politics and the left's censorious policing of Halloween costumes. Halloween happens to raise a number of issues raised in a section of my course about cultural exchange, including the questions of 'cultural appropriation' identity, and identity politics."
Student newspaper Washington Square News said it had obtained a copy of Yiannopoulos's speech, which "shows the pundit's derision of identity politics and people who accuse certain Halloween costume wearers of cultural appropriation. The speech also includes claims that Halloween has become boring and heavily policed, and that liberals use their bodies as costumes and are not living in the real world. It ends by encouraging people to wear offensive costumes on Halloween."
On Saturday, the New York Post reported that Rectenwald's students and the school had not been notified of the event. The professor told Newsweek that the students had been informed of the talk and its topic since he spoke with the Post reporter. The class with be live-streamed, and students will be allowed to skip the session without penalty, Rectenwald said.
The professor did not provide details about the time or location of the event. "Since knowing the time would tip protesters off as to the location I'm afraid I have to withhold that information," he said.
NYU spokesman John Beckman said that while Yiannopoulos advocated ideals that contradicted the university's values, he would be allowed to speak. "At NYU, academic freedom and the free exchange of ideas are fundamental, guiding principles. In line with these principles, faculty have wide authority over academic matters, such as their pursuit of their research and the conduct of their classes," he told Newsweek. "Mr. Yiannopoulos has espoused many ideas that are at odds with the values of the NYU community and are offensive to its members. But as an invited speaker, he will be allowed to address professor Rectenwald's class because even in the face of controversy and profound disagreement, adherence to the principles of academic freedom is a core value."
Student groups contacted by Newsweek and student government did not comment prior to publication. But students, faculty and others recoiled at Yiannopoulos's invitation on social media.
One Twitter user wrote "Michael Rectenwald isn't a 'controversial anti-PC professor,' as this article describes him. He's a fascist provocateur in @nyuniversity's midst."
Students Senators Council senator-at-large Rose Asaf wrote that "the professor has not yet warned his students a white nationalist/pedophile is coming to class—a few days after another white nationalist murdered 11 Jewish people."
"Professor Rectenwald is sending a strong message in support of hate and violence to have Milo speak. Milo posted on Instagram praising the pipe bombs, meaning he approves of attempts to injure and kill people," Ruth Ben-Ghiat, a professor of history and Italian studies at NYU, told Newsweek. "He is a dangerous person who certainly does not belong in our classrooms."
Both Yiannopoulos and Rectenwald are controversial figures at NYU. The professor sparked controversy on campus in 2016, when he used his "Deplorable NYU Prof" Twitter handle to rail against left-wing social movements at colleges. He has frequently criticized political correctness and campus politics.
A post from September 27 appeared to mock the testimony of Christine Blasey Ford, who accused Supreme Court Judge Brett Kavanaugh of sexual assault. Rectenwald recently appeared on appeared on right-wing news shows and held an interview with leader of the Proud Boys, Gavin McInnes, according to his Twitter.
Last week, he posted about George Soros, who has been the subject of anti-Semitic conspiracy theories.
Yiannopoulos previously joked about pedophilia, expressed support for vigilantes shooting journalists, writing that "becoming a feminist makes a woman less marriageable, more crass and generally just unpleasant to be around," and expressed concern that more teenagers weren't cutting themselves.
Last week, he posted on Instagram, "Just catching up with news of all these pipe bombs. disgusting and sad (that they didn't go off, and they daily beast didn't get one)," according to The Daily Beast.
Yiannopoulos was scheduled to speak at NYU two years ago, according to the Post. The university canceled the event over safety concerns.
Protesters have recently demonstrated against controversial and alt-right speakers at NYU. Students shouted down former Secretary of State Henry Kissinger during an event earlier this month. Protesters called him a "war criminal" and told him to "rot in hell."