Milo Yiannopoulos Says Stephen Paddock Motive Isn't Being Questioned Because Las Vegas Suspect 'Was A White Guy'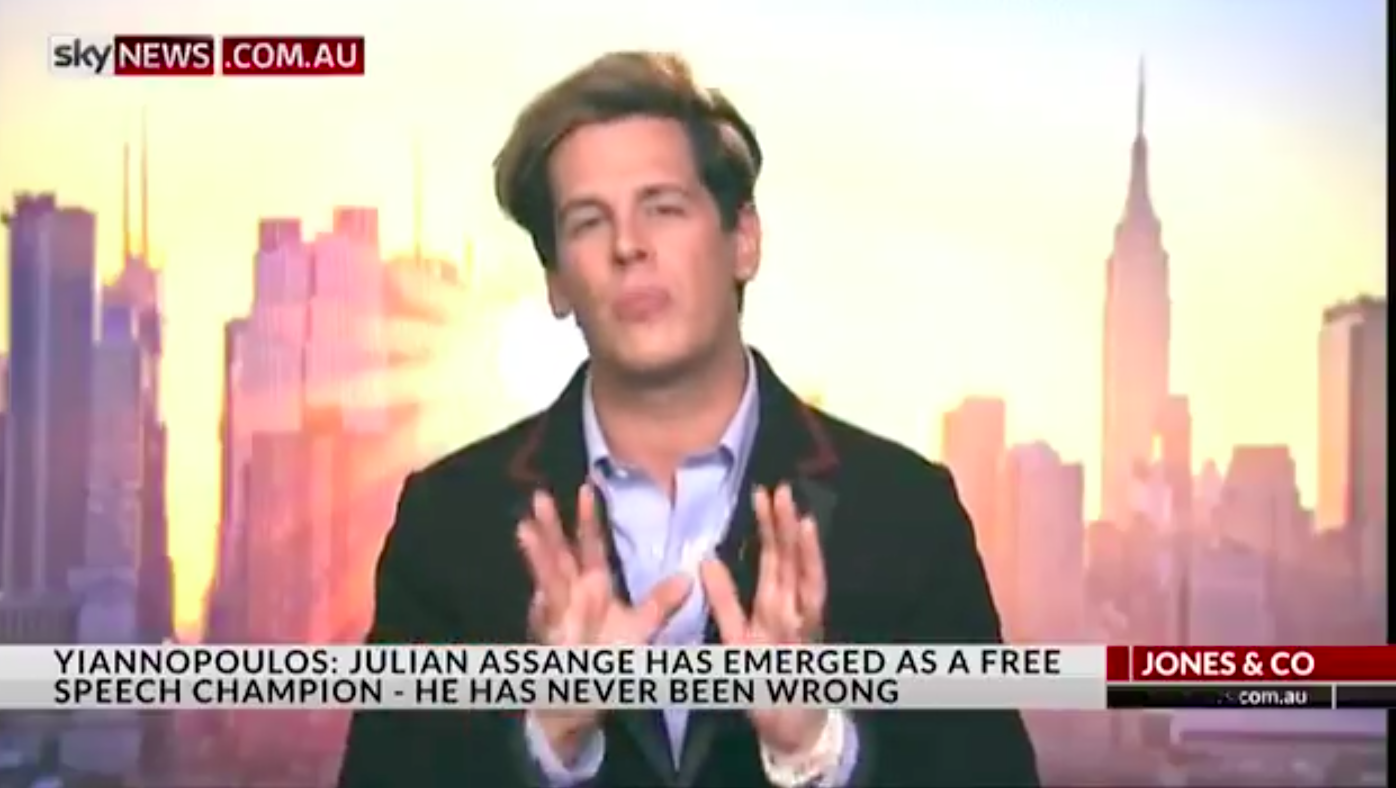 Milo Yiannopoulos, the right-wing provocateur and former Breitbart News editor, has gone on Australian television network Sky News Australia to make unsubstantiated allegations about the mass shooting in Las Vegas earlier this month, in which 59 people were killed. Law enforcement agencies have concluded that shooter Stephen C. Paddock acted alone, though they have not determined his motive.
The persistence of conspiracy theories surrounding the Las Vegas attack is a testament to the quickness and ease with which misinformation can be disseminated in the Information Age. And while unflattering but accurate reports are deemed "fake news," conspiracy theories are peddled as brave truth-telling ventures of the kind establishment media outlets are purportedly no longer willing to undertake (or underwrite).
Some, for example, have suggested that Paddock was a fundamentalist adherent of the Islamic State, while others believe that he was a liberal, noting that he chose to attack a country music concert, where the audience would have presumably been right-leaning.
Speaking to Alan Jones of Sky News Australia — which is owned by Rupert Murdoch, the native Australian who founded Fox News —Yiannopoulos suggested that liberal "social justice doctrine" had engendered an "extraordinary lack of curiosity" from American mainstream media. He singled out the Las Vegas attack as a perfect example of doctrinaire incuriosity.
"As soon as he was a white guy," Yiannopoulos said of Paddock, "suddenly we knew the narrative. Suddenly, it was a gun control thing."
"Stop asking about whether he'd been to the Middle East," Yiannopoulos said in his characterization of a hopelessly liberal and incurious media establishment. "Stop asking whether he'd been radicalized."
Yiannopoulos also referenced a popular far-right trope, which is that Mandalay Bay Resort and Casino security guard Jesus Campos was somehow involved in the massacre, or at least was not honest about what he'd witnessed. Campos was investigating an unrelated matter on the 32nd floor of the hotel when he heard strange noises coming from Paddock's room. Paddock fired through the door of his hotel room, injuring Campos — but in doing so, alerted law enforcement of his location.
In the days after the shooting, Campos — who was praised for saving perhaps dozens of lives —made no media appearances, cancelling several interviews. That led some, including conservative pundit Ann Coulter, to conclude that he was somehow involved in the shooting. That suggestion has been definitively debunked.
When Campos resurfaced days after the shooting, it was to conduct an interview on The Ellen DeGeneres Show, the popular daytime program. But that only fostered a new round of conspiracy theories. Tucker Carlson, the prime time Fox News host who has been called by some the network's most responsible commentator, thought the conspiracy was of the corporate variety.
"It could actually be a bizarre case of cross marketing by MGM Resorts that owns Mandalay Bay, sponsors by the way The Ellen DeGeneres Show, and features Ellen themed slot machines in many casinos including Mandalay Bay," Carlson said.
"There's dishonesty in here somewhere," he added. But other than the connection between DeGeneres's production company and MGM Resorts International, no evidence of anything nefarious has surfaced.
That did not prevent Yiannopoulos from repeating similar insinuations on Australian television.
Yiannopoulos told Jones of Sky News Australia that when Campos appeared on The Ellen DeGeneres Show, he was "sweating and panting, like he'd been briefed to say certain things and not say others." Yiannopoulos did not say who briefed Campos, and what it was he was instructed to say and not say. He also brought up DeGeneres's relationship with MGM Resorts International, without explaining the relevance of that connection. (He did not bring up the suggestion — determined to be fake news — that Campos had once worked at the Clinton Foundation's offices in Las Vegas.)
"It was just a systematic, extraordinary failure of journalistic imagination," Yiannopoulos said.
Think Progress, the liberal website, reported on Yiannopoulos's comments in a post with a headline that said he had deemed DeGeneres "complicit" in the attacks. The post was written by Judd Legum, who runs a popular Twitter account that disseminates news stories critical of President Donald J. Trump.

.
"I didn't say she was complicit in the murder," Yiannopoulos told Newsweek in an email. "That's insane." He said the article was "typical Think Progress." But like many other conspiracy theorists — including Alex Jones of Infowars, Sean Hannity of Fox News and Rush Limbaugh, the radio host — he insisted that his question-asking was necessary to jostle a complacent journalistic corps out of its professional lassitude.
"There IS something weird about it all, he DID make a weird pick going on Ellen, he DID look scared to death and briefed, and Ellen has slot machines at MGM casinos," he said in a subsequent email to Newsweek. But when pressed about what he meant, and what he was suggesting, Yiannopoulos demurred.
"Something is off. Something is not quite right about all of this," he said.
Indeed, the conviction that "something is off" often animates conspiracy theorists, whether they believe that President John F. Kennedy was felled by a government plot or that Hillary Clinton's campaign chairman, John D. Podesta, ran a sex-trafficking ring out of a Washington, D.C., pizzeria. Never before, however have the collective forces of "something off" had so much power. In concert, they have managed to erode trust not only in the media, but also in government and law enforcement.
Finally, Yiannopoulos sent Newsweek an email that seemed to allude to DeGeneres's sexual orientation.
"Lesbians ruin everything," he said.
Milo Yiannopoulos Says Stephen Paddock Motive Isn't Being Questioned Because Las Vegas Suspect 'Was A White Guy' | Analysis