Milwaukee Bucks' Giannis Antetokounmpo Leads in NBA MVP Betting Odds After Stellar 34-Point Performance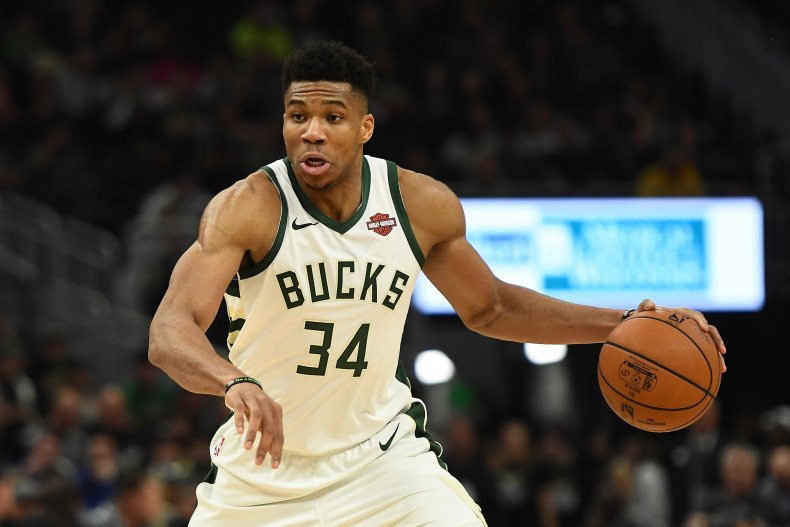 After a stellar performance in his game against the Los Angeles Lakers Thursday, Milwaukee Bucks star Giannis Antetokounmpo has taken a massive jump in NBA MVP betting odds.
The NBA season has yet to reach its halfway point, but some players have been performing at very high levels, which has brought them into the MVP discussion. Antetokounmpo leads them all, but with a large chunk of the season remaining, anything could really happen.
The players with the best odds to win the coveted MVP trophy are listed below:
Giannis Antetokounmpo
The reigning NBA MVP has been on a tear since the start of the season, but his most recent performance against the Lakers on Thursday has placed him far ahead of the pack. Antetokounmpo went for 34 points, 11 rebounds and 7 assists while also shooting 62.5 percent from behind the three-point line, which is a major improvement in an area which he has struggled in the past. While leading the Bucks to a league best 25-4 record, Antetokounmpo is averaging 31.8 points, 12.8 rebounds and 5.4 assists.
According to Sportsbettingdime, prior to his amazing performance Thursday, Antetokounmpo was listed at an average of +115 odds through multiple different sports books, but that has since changed drastically. Currently, Antetokounmpo is listed at -112 odds on DraftKings, -105 on Fanduel and -125 on BetOnline. The Bucks star will look to add to his already strong MVP resume in his upcoming game against the New York Knicks.
James Harden
Despite the fact that the Houston Rockets' James Harden leads the league in points per game with 38.5, he trails Antetokounmpo in MVP odds. The race for the trophy between the two could shape up to be very similar to last year, with Harden placing just behind Antetokounmpo in MVP voting. While averaging nearly 40 points per game, Harden is also passing and rebounding well with 7.5 assists per game and 5.8 rebounds.
Harden is listed at +500 odds on DraftKings and BetOnline, while Fanduel gives him slightly better odds at +460. Harden and the Rockets will look to improve their 19-9 record in their upcoming game against the Phoenix Suns on Saturday.
Luka Doncic
In just his second season in the NBA, Dallas Mavericks star Luka Doncic has been one of the most impressive players in the league. He recently passed Michael Jordan's historic record of 19 consecutive games with at least 20 points, 5 rebounds and 5 assists. Doncic recently suffered an ankle injury, which have slightly affected his odds to win the MVP.
Doncic is given +550 odds on DraftKings, +500 odds on Fanduel and +400 odds on BetOnline. He is set to return from his ankle injury in approximately two weeks, per ESPN's Tim MacMahon.
Lebron James
At 34 years old in his 16th season in the league, Los Angeles Lakers' LeBron James has continued to be one of, if not, the best player in the NBA. He has helped lead the Lakers to the second-best record in the league at 24-5. He is currently averaging 25.8 points, 7.5 rebounds and 10.6 assists, which has placed him around the fourth favorite spot to win the MVP trophy.
James is currently listed at +650 odds on DraftKings, +600 odds on Fanduel and +900 odds on BetOnline. He and the Lakers are set to take on the Denver Nuggets this Sunday.