Milwaukee County Reduces Fine for Pot Possession to $1 After Legalization Opposed by State GOP
The Milwaukee County Board of Supervisors lowered fines for marijuana possession to $1 on Thursday, about a month after the GOP-controlled Wisconsin State Legislature threw cold water on Democratic Governor Tony Evers' plan to legalize marijuana.
The resolution also lowers the fine for possessing, using or distributing drug paraphernalia to no more than $1, although the $1 per violation fine becomes $142 when court fees are added, according to a fiscal assessment from the county. The fine had been $275 per cannabis violation, or $484 after added court costs.
Officials estimate that lowering the fine will cost the county between $8,000 and $15,000 per year in lost revenue. In adopting the resolution by a vote of 16-1, the board cited a 2020 study from the American Civil Liberties Union that found Black people are almost four times more likely to be arrested for marijuana possession than white people even though they use the drug at similar rates.
"I am proud to be a part of Milwaukee County taking this bold step in reforming marijuana laws," Supervisor Sylvia Ortiz-Velez, who proposed the measure, said in a statement. "Wisconsinites made their desires clear in 2018 when they overwhelmingly voted in favor of legalizing marijuana. I encourage county leaders across Wisconsin to make similar changes to their own county ordinances until Wisconsin joins our neighbors across the Midwest in legalizing marijuana."
Voters in 16 Wisconsin counties voted in favor of either medical or recreational marijuana legalization in non-binding resolutions in 2018. A 2019 poll conducted by Marquette University Law School found that 59 percent of Wisconsin residents were in favor of full marijuana legalization, while 83 percent were in favor of legalizing it for medical use.
National polls have consistently shown growing support for legalization in recent years, with a Gallup poll taken in November 2020 finding that 68 percent of Americans support full legalization. A majority of states have already legalized it for either medical or recreational use.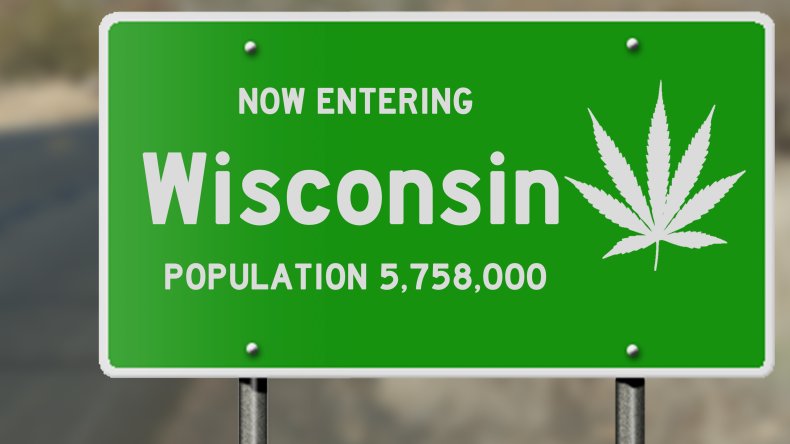 Evers proposed that Wisconsin's state budget include full marijuana legalization for adults 21 and over last month. The governor said that the plan would generate more than $165 million in revenue annually. Some of that revenue may be currently lost to Michigan and Illinois, neighboring states that have legal recreational and medical marijuana that some Wisconsin residents likely travel to buy.
"Legalizing and taxing marijuana in Wisconsin—just like we do already with alcohol—ensures a controlled market and safe product are available for both recreational and medicinal users and can open the door for countless opportunities for us to reinvest in our communities and create a more equitable state," Evers said in a statement obtained by Newsweek. "Frankly, red and blue states across the country have moved forward with legalization and there is no reason Wisconsin should be left behind when we know it's supported by a majority of Wisconsinites."
Republican state leaders immediately opposed the proposal, making its passage unlikely, although some have expressed interest in either decriminalizing the drug or allowing medical marijuana only. However, the state budget has not yet been finalized and Evers hopes that, with public opinion clearly in favor of marijuana legalization, the legislature may still move to adopt his plan in the final budget. GOP leaders blocked a similar proposal from Evers two years ago.
Although local Wisconsin lawmakers in areas other than Milwaukee County have also moved towards lowering penalties, cannabis remains fully illegal in Wisconsin. At the state level, possession is punishable by up to six months in jail and a $1,000 fine, while repeat offenders can be charged with felonies punishable by over three years in prison and a $10,000 fine.