Milwaukee Dancing Grannies Asks for Prayers After Waukesha Parade Tragedy, Say Members 'Impacted'
The Milwaukee Dancing Grannies, a choreographed dance/pompom parade group, asked the public for prayers on Sunday evening after a car plowed through a Christmas Parade in Waukesha, Wisconsin, injuring at least 23 people including children.
At around 4:40 p.m. local time, a red SUV drove through a barrier and slammed into a crowd, knocking over at least 40 people, according to local news.
Eleven adults and 12 children were injured in the tragic incident, and immediately transported to six nearby hospitals for treatment.
Police confirmed there were "some" fatalities, but have not yet released the number of individuals that were killed in the incident.
A witness told WISN 12 that the driver crashed into the Milwaukee Dancing Grannies.
"Thank you for your concern about the MIlwaukee Dancing Grannies. Members of the group and volunteers were impacted and we are waiting for word on their conditions. Please keep the Grannies, all those injured, and all those who witnessed this horrible event in your thoughts and prayers," the Milwaukee Dancing Grannies wrote in a statement shared to Facebook.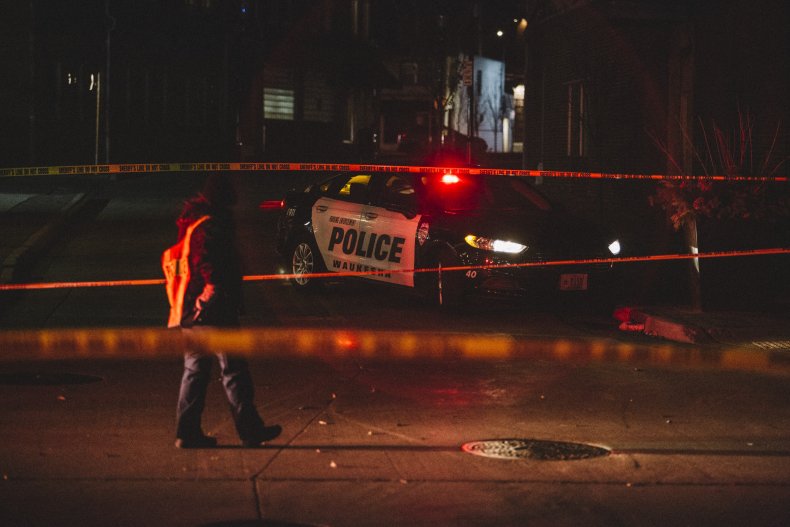 Waukesha Police Chief Dan Thompson said the incident was "very tragic" and "chaotic" at a press briefing.
A suspect vehicle has been discovered and police have detained a "person of interest," according to Thompson. Police have not yet released any information on a possible motive.
Waukesha Mayor Shawn Reilly described the incident as a "horrible, senseless tragedy."
"I walked in the parade at the beginning," Reilly said at the press briefing. "I saw the happy children sitting on the curb. I saw happy parents behind their children. I can still see the smiling faces. A parade is a celebration for our community."
Wisconsin Governor Tony Evers thanked the first responders and bystanders "who acted quickly to help."
"Kathy and I are praying for Waukesha tonight and all the kids, families, and community members affected by this senseless act," the governor said in a statement shared to Twitter. "I'm grateful for the first responders and folks who acted quickly to help, and we are in contact with local partners as we await more information."
In a statement, the White House said it was "closely monitoring the situation in Waukesha and our hearts go out to everyone who has been impacted by this terrible incident," adding that Biden administration officials have "reached out to state and local officials to offer any support and assistance as needed."
Newsweek reached out to the Waukesha Police Department for comment.