Milwaukee Police Association Accuses Governor of 'Pushing a False Ideology' in Jacob Blake Shooting
The Milwaukee Police Association said Monday that Wisconsin Governor Tony Evers is "pushing a false ideology" after a Black man was shot in Kenosha, Wisconsin, on Sunday evening.
"I am very disturbed by the comments that were made by Wisconsin Governor Tony Evers," the MPA said in a news release obtained by the Milwaukee-based television station WTMJ. "Governor Evers appears to be pushing a narrative that completely disrespects law enforcement in our state."
Kenosha police allegedly shot 29-year-old Jacob Blake "several times" in the back while he was trying to break up an argument between two women, according to his family's attorney, Ben Crump. Blake's three sons were nearby at the time of the incident and witnessed the shooting, Crump said.
Evers, a Democrat, was quick to issue a statement on Sunday about the shooting, which left Blake in serious condition. "While we do not have all of the details yet, what we know for certain is that he is not the first Black man or person to have been shot or injured or mercilessly killed at the hands of individuals in law enforcement in our state or our country," Evers said.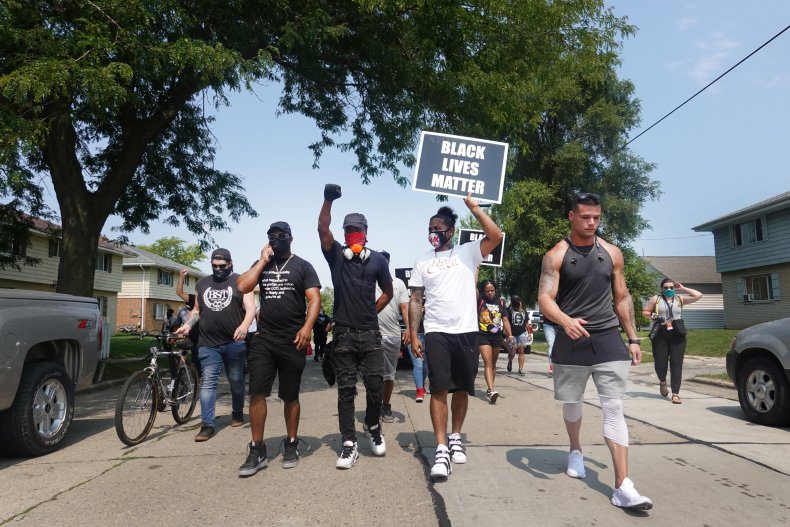 "I have said all along that although we must offer our empathy, equally important is our action," Evers' statement continued. "In the coming days, we will demand just that of elected officials in our state who have failed to recognize the racism in our state and our country for far too long."
Evers signed an executive order on Monday that called for the Wisconsin State Legislature to convene for a special session on accountability and transparency among local law enforcement officials. Evers requested that the state legislature discuss strategies to address these issues more than two months ago, but the governor's office said no progress has been made thus far.
"We must begin the long but important path toward ensuring our state and our country start to live up to our promises of equity and justice," Evers said in a statement shared with Newsweek. "I am urging the Legislature to rise to this occasion and give this special session the urgent and productive effort this moment demands and that the people of Wisconsin deserve."
In its release, the MPA criticized Evers for speaking publicly about a viral video of the Blake shooting so early into investigators' review of the incident.
"As the Governor of Wisconsin, his duty should be to collect all the details before pushing a false ideology," the MPA's statement said. "Governor Evers decided to make a statement, not based on facts, but based on hunches. Governor Evers has decided to let his opinions be known."
The MPA warned that "rushing to judgment" could cause peaceful protests to devolve into disarray.
After calling for the state legislature's special session on Monday, Evers announced that he called in the Wisconsin National Guard to assist local police in anticipation of elevated protester presence in Kenosha.
"Every person should be able to express their anger and frustration by exercising their First Amendment rights and report on these calls to action without any fear of being unsafe," Evers said in a statement announcing the anticipated arrival of the National Guard troops. The troops' presence will "ensure Kenoshians are able to assemble safely," Evers added.
Newsweek reached out to the MPA for further comment but did not receive a response in time for publication.