Milwaukee, Wisconsin Police Captain Alfonso Morales declared his intention to retire and file suit against the city on Wednesday.
Formerly Milwaukee Chief of Police, Morales faced criticism for the use of tear gas against demonstrators during citywide protests over the May death of George Floyd. Members of the Fire and Police Commission alleged that Morales had failed to live up to a list of directives designed to increase their oversight of the police department. Among the instructions was the provision of a report regarding the use of tear gas against protesters and expedited reports on open cases. Morales allegedly failed to fulfill the instructions, leading to his demotion.
"If I had known back in December 2019 what I know now, I never would have seconded the meeting for [Morales'] reappointment to be taken up and would have never cast my vote in support," said Police Commissioner Raymond Robakowski during Thursday's Fire and Police Commission meeting where Morales was demoted. "Mr. Morales has failed the men and women of the Milwaukee Police Department, the people of the city of Milwaukee and he has misled me. And none of this is acceptable."
Morales said during a Wednesday interview with WTMJ that he chose to retire because continuing to serve as captain meant he would lose his pension. "After discussing it with my wife, every day you spend with that demoted rank, you inherit that salary," Morales said. "It would be foolish to stay and lose my pension. There was no reason for me to stay and lose money on my pension and lose my salary."
Morales also said his lawyer, Franklyn Gimbel, was "exploring all options" regarding litigation against city officials. Newsweek reached out to Gimbel, and Milwaukee Mayor Barrett for comment.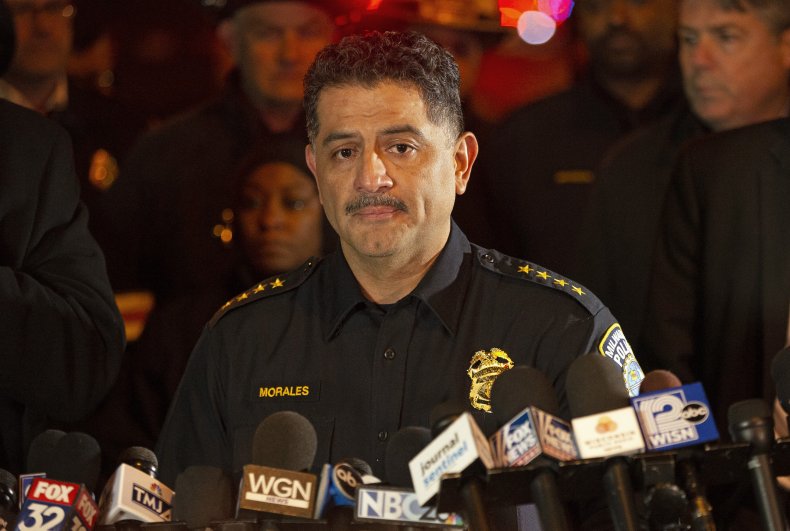 Mayor Barrett said he was "not happy" with Morales' demotion in a video posted on Thursday. "Chief Morales should have been given an opportunity to respond," Barrett said.
In an attempt to fulfill one of the directives, Morales and Brunson released a video in June explaining the use of tear gas against protesters. Morales justified the use of chemical irritants against the demonstrators by calling the protests civil disturbances.
Standard operating procedures defined civil disturbances as "any assembly of persons where there is potential or imminent danger of collective violence, destruction of property, or other unlawful acts" which require police forces to be deployed.
Using that definition, Morales said, "a peaceful civil disturbance does not exist."
Members of the FPC still found Morales' leadership wanting. In a Friday statement, Milwaukee Common Council President Cavalier Johnson said Morales "appeared unwilling and unable to authentically engage with the community in a way that honored resident's perspectives."
Johnson also said Morales showed resistance to moving forward with "more collaborative, equitable, and transparent policing."
Despite the controversy, Morales had the support of the Milwaukee Police Association (MPA) who called Morales "a man who fought for everyone."
"Chief Morales is a person who cares for Milwaukee," read an August MPA statement. "Chief Morales grew up in this city. He devoted his career to this city. But you took Chief Morales from the citizens of Milwaukee. You should be ASHAMED of yourselves."