Frozen Alligator Discovered in Milwaukee Storage Bin in Back Alley: 'How Did It Get Back There, We Don't Know'
Milwaukee police and residents were left puzzled last week after a dead alligator was discovered in a water-filled plastic storage container discarded in a back alley.
Police were contacted after the reptile was found beside trash cans last Thursday by a resident called Blake Campbell, who was alerted to the remains by a foul smell after pulling his vehicle into the back alley of an apartment block shortly after 6 p.m., WITI reported.
Campbell estimated that the gator in the trash had been between four and five feet in length.
"When I got out the car, I smelled a scent so I started checking my shoes and checking my clothes. [I] didn't know where it was coming from until I walked back there and seen a dead alligator," he told WISN 12.
It remains unclear when and why the animal was discarded, but homeowners had theories.
Speaking to WDJT, resident Tracy Steed said the gator was possibly a pet that became too big to manage. "Watch out when you take the garbage out, no telling what's lurking out there!" he said.
Police confirmed to the Milwaukee Journal Sentinel that officers had responded to the 3900 block of North Sherman Boulevard at around 6:30 p.m. The remains were collected on Friday by the state's Department of Public Works, but investigators were unable to find the culprit.
"MPD was not able to discover where the animal came from," Sgt. Sheronda Grant, the public information officer (PIO) for the Milwaukee Police Department, told the newspaper.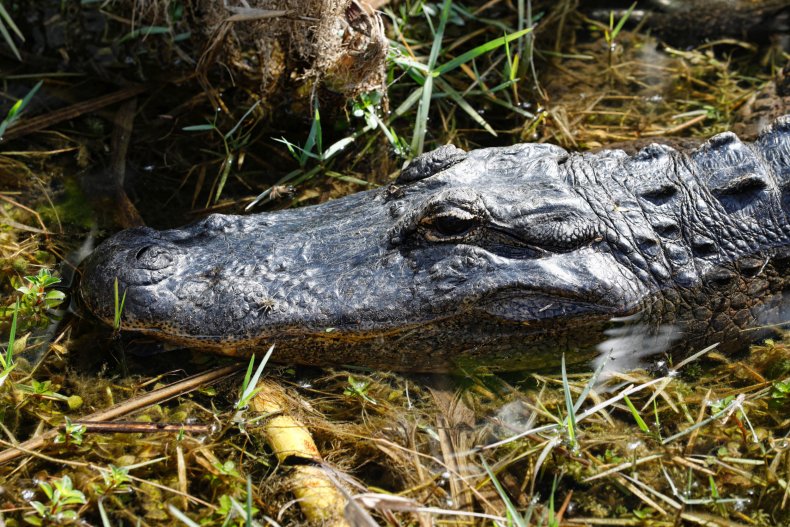 The carcass was in the alley until the next day, reportedly around 1:30 p.m. By then, the water the alligator was found in had frozen over. Residents still lack answers. "That's a big gator! How did it get back there, we don't know," another resident, Michael Pullian, told WDJT.
Cindy Steinle of Small Scale Reptile Rescue told WITI she had collected eight alligators in the city limits this year, and offered to save them despite the undomesticated species being outlawed as pets. "There are fines on the books for harboring American alligators if you're caught; if you're turned in. If you turn the animal in here, you have 100 percent amnesty," she said.
According to the National Wildlife Federation, American alligators can grow to be more than 12 feet long and are typically found in slow freshwater rivers, swamps, marshes, and lakes.
"American alligators can be found in the coastal wetlands of the U.S. Southeast, as far north as North Carolina and as far west as eastern Texas," the organization explains in an online fact sheet, adding: "Their range extends down to southern Florida and includes the Everglades."