After a season spent honing interview techniques and developing rigorous standards for evaluating serial killers, special agent Holden Ford (Jonathan Groff) finally proves the practical use of his profiling techniques by extracting a confession from the killer of a 12-year-old girl. Season 2 of Mindhunter will push the crime-solving boundaries of profiling even further, as Ford and his Behavioral Science Unit within the FBI apply their psychological study of serial killers to the Atlanta child murders of 1979 to 1981, when 29 children from the ages of seven to 17 were kidnapped and killed, their bodies left in wooded areas and abandoned lots.
But while Mindhunter Season 2 is set decades ago, open questions about the Atlanta child murders linger to this day. In advance of the Season 2 premiere, Ford's real-life inspiration, FBI profiler John Douglas, co-author (with Mark Olshaker) of Mindhunter: Inside the FBI's Elite Serial Crime Unit, spoke with the "Atlanta Monster" podcast about his role in the case, developing a profile of the killer.
"The FBI wasn't embracing me at all yet. I think they were a little bit standoffish, or afraid, in case I screwed up the case," Douglas said, recalling his assignment investigating the murders. "It was our job to go out to the crime scene and take a look at the cases they had."
Douglas' eventual profile determined the killer to be a black man, for reasons both practical—a white killer would have been more likely to attract eyewitnesses in the predominantly black neighborhoods where the victims were abducted—and psychological, since serial killers tend to kill people of their own race.
Police eventually arrested Wayne Williams, 23, an Atlanta native who lived with his parents. He aspired to create the next Jackson 5, which he called Gemini, sending letters to Atlanta-area schools in search of young recruits — talent he hoped to manage. Williams first came to police attention when a surveillance team described hearing a loud splash beneath a bridge and pulled over Williams in his car. Two days later, the body of 27-year-old Nathaniel Cater was found downriver. Searches of Williams' home turned up hair and fiber consistent with fibers pulled from the body of another victim, 21-year-old Jimmy Ray Payne.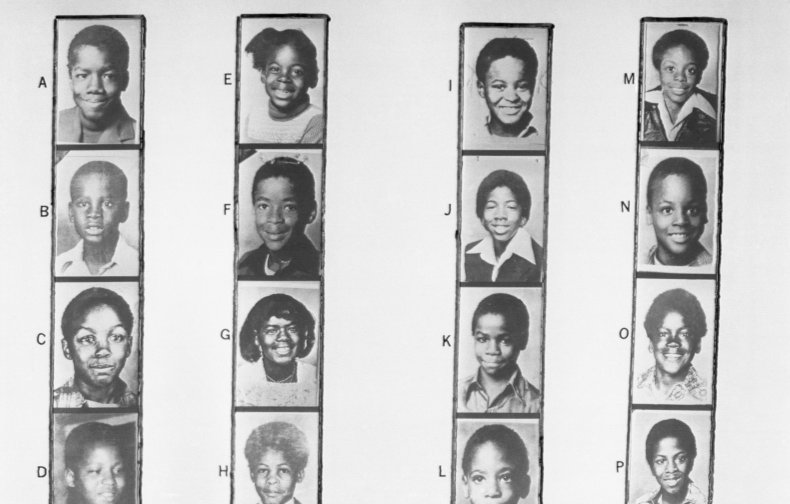 Douglas describes Williams as hungry for attention and power, eventually further fed by media attention, transforming the killings from hidden acts to public spectacle. "We went from bodies that were being secreted, we're finding skeletonized remains, and then all the sudden we're finding bodies out in open view," Douglas recounted to "Atlanta Monster" creator Payne Lindsey. "So we have a situation where we have an offender that is getting caught up in the publicity now."
Williams fit the profile Douglas had developed for the killer, but his public declaration that Williams was "looking pretty good for a good percentage of the killings" landed him in hot water — the FBI censured him for his comments (he would later receive a letter of commendation).
Williams was eventually convicted for the murder of two adult men, but prosecutors presented evidence, including more fibers matched to victims and eyewitness accounts, linking Williams to several of the dead children. Williams maintains his innocence, his attorneys arguing that law enforcement covered up evidence of Ku Klux Klan involvement in the killings and disputing the scientific validity of the carpet fiber analysis. In 2006, Williams' request for a retrial was rejected.
While not directly related to the Atlanta killings, subsequent reporting, based on research from the National Association of Criminal Defense Lawyers and the Innocence Project, revealed decades of forensic malpractice when it comes to the analysis of hair and fibers. In response, the Justice Department and FBI acknowledged that examiners had given flawed testimony in almost every trial involving their forensic unit. The science behind hair and fiber analysis was essentially a decades-long hoax, used to benefit prosecutors, including in 32 cases where the defendant was sentenced to death (14 have since been executed or died in prison).
Douglas maintains that Williams is likely the Atlanta child killer, describing ten to twelve of the cases as "pretty clear cut," but also acknowledges that some of the 29 deaths remain unsolved. "I did not believe, and to this day, that he was responsible for all of those cases."
In March, Atlanta Mayor Keisha Lance Bottoms announced plans to reevaluate evidence from the Atlanta child murders. While Williams was arrested on suspicion of killing 22 children, and convicted of killing two adults, the reopened investigation will search the case files for more conclusive DNA corroboration, using modern forensic science.
"A lot has changed in Atlanta since 1979, and a lot has changed in our world since 1981," Bottoms said at a press conference held at Atlanta Public Safety Headquarters. "To once again take a fresh look at these cases and determine once and for all if there is additional evidence that may be tested that may give some peace—to the extent that peace can be had in a situation like this—to the victim's families, to let them know that we've done all we can do to make sure their memories are not forgotten and, in the truest sense of the word, to let the world know that black lives do matter."
On the new episode of "Atlanta Monster," Douglas also delved into how his techniques with serial killers differ from its depiction on Mindhunter.
"When I do interviews it's different than the Mindhunter Netflix show, I'll give you an example. They'll show a tape recorder and we're taking notes and all that. I did that early on, but you're dealing with people who are paranoid to begin with," Douglas said. "They don't trust the guards they don't trust anyone going into the interview. I found out after early mistakes I made: go in with no notes, just try and memorize every aspect of the case."
"Profiling is an investigative tool and it's not a substitute for thorough and well-planned investigation," Douglas added. "Sometimes law enforcement comes too early and wants this magical profile."
"Atlanta Monster" is a 10-episode podcast that debuted in 2018 and explores the Atlanta child murders through interviews with witnesses, law enforcement and Wayne Williams himself. The new episode is a continuation of the work done over the first season of the podcast series. Season 2, "Monster: The Zodiac Killer," from Tenderfoot TV and HowStuffWorks, is available now.