As gruesome scenes showing the human cost of the Ukraine war emerge with the withdrawal of Russian troops north of Kyiv, Vladimir Putin's armed forces are unable to move forward on any front, and are ineffective in the air. Ukraine, meanwhile, is mounting an effective counterattack, regaining territory and liberating occupied towns and villages, where the devastation of the fighting is coming to light. Neither side has any prospect of achieving its military goals.
The stalled war is increasingly tragic for the civilian population, U.S. intelligence observers tell Newsweek, because caught in the middle, they are in the line of fire and also are deprived of basic sustenance. Since Russia invaded, thousands of Ukrainian civilians have died and over 25,000 apartments and homes have been damaged and destroyed. More than 10 million people—a quarter of the population—have been displaced.
Still, there is little movement towards a negotiated solution.
"No one's going to surrender. No one's going to win," says a senior Defense Intelligence Agency officer who is working on the Ukraine war. The officer, who is not authorized to talk to the news media, requested anonymity in order to talk to Newsweek.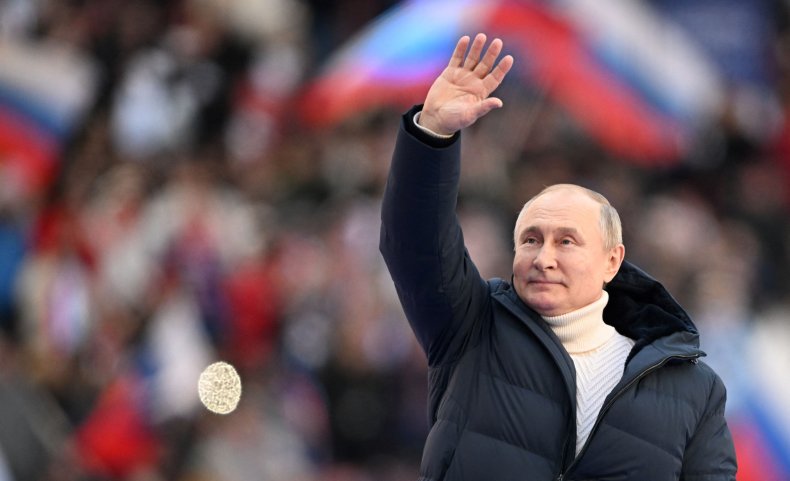 The officer calls the continued killing "mindless": Ukrainian civilians are dying while both sides are clearly poised to find a political settlement. But there is apparently little interest in the West, particularly in Washington, to intervene and broker a ceasefire.
"The Biden administration is so intent on punishing Putin, it can hardly focus on the Ukrainians who are dying every day," the DIA officer says.
American officials initially dismissed Russia's withdrawal as a smokescreen to allow its armed forces to prepare for intensified fighting in the south. Washington continues to insist on a complete Russian withdrawal from Ukrainian soil even before talks can begin.
On Wednesday, in response to a formal Ukrainian declaration that it would adopt a policy of neutrality, pledging that it would have no foreign military forces on its soil, Russia said it would "drastically reduce" its activities in Kyiv and its northern environs.
Russian forces had been losing ground north of Kyiv for days, but after the Russian announcement, a U.S. Senior Defense Official confirmed that indeed there was a methodical pullback, telling reporters that the Pentagon was observing ground force "repositioning" north and northwest of Kyiv, estimating that 20 percent of the force once deployed in Ukraine had pulled out by Friday.
"We believe that they have very likely abandoned Hostomel airfield," the Senior Defense Official said, ending an occupation that was also serving as the command post for Russia's Eastern Military District. Russia and Ukraine had been battling for control of the airfield since the first night of the war.
Ukraine then announced that it had liberated the towns of Bucha and Irpin, north of the capital, where major fighting has also been going on for weeks. More than a dozen other communities were liberated by Ukrainian forces, and Russia pulled back from the entire Kyiv region, the government declaring it free of Russians by late Saturday. In Chernihiv region, to the northeast of the capital, Ukrainian forces have similarly ejected Russian forces, as they have also pulled back.
Fighting does continue, particularly as Ukraine's forces pursue the retreating Russians. And artillery and air strikes continue, the Russian air force flying some 300 total sorties each day.
But Russian air and missile attacks, while still intense, have plateaued, U.S. Air Force sources say, and the effectiveness of the strikes that are being carried out is also declining. The majority of the airstrikes that are taking place are occurring in the Donbas region, in direct support of Russian ground forces in the south. The number of attacks on targets in and near Ukrainian cities outside of the forward battle zone has declined.
"For anyone to say that Russia is escalating its air and missile attacks and that they are continuing to bomb is a bit disingenuous," a retired senior U.S. Air Force officer tells Newsweek. "We aren't seeing an escalation. Actual airstrikes are not really varying over the past week and missile attacks are down to some 40 a day—half the previous firing rate."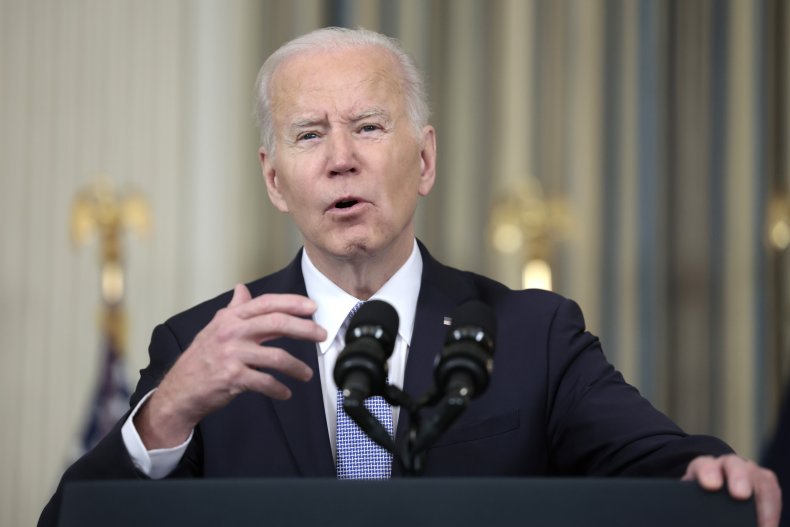 "There's no 'strategic' air campaign to speak of," the retired Air Force officer says, referring to Russian attacks on civilian infrastructure such as electrical power and water, or rail and road transportation. So far, Putin has not attacked any of these.
"We talk about Russia's inability to establish air superiority as some kind of blunder but looking at the absence of any strategic air campaign—that Russia never pursued one—I'm no longer so sure we understand their use of their Air Forces," the retired officer says. "That is, what they were thinking, what they were trying to achieve in the air.
"In fact, a month into the campaign, Ukrainian air defenses continue to be potent," says the retired officer, a Pentagon contractor working on air power analysis and strategy. "And that affects the Russian air force, which rarely leaves Russian and Byelorussian airspace. We're also seeing well over 50 percent failure rates in weapons used in air and missile attacks. Russian airframes are also not up to the task, wear and tear's beginning to take its toll."
Ukraine's General Staff said Friday that its air forces downed seven Russian targets in the previous day, four aircraft, one Orlon-10 drone, and two cruise missiles.
Defense experts now agree that Russia has abandoned completely the notion of taking Kyiv and deposing the Zelensky government (two of its original goals). Any ground or sea movement towards Odesa in the south has also halted. Kharkiv, the other major city in the combat zone, near the Russian border in the east, also remains firmly in Ukrainian hands, despite taking a pounding from artillery and ongoing fighting. But defense experts doubt that Russia can take the city.
The besieged southern city of Mariupol, on the Sea of Azov coast, is the most isolated of Ukraine's major cities. The Senior Defense Official said Friday that Russian forces "haven't made any major gains" in Mariupol and that the Ukrainians are "fighting very, very tough inside the city ..." Still, tens of thousands remain trapped and their supplies of food and water are at a critical stage. Local officials say civilian deaths are close to 3,000.
"There is hell in Mariupol, there is a disaster that the whole world knows about, but no one has enough determination to help stop the disaster in this city and other cities of Ukraine," President Volodymyr Zelensky said last week.
"It's tragic what we're watching in Mariupol," says the senior DIA officer. "The Russians are struggling to finish something that they started more than a month ago, because, well just because, for pride. Damage in the city is a heartbreaking mess, but it sort of symbolizes Russian failure and the mindlessness of continued fighting."
The most intense fighting, now largely out of sight, is taking place in Donbas—the area made up of Ukraine's eastern regions of Luhansk and Donetsk. Ukrainian military sources stated Saturday that some units from the north would join the operation there. Western intelligence sources tell Newsweek that Russia is redeploying more forces from the Russian far east and from operations in Georgia to relieve the now-exhausted Ukraine allocated force.
"Russian forces that are withdrawing north of Kyiv are barely in a position to move to the south, not just because of transport and logistics issues, but also because the individual units will need weeks to recover and replenish," the DIA officer says. "And Russia has little reserve. I don't know why the news media harps on some Russian deception. Sure, we shouldn't trust what they say. And yes, the fighting continues. But to focus on this phantom second wind or the potential for Russia to use chemical or nuclear weapons? It's a cruel deception, that is, for Ukraine. Russia has reached the end of its rope."
British intelligence also says that Russian movements of reinforcing forces towards Ukraine are "indicative of the unexpected losses it has sustained" rather than part of a strategic plan.
Though fighting in the southeast Donbas region has intensified, military experts agree that Russia hasn't been successful in taking enough territory for it to capture the entire landmass. Nor has Russia managed to establish control of the border areas and link its forces up to establish a firm grip around the eastern periphery. The area between Izium and Luhansk is particularly contested. On Saturday, it was clear that Russian forces had bypassed the city to take easier territory.
Directly north of Crimea in the deep Ukrainian south, Russian forces are now stopped at the boundary of the east-west flowing Dnieper river, unable to venture north from that area. Only in Kherson located on the north bank of the river did Russia manage to cross and occupy the city, the original plan being to head north for Mykolaiiv and then eventually circle around to take Odesa. Now the very control of Kherson is in doubt.
At Chornobaivka airbase just north of city, where the Russians have been operating since March 7 (and the site of another forward command post), Russian activity has completely collapsed. Ukrainian President Zelensky said Wednesday that Russia forces were flying and moving less at and around the base, after 12 days of blistering attacks by Ukrainian defenders. Defense experts now predict that Russia is preparing a withdrawal.
"The Russian enemy is successfully restrained by the Armed Forces of Ukraine ... our troops are carrying out successful counterattacks," the General Staff of the Armed Forces of Ukraine says.
The General Staff, in its Friday briefing, once again stressed that the "morale and psychological" condition of Russian forces remains low "and tends to deteriorate."
"We have continued to see unit cohesion issues, command-and-control problems, problems of faulty leadership," the Senior Defense Official told reporters Friday. "And certainly we have continued to see ... evidence of poor morale and poor performance by troops on the battlefield."
What Vladimir Putin actually knows about all of this, or about the impact of sanctions, became an issue of contention this past week when reports emerged that the Russian military might not be revealing the extent of their failure in Ukraine. "The Russian system has a reputation for not telling the truth, not only to international countries but also internally," said British Defense Secretary Ben Wallace. "The Russian military doesn't report up its losses, it doesn't tell people the shortcomings of its armed forces."
The U.S. Senior Defense Official agreed: "I can't point to a specific decision point or a specific action that the Russians are taking and tell you that that's evidence that, you know, Mr. Putin is now more informed than he was before," he told reporters. "We're concerned about the ... reports that he may not have the full information," he said, worrying that Putin's incomplete knowledge might affect Russia's positions at the negotiating table.
But the DIA officer, privy to the highest-level intelligence, disagrees, saying that all signs indicate that Putin is struggling with Russia's loss. "The intelligence is now clear: the Russians themselves now know they can't pull this off, and the internal discussions reflect that," the officer says.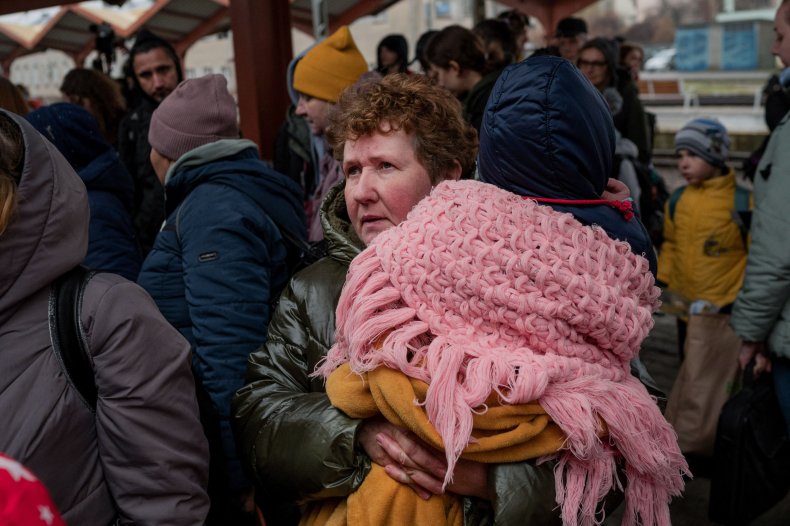 Foreign Minister Sergey Lavrov said this weekend that Moscow was preparing a response to Ukraine's proposals for a peace treaty, admitting that Russia was well aware of its precarious position.
"Putin's in a bit of an impossible position," the DIA officer says. "He can't admit he's lost but he has to negotiate. But he also has to look over his shoulder at sanctions, which Washington says it won't lift until there is a full withdrawal from Ukrainian soil, including withdrawal from Crimea and the Donbas."
Ukraine for its part seems to be hinting that it is willing to accept a ceasefire without such a pledge. The peace treaty with Moscow will not be signed until it withdraws its troops. David Arahamiya, a member of the Ukrainian parliament and part of the Russian negotiating group, hinted this week that a peace treaty might only concern the territory controlled until February 24, deferring discussions of broader questions.
President Zelensky continues to warn that Russian troops are accumulating their potential in the south for a future offensive. His rhetoric may be more a call to arms than a description of the facts on the ground. He is imploring Ukrainians to not let up the intensity of their defense.
Like Putin, Zelensky has an impossible task, keeping spirits up, spurring the armed forces and the people of Ukraine to keep the pressure on; needing negotiations to achieve an end to fighting, but cautious to admit any weakness.
In his video talk to the nation on Friday afternoon, the Ukrainian leader again displayed his magic as the great motivator. There will be battles ahead, he said, affirming the Russian pullback away from the capital city but cautioning at the same time "a very difficult path" ahead. He called on all Ukrainians, even children, to play a role in rallying the armed forces, to help in any way they could, and to offer "a warm word."
"I also work on motivation for them. Daily. Like each of us," he said. Publicly, it is all the president can do, keeping outside attention on Ukraine to marshal arms and humanitarian support.
But he also said Ukraine had to continue to fight "until Russia begins to invest as sincerely in the search for peace."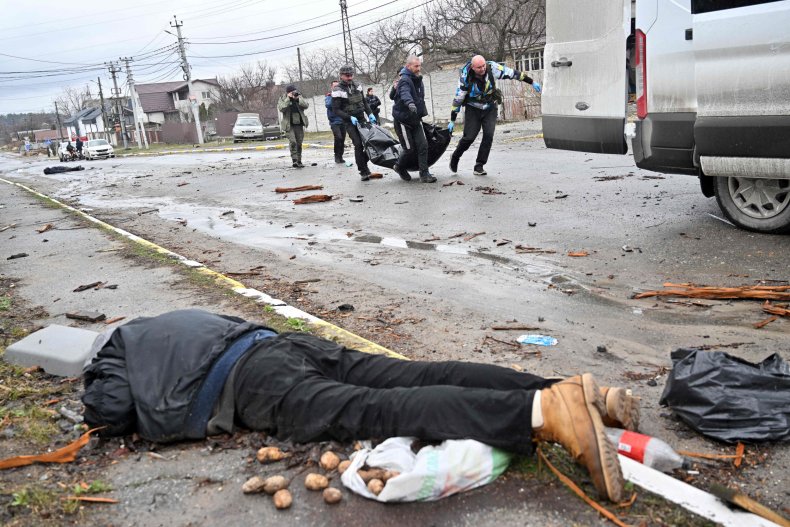 Zelensky talked to Turkish President Recep Tayyip Erdoğan late in the week about continuing negotiations in Istanbul and the "creation of an effective system of guarantees for our state." He welcomed Turkey's offer to be one of those countries obligated to defend Ukraine in the future. Leaders in Germany, Italy and the United Kingdom have since added their countries to the list of guarantors.
"The U.S. government is not ready to decide on Ukraine's security guarantees at the moment," said White House Communications Director Keith Bedingfield on Thursday.
"Are we just going to wait for Russia to use weapons of mass destruction, or even provoke it with our insistence of regime change?" the DIA officer asks. "Putin is desperate—all the more reason for us to take some bold moves to assist in ending the fighting, not to push his back to the wall."
On Saturday, Zelensky said that retreating Russian forces were leaving boobytraps and landmines behind. "There are a lot of trip wires, a lot of other dangers," he said.
As negotiations get underway for Zelensky and Putin to meet face-to-face in Turkey, the trip wires and land mines are many.