Emily in Paris is back with a brand new season which means a whole lot of singing from Emily's new BFFL, Mindy Chen. Fans of Emily in Paris are no stranger to seeing Mindy sing her heart out and in the first episode of Season 2, Mindy takes to the stage to perform BTS's Dynamite.
For those who are new to the world of Emily in Paris, you may be wondering if it is Mindy actress Ashley Park who is really singing. Newsweek has everything you need to know.
Does Mindy Really Sing in Emily in Paris?
Yes, it really is Ashley Park singing in Emily in Paris Season 2. Her character Mindy is the heiress to her father's fastener company but has dreams of becoming a successful singer.
Park, who plays Mindy lends her dazzling vocals to a variety of songs including Dynamite by BTS and "Diamonds Are a Girl's Best Friend."
Speaking to Vogue ahead of the release of Emily in Paris Season 2, Park shared she "couldn't believe" Netflix got the rights to "Dynamite" by BTS, a song which saw BTS become the first Korean pop act to receive a Grammy nomination for Best Pop Duo/Group Performance.
She said: "The music was that it was my wish list of genres. I was like, 'We're global. I would love to do a K-pop song.' And I couldn't believe we got the rights to "Dynamite" by BTS.
"My favorite thing to do is interpret songs that are well-known and make them my own. I was like, 'I love Celine Dion more than anything,' and they let me sing a Celine Dion song and an old Broadway standard, "Diamonds Are a Girl's Best Friend."
"It was so fun to do a variety of songs because I had no idea that when I was cast that Mindy would even sing."
Park also sings an original song titled "Mon Soleil" composed especially for the series. She collaborated on the track with her friend Grammy-award's songwriting friend, Freddy Wexler.
Speaking to Vogue, she described the song as "Stevie Wonder vibes, but French, romantic and very pop."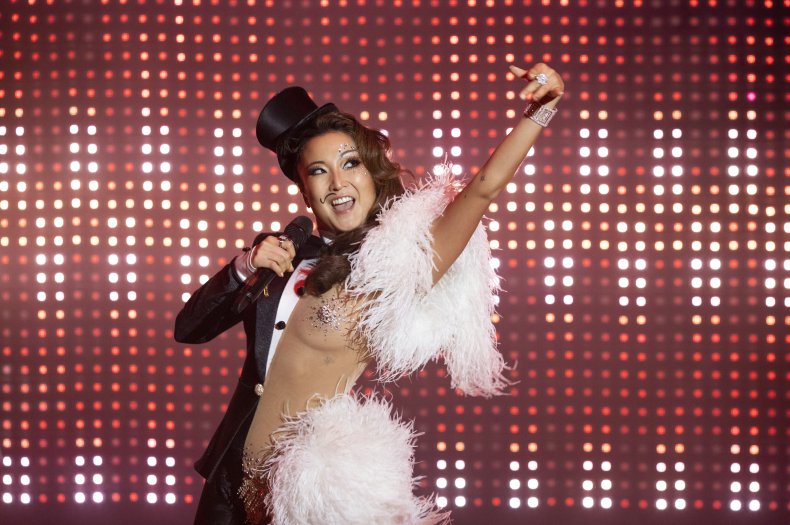 Emily in Paris Season 2 is not the first time fans have been treated to Park's vocals. Fans will remember her performance of La Vie En Rose and Sia's "Chandelier" in Season 1. Her character even appeared on Chinese Pop Idol.
It is no surprise Park has lent her singing talents to Emily in Paris — she is a Broadway star after all.
Park received critical acclaim and a Tony award-nomination as Gretchen Weiners in Mean Girls on Broadway. She also received nominations for the Drama League Award and the Drama Desk Award for Outstanding Featured Actress in a Musical.
Earlier in her career, Park starred in The King and I and Mamma Mia! and Stephen Sondheim's Sunday in the Park With George on Broadway.
Reflecting on signing on-screen in conversation with Town and Country magazine, Park shared: "I love singing on stage with a scene partner for the purpose of a story—that's why I do musical theater. I'm not a concert singer. I get too nervous when it's just me, so this was a growing experience for me, too, to sing in a natural way. Music and laughter are the ways that we are able to open up people the most, and I'm so grateful that Mindy gets to do both."
Emily in Paris Season 2 premieres Wednesday, December 22 on Netflix.