Nobody Gives Better Life Advice Than Mindy Kaling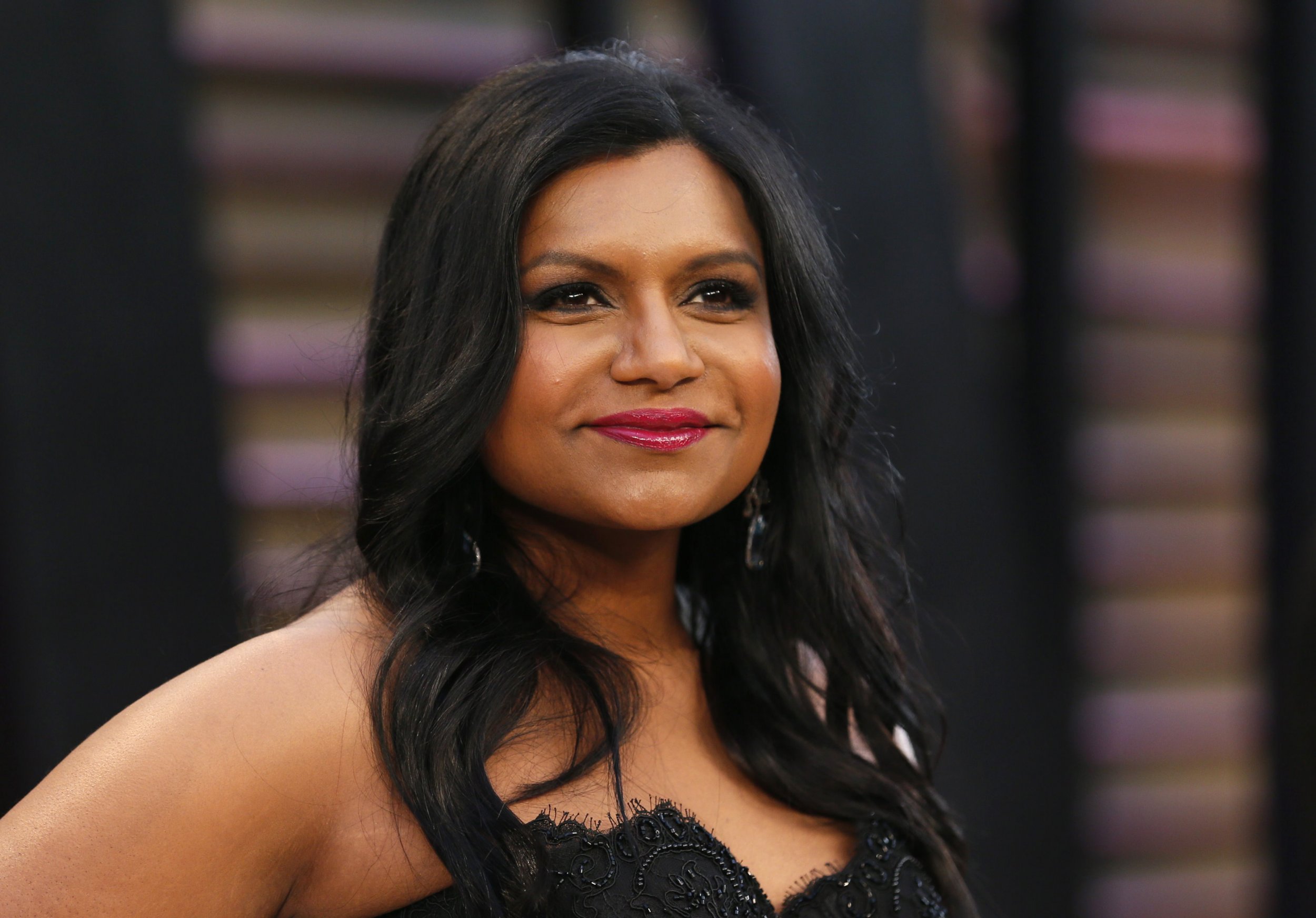 Security tells Newsweek that people have been lining up outside the Special Events Hall at Jacob K. Javits Center in New York since 4 a.m. Saturday to hear Mindy Kaling speak as part of BookCon. Amid the collectively delighted cries, sighs and shrieks of a packed hall at Javits Center, the writer and actress was interviewed by B.J. Novak, her longtime friend, collaborator and frequent subject of her Instagrams, about her new book Why Not Me? that releases later this year.
While most of their conversation centered around the many different things that have happened in her life since the release of her first memoir in 2010, it did veer decidedly off-script (much to the audience's very vocal delight), into ruminations about McDonald's, chest hair on men, her childhood crush on Dana Carvey and a throwback to Novak and Kaling's Ryan and Kelly days on The Office.
The best moments from the hour-long conversation follow:
On the title of the book Why Not Me?
According to Kaling, the book's title is both wistful and assertive at the same time. The wistfulness arises from watching her friends getting married and having kids, feeling left out and wondering why can't she have those things herself. Alternately, the title is also her battle cry of ambition; of making the life she wants for herself. The original iteration, she says, was Why the Fuck Not Me?—a little too PG-13 for the mass market perhaps, as Novak interjected that this particular title suggestion had apparently been rejected by the publisher.
On maximizing her second coming of age
Her 2011 best-selling memoir titled Is Everyone Hanging Out Without Me? (And Other Concerns) was more of an exercise in introducing people to herself as a person, while working with a new medium and wanting people to like her. The second one, she claims, is more honest and vulnerable, where she talks about the years that followed, filled with a whole new trajectory to her life, both personal and professional. "More things have happened to me in the past five years than they did in the first 30 of my life," she says.
On the trajectory of her show The Mindy Project, the 'love of her life'
"It's like being in a really, rocky relationship," she says. Kaling's first book was written just as her show The Mindy Project had been greenlighted by Fox after being passed over by NBC. Despite being immensely popular with critics and fans alike, the show was never able to blaze through in the ratings department, and ended up being canceled after three seasons (to the universal outcry of fans). It has now been picked up by Hulu for a 26-episode run, and Kaling revealed that the Mindy writers will be returning to work on the new season's storylines on June 1.
On the difficulty of having to make friends as adults
"In L.A., the only women you meet are at spin class. It is harder to get a woman to talk to you than it is to get a man to sleep with you," she says. Kaling talked about a chapter named "Players" in Why Not Me? that recounts a short-lived friendship from her early days in New York, when she was unceremoniously dumped by a friend for someone else. The topic of female friendship is also going to be a prominent discussion in The Mindy Project writers' room, and Mindy Lahiri might get a better fleshed-out friend than Season One's Gwen.
On the sheer unfairness of B.J. Novak being cast in the McDonald's movie
Kaling's Instagram feed is testament to her well-documented love for the fast-food chain, and she was both amused and miffed at Novak being cast as McDonald's co-founder Ray Kroc in the upcoming biopic on the chain. "Have you ever even been to a McDonald's?" she asked Novak, who then replied (not without a touch of sheepishness) that the few times he had, it had been with her.
On the pointlessness of making a list of goals for herself
Kaling's first book ends with an imagined list of things she'd like to have accomplished by the time she writes her next, including having a husband and kids, a movie career and finding out where her natural lipline is. Present-day Kaling is not too pleased with with her 2010 self, and she admitted that while she's someone who greatly enjoys rules and codes, this setting of lists and goals for her future self only prevents her from enjoying the degree of success that she's presently reached. Hence, the list-making has been abandoned, and the only thing on her agenda for the next five years is to make one new, very good friend.
The advice that she'd give to young people who look at her life, her career and wonder, "Why not me?"
"It takes a lifetime of very sensitive observation to have something to say," she says. Kaling's previous book also exalts the advantages of being quietly observant in a world that values speaking out loudly as a power move, and says that for a young person, learning how to be perceptive and sensitive is equally as important as being able to express oneself.
On the type of men she is attracted to
When the conversation inexplicably veered toward the romantic interests that Kaling had had over the years, she confessed that at 11, she was supremely attracted to Dana Carvey on SNL, before joking that the majority of her audience was too young to even know who he was. Further prodding by Novak revealed that another one of her crushes was Pierce Brosnan, circa his role as the stepdad-to-be with the healthy smattering of chest hair in Mrs. Doubtfire. To this, Novak added: "It's just very telling that you would be attracted to Pierce Brosnan as the dad in Mrs. Doubtfire rather than Pierce Brosnan in James Bond."
They are maybe, maybe not writing a book together
They won't really say. All those alleged reports that the two are both working on a project together? They're not entirely untrue, but both that Kaling and Novak emphasized that the other book is just an idea in the earliest of brainstorming phases right now and won't be an actual project for quite some time.
When asked by an audience member about not incorporating her Indian heritage as much as they'd like her to, she responded:
"James Franco has the luck of being a white man. Hence he gets to be a 'real artist.' His whiteness literally makes him a blank slate. People don't ask him about justifying his artistic choices because of being in a certain bracket."
Kaling said the story she was attempting to tell was of a woman in her 30s trying to find love, and the reason why the room was packed to the hilt with women, not all of them Indian, was because clearly Mindy Lahiri's story had resonated with them all.