'Minecraft Earth' Android Beta Sign Up Live - How to Play the AR Game Early
The Minecraft Earth closed beta is now open to Android players, while pre-registration for the full game is now available in the Google Play Store.
Minecraft Earth is an augmented reality game for mobile devices, which combines micro and macro features, where players can build in tabletop mode, then insert life-sized versions of their creations into the real world. Players can also work together to create joint projects, or find new mobs ("mobile," or living, game entities), like the muddy pig and moobloom. Even combat has been translated to life size in Minecraft Earth's "Adventures."
Minecraft Earth will reproduce many of the same core gameplay features of Minecraft, with AR twists. Players will still gather resources, build, craft and explore.
"Discover a new dimension of Minecraft as you create, explore, and survive in the real world," the Google Play Store description says. "Join a community of builders and explorers spanning the planet, collect resources for your builds, craft in augmented reality and then place them at life-size."
Minecraft Earth Android Closed Beta — How To Sign Up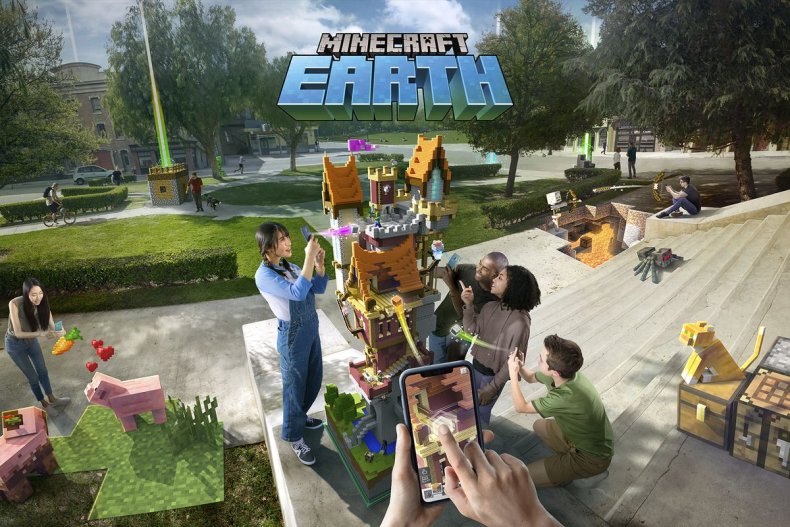 Android users who would like to preregister for Minecraft Earth should visit the Google Play Store.
For the opportunity to play early, in the Android closed beta, players should sign up at Earth.Minecraft.net for updates, plus unlock a free Minecraft Earth skin (which will also work in the standard Minecraft "Bedrock Edition"). By signing up, you'll enter a pool of eligibility for the Android Minecraft Earth beta.
Slots are limited for the closed beta, but Minecraft developer Mojang eventually plans to roll out Earth to hundreds of thousands of players as they stress-test the game. Players accepted into the beta are expected to be "actively playing" Minecraft Earth within any given seven-day span, or risk being returned to the beta eligibility pool.
Requirements for the closed beta include a mobile device running Android 7 or iOS10, plus a Microsoft or Xbox Live account (which can be created for free). Only players 18 and older are eligible for the Android beta.
The Android Minecraft Earth beta follows an iOS closed beta launched in July.
Minecraft Earth will be free-to-play, with in-game purchases, on both iOS and Android devices upon release. A release date for Minecraft Earth has yet to be announced.