French Submarine Discovered After Disappearing More Than 50 Years Ago: 'It's the End of a Long Wait and Many Questions'
A mystery that lasted for five decades has been solved after a missing French submarine was located off the coast of France. Previous efforts to locate La Minerve had failed since it vanished near the port of Toulon on the French south coast in January 1968 with 52 sailors on board.
The cause of the vessel's disappearance while it was carrying out a military exercise was never discovered, although it has been proposed that it imploded as it dropped to the bottom of the sea.
Experts also thought that it could have been due to a problem with its rudder, a collision, the explosion of a missile or torpedo, or something wrong with its oxygen supply systems.
After an appeal by the families of the victims, a new search located the vessel using hi-tech equipment that mapped the tides and currents in the Mediterranean, Agence France Presse reported.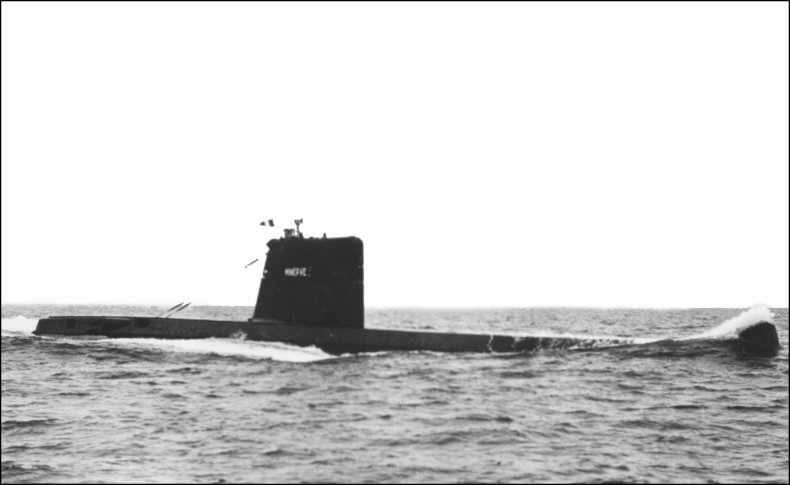 In the end it was a boat belonging to private U.S. company Ocean Infinity which found the submarine wreckage on Sunday. It had broken into three pieces and was at a depth of 2,370 meters, 27 miles off the coast from Toulon.
Hervé Fauve, the son of the commander of the vessel, André Fauve, told Le Monde: "Many people told me they were supporting me during the search because they didn't want me to feel alone but they didn't believe it would be found."
Jean-Marc Meunier, the brother of François Meunier, who was quartermaster on La Minerve, said: "It's the end of a long wait and many questions. I have my grandchildren around me who I used to tell about the Minerve, hugging me. It's a relief, hugely emotional. These 52 sailors had been abandoned in some ways."
France's defense minister, Florence Parly, had announced a new search mission at the start of 2019. On Monday, she tweeted: "It's a success, a relief and a technical feat. I am thinking of the families who have waited for so long for this moment."
The wife of one of the lost sailors, Therese Scheirmann-Descamps said: "I can't find the words to describe my emotion. It's extraordinarily soothing, for my children too. It's such a surprise, such a joy," she said, according to AFP.
There is unlikely to be any trace of the bodies left and a ceremony would be held at sea above the spot where it lies.