Bishop Calls Installing Miniature Golf Course in One of England's Oldest Cathedrals 'a Really Serious Mistake'
One of the oldest Anglican churches in England is being criticized for installing a miniature golf course to attract more visitors.
Rochester Cathedral in Kent, about 30 miles from London, dates back to 1066, when it replaced an earlier church on the same grounds from the 7th century. It was previously known as Cathedral Church of Christ and the Blessed Virgin Mary.
The nine-hole golf course is located in the cathedral's nave, the central space where parishioners are seated, and features a model of a historic bridge at each hole—including the original Roman bridge in Rochester and the Queen Elizabeth II Bridge in Dartford.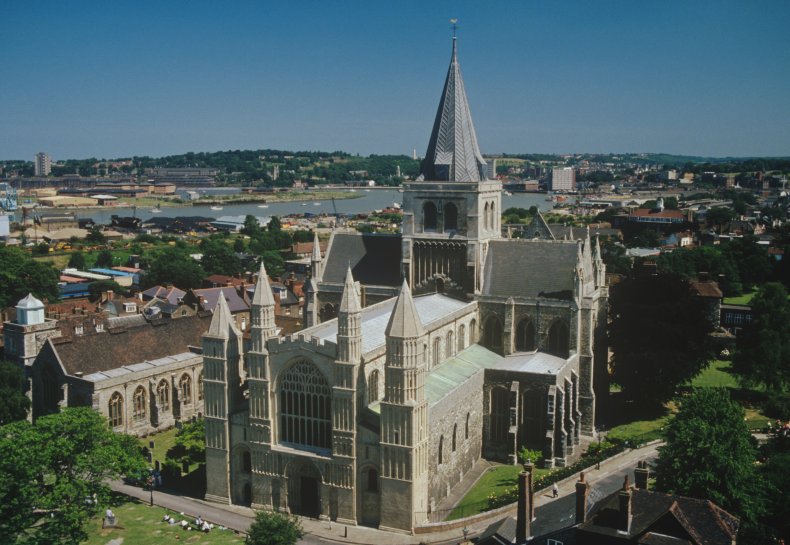 The course was funded by the Rochester Bridge Trust, as part of an ongoing program aimed at educating students about bridges and infrastructure.
"We are always looking for new ways to engage with young people and inspire them to take an interest in bridges and civil engineering," said Bridge Trust manager Andrew Freeman, who called the game, "the ideal opportunity to reach out to the community and get families and young people thinking about bridges while they have fun."
"Learning through play is at the heart of many of our educational initiatives," he added.
Cathedral spokesperson Rev. Rachel Philips explained that the hope is visitors will "reflect on the bridges that need to be built in their own lives and in our world today."
"For over 1,400 years Rochester Cathedral has been a center of learning for the community," Philips said in a statement. "By temporarily installing an educational adventure golf course we aim to continue that mission, giving people the opportunity to learn while they take part in a fun activity in what for many night be a previously unvisited building."
Critics, who include religious leaders and historic preservationists, complain the free game is a misuse of one of England's most historic sacred spaces.
"I was 'ordained' as an Anglican in this Cathedral," tweeted Father David Palmer, now a Catholic priest. "What an embarrassing shambles."
Christian Episcopal Bishop Gavin Ashenden called installing mini-golf in a cathedral "a really serious mistake—perhaps born of desperation."
"The idea that people are so trivial that they can be almost tricked into a search for God by entertaining them with a golf course is a serious-category error," Ashenden told the BBC.
The Archbishop of Canterbury pushed back, though, telling Rochester Cathedral canton Matthew Rushton, "If you don't know how to have fun in cathedrals then you're not doing your job properly."
Rochester has a special place in Roman Catholic history: In 1535, then-Bishop John Fisher was martyred after refusing to break with the Vatican and align with King Henry VII and the Church of England. He was eventually canonized for his sacrifice.
Noteworthy assets in the cathedral include medieval murals that were whitewashed during the Reformation and a medieval book containing laws that pre-date the Magna Carta—including the 7th century law code of King Æthelberht, handwritten in Old English.
After a week of previews, the golf course official opened on August 1 and will remain through the start of September. The game will not be available during church services.