Big American Companies Are Upping Wages Amid Worker Shortage
Costco has raised its starting wages for the second time in a year, with employees now being paid a minimum of $17 an hour.
The company told its employees that it would be increasing its minimum raise from $16, which was set in February, to $17 from October 25, according to a memo seen by CNN and Today Food.
"These increases are part of Costco's continuing efforts to ensure our hourly wages remain extremely competitive in the retail industry," Costco CEO Craig Jelinek said. "We remain proud to be able to pay employees well and provide excellent benefits. As in the past, we will review hourly wage scales in connection with the upcoming Employee Agreement."
Costco is one of a number of major companies that has increased its wages recently as businesses seek to attract new or retain current employees amid a labor shortage.

On Wednesday, Starbucks announced that starting in January, baristas with 2 or more years of service will get up to a 5 percent raise, and most hourly partners with 5 or more years will get up to a 10 percent raise. The coffee giant previously announced that it would raise its minimum wage to $15 an hour.
Walgreens recently announced it is raising its minimum wage to $15 an hour as companies hope to entice employees to stay or attract new ones in the competitive job market.
"Investing in and rewarding our team members is not only the right thing to do, it's highly important to retaining and attracting a talented workforce, and to continuing to serve our critical role in community health care," Walgreens CEO Roz Brewer said in a statement.
Target and Amazon have also set their minimum wage to $15 in recent years. Walmart raised its minimum wage for more than 550,000 employees from $11 to $12 in September. In April, Amazon announced more than 500,000 of its workers will get a raise of between 50 cents to $3 an hour.
The Fight for $15 labor movement has long advocated for the federal minimum wage to be more than double from the current $7.25 per hour, organizing walkouts by fast-food workers as part of their demands.
Speaking to Newsweek, Darnell Henry, a Michigan McDonald's worker and a leading member of Fight for $15, said other companies like the fast-food giant must also increase their wages if they want to attract and keep staff.
"Over the last nine years, fast-food cooks and cashiers with the Fight for $15 and a Union have won $150 billion in raises for over 26 million workers by marching in the streets and raising our voices to demand $15/hr.
"Even as companies across the country are raising their minimum wage to $15 an hour, other billion-dollar corporations like McDonald's still refuse to pay their workers a living wage.
"McDonald's complains about a labor shortage, but what they really have is a shortage of good jobs."
Companies are struggling to hire people to cope with the surge of new customers in the country reopens following the pandemic, with workers also pushing for higher wages or better benefits.
In September, The Washington Post reported the U.S has roughly 10 million jobs to be filled, but only 8.4 million Americans are actively seeking work. There are also around 4.9 million more people who aren't working or looking for work than there were before the pandemic hit.
Mace McCain, chief investment officer at Frost Investment Advisors, told Reuters that the impact of the labor shortages for businesses is yet to be fully realized.
"We're going to see it come up in the next couple of quarters as we try to continue to reopen," McCain said.
"The reopening was delayed by the Delta variant, so we haven't seen the full impact of the labor shortage yet."
A number of states, including Florida, California, Illinois, New York, have promised to raise the minimum wage to $15 an hour over the next few years. Ben Zipperer, an economist at the Economic Policy Institute, estimated that over the next few years, four in 10 workers will live in states with a $15 minimum wage.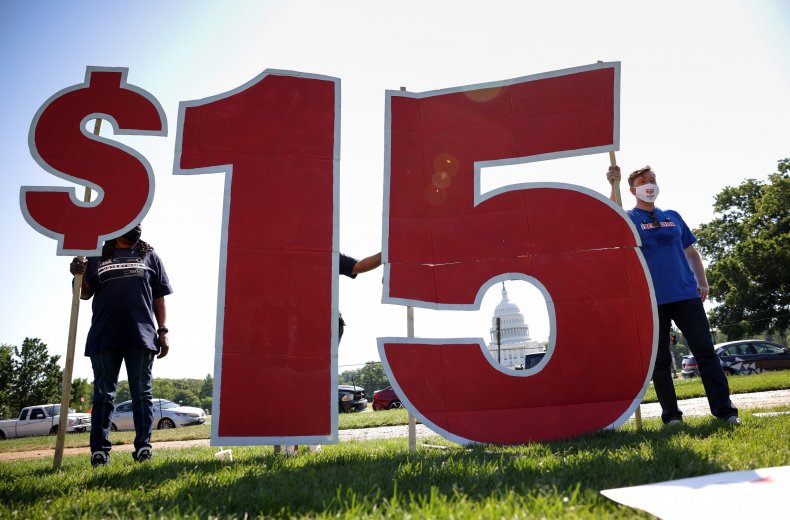 Update 10/29/21, 3:38 a.m. ET: This article has been updated to include comment from Darnell Henry.