When Will 'Minions: The Rise of Gru' Be Available on Streaming Services?
Minions: The Rise of Gru charts the early years of its eponymous character and his quest to become the best villain in the world.
The animated film, which is the fifth in the Despicable Me franchise from the animation company Illumination, follows 11-year-old Gru (Steve Carell) as he tries to become villainous enough to join a group known as the Vicious 6.
Minions: The Rise of Gru is coming to a movie theater near you very soon, but what about streaming services? Here is everything that you need to know.
When Will 'Minions: The Rise of Gru' Be Available on Streaming Services?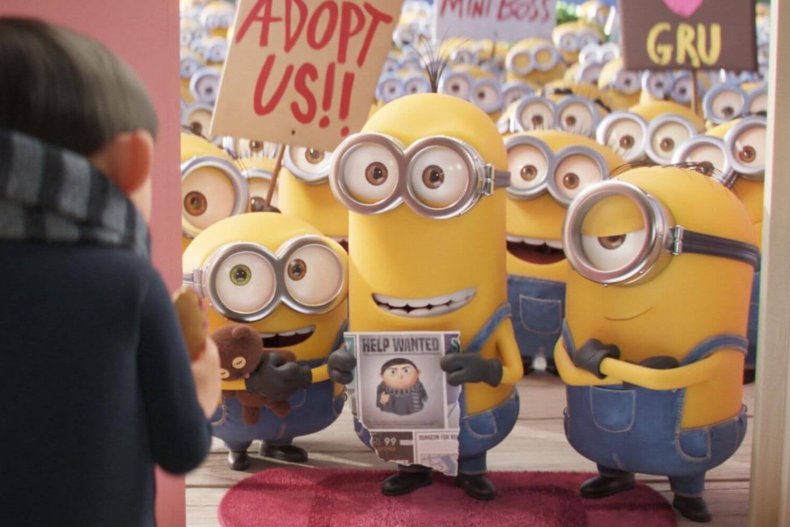 Minions: The Rise of Gru is being distributed by Universal Pictures, and it has been given an exclusively theatrical run.
Typically, movies that have an exclusive theatrical window will be in theaters for a minimum of 45 days. Depending on how well a film is doing at the box office, this can be extended to a 90-day or 120-day window.
This means that, at the earliest, Minions: The Rise of Gru won't be available to stream until August 15, but if it does well at the box office it could instead come out in September or even October.
Per a report from Variety, the animated film is predicted to earn $65 million to $75 million at the domestic box office alone, from 4,400 North American theaters, over the July 4 weekend.
When the animated movie does become available to stream in the U.S, it will be coming to NBC's streaming platform Peacock because it has been released by Universal Pictures.
Peacock will be the film's exclusive streaming home, so the film is not expected to be made available on other platforms like Netflix, Prime Video, Disney+ or Hulu.
A streaming release date for Minions: The Rise of Gru has not yet been confirmed by Illumination, Universal Pictures or Peacock.
In the lead-up to Minions: Rise of Gru's theatrical release Peacock did announce that the first Minions movie would be made available on the streaming platform, and it has been on there since Wednesday, June 1.
Peacock also shared an amusing crossover video that saw the Minions and Gru appear in a remake of the title sequence of The Office, which Carell famously starred in from 2005 to 2011. The video was shared on Twitter on Wednesday, June 22.
The first two Despicable Me films and Minions are on Peacock, but Despicable Me 3 has not been added alongside the trio. Viewers can rent or buy the film on Prime Video or on iTunes currently.
Minions: The Rise of Gru is out in theaters now.