Mink Rise From the Dead in Denmark
Dead mink are rising from their graves in Denmark, following orders of a mass cull to stop the spread of a mutated form of COVID-19 from the animals to humans.
Footage of the mink coming back up from the grave has been shared on Danish TV, though officials say there is an innocent explanation behind their resurrection. Thomas Kristensen, a national police spokesman, told the state broadcaster DR: "As the bodies decay, gases can be formed. This causes the whole thing to expand a little. In this way, in the worst cases, the mink get pushed out of the ground."
The country had ordered the culling of 17 million mink over fears that if a mutated form of the COVID-19 virus was transmitted from the animals to humans, then it could potentially prove to be a barrier against any vaccine.
The mass cull caused outrage in Denmark, and the prime minister later admitted that the plan had been rushed and had no legal basis. Danish broadcaster DR showed a video of mounds of animal carcasses coming out of their graves. The grave is based at the Holstebro military training ground in the northwest of the country.
The channel said that the mink will now be buried under 2.5 meters of soil rather than one to prevent any re-emergence of the mink.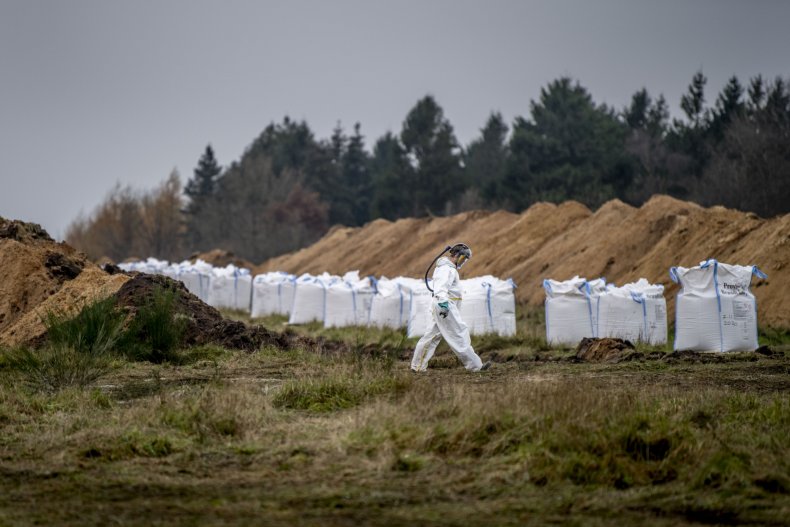 It comes after animal rights charities told Newsweek that the culling of the mink provided an opportunity to end the fur trade. Wendy Higgins of Humane Society International told Newsweek: "The Danish government now have a clear opportunity to capitalize on this moment.
"It makes no sense whatsoever to recognize the potential petri dish, the reservoir of a virus that these fur farms represent, which is precisely why they have decided to move forward with a cull in the first place."
In the U.S., according to Reuters, more than 15,000 mink have died as a result of the virus since August, though there has been no evidence of mink making people sick in the country and there has been no directive issued to cull mink on farms. "These investigations are ongoing, and we will release data once available," Jasmine Reed, a U.S. Centers for Disease Control and Prevention spokesperson, said.
Mink would usually have been killed regardless of the pandemic due to demand for their fur and according to the International Fur Federation, demand for fur is growing in China, South Korea and Ukraine.